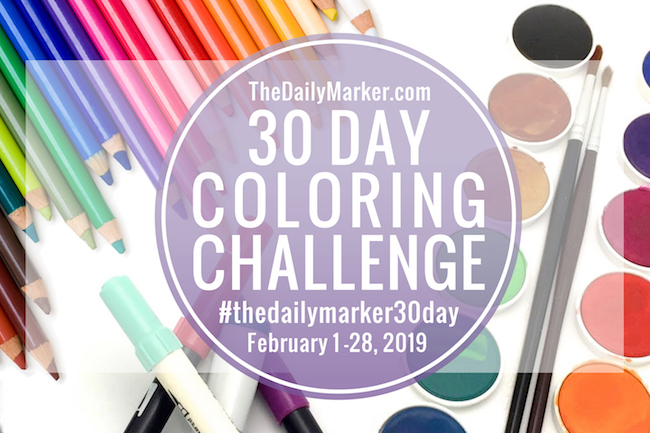 The 30 Day Coloring Challenge is back! Since there is only 28 days in February I am still calling it a 30 day challenge lol.   If this is your first time or twelfth time, welcome.  The goal of this challenge is for you to be able to make time to color.  Perhaps you can only carve out a few minutes certain days, that is totally cool.  This challenge is for fun, to put your coloring mediums to use, and to create some 'me' time.
I hope to answer any questions you might have or give you a little refresher if you have participated before.  I will share my daily coloring both on my blog and on Instagram.  I am rarely on Facebook, but there will also be a private FACEBOOK PAGE, if that is where you choose to share your coloring.  Hopefully you will be inspired by the other entries posted each day by other participants and we can encourage each other to stretch our creativity.
WHAT IS THE GOAL OF THE CHALLENGE?  To color something daily, even if it's a few minutes, but certainly not required.  (I know that I am happier when I am coloring even if it's for 10 minutes.)  It's an 'anything goes' challenge; color whatever you feel inspired to do.  Any medium of your choice including "coloring" with ink or fiber for that matter.  Some days you will have more time than others but, it's just about adding more time to color and carve out a little time for you (often I have colored one petal on a flower).
CAN ANYONE PARTICIPATE IN THE 30 DAY CHALLENGE?  YES please!  If you want to participate you can jump in at any time during the challenge.  Feel free to include your children and grandchildren.  If you miss a few days don't feel like you have to catch up.  We all know life can get in the way.
HOW DO YOU SHARE WHAT YOU ARE COLORING?  On Day 1  I will have a place for you to share on my blog with a link up (here is the last challenge link up if you want to have a look).  Two more ways to share are FaceBook or Instagram (these are more interactive).  When you use the hashtag #thedailymarker30day  I can find what you are doing.  Kids & young adults use #thedailymarker30daykids.
WHAT IS A GOODWILL AMBASSADOR?  Each challenge a group of people are chosen that were very active during during the previous challenge.  They will be helping me spread love on Instagram and Facebook.  The challenge is about coloring & it's about community, spreading kindness & support for each other.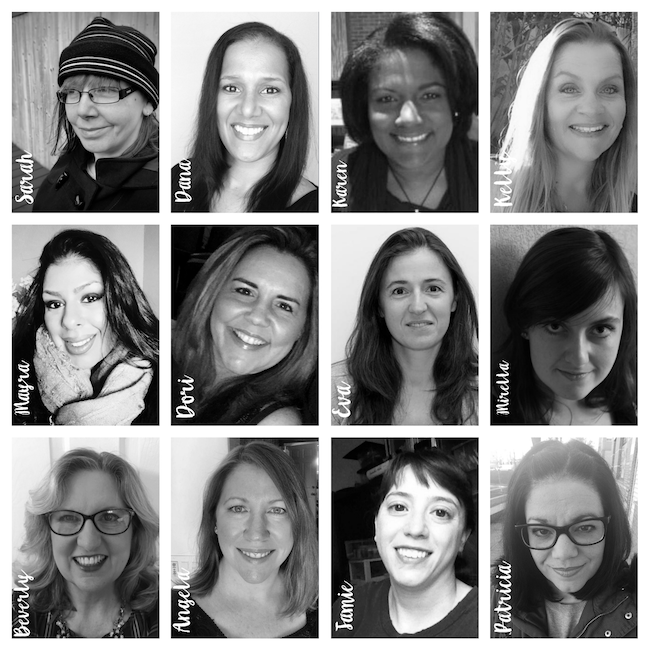 THE GOODWILL AMBASSADORS FOR THIS CHALLENGE are: A huge shout out to these lovely ladies! Most of them have been LONG time coloring challenge participants and so fun to see their faces larger lol. It's always an honor when a Goodwill Ambassador says yes to this time commitment and I hope you will check out their body of work on Instagram.
Sarah @craftyratuk, Dana @mzdanajoy, Karen @askseesit , Kelly @miamikel4, Maya @mayrasdesigns, Dori @just.keep.crafting, Eva @scrapeva28, Mirella @handmadebymirella, Beverly @jordanbev5, Angela @angelamyhre, Jamie @jamieruthp and Patricia @scrapflower.
WHAT IS "THE COLORING CHALLENGE ROAD TRIP" ?  If you are new to the coloring challenge you most likely don't know about the road trip. I have taken the coloring challenge on the road to create some happiness with a feel good all day event that is affordable plus give back to the community at the same time . The Coloring Challenge Road Trip will has & will continue to have lots of stops that will be all day meet-ups for anyone who loves to color and wants to be with like minded people. You can check out the  Dates & Locations for "The Coloring Challenge Road Trip" here. NEW DATES AND LOCATIONS WILL BE ANNOUNCED IN THE NEXT FEW WEEKS.
Feel free to grab the logos below to share on your social media. Thank you all again I am so grateful and super excited. See you IN A FEW DAYS!! Big Hugs and lots of gratitude, Kathy