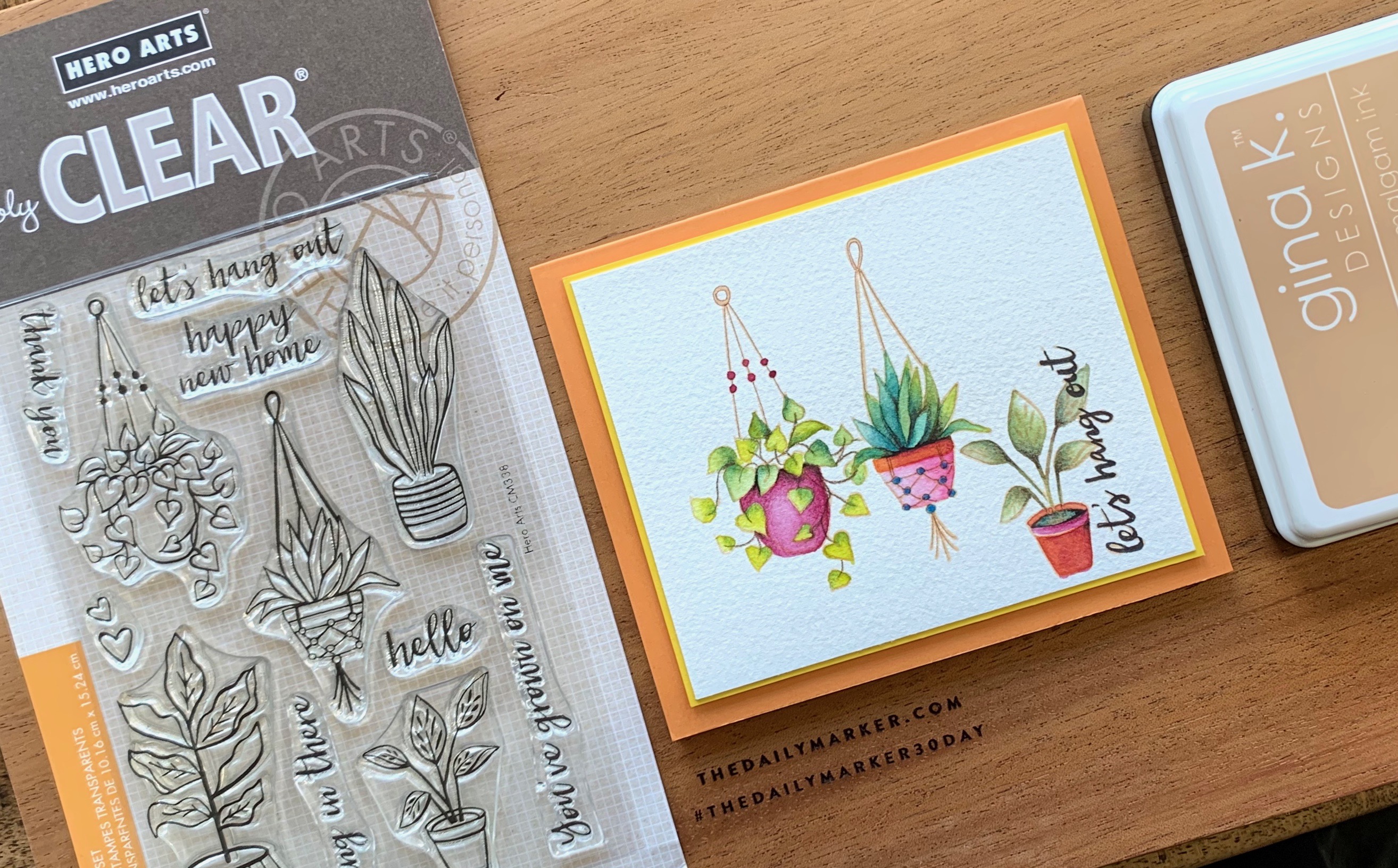 Hello Friends! Can you believe that I am back so soon? May has been a super crazy month but, I couldn't say no to Hero Arts 45th Birthday Blog hop. Celebrating 45 years in business is huge and Hero Arts was my first stamping love. A true stamping crush! I have so much love and respect for Aaron and the Hero Arts family! I credit Hero Arts for saving my life when my kids were in their teenage years by giving me beautiful stamps to focus on instead of everything else that goes on when you have teens. Waiting up late at night and crafting was easy and fun except for my children weren't happy that I was up and wide awake. They would have preferred that I was in bed! So thanks Hero Arts!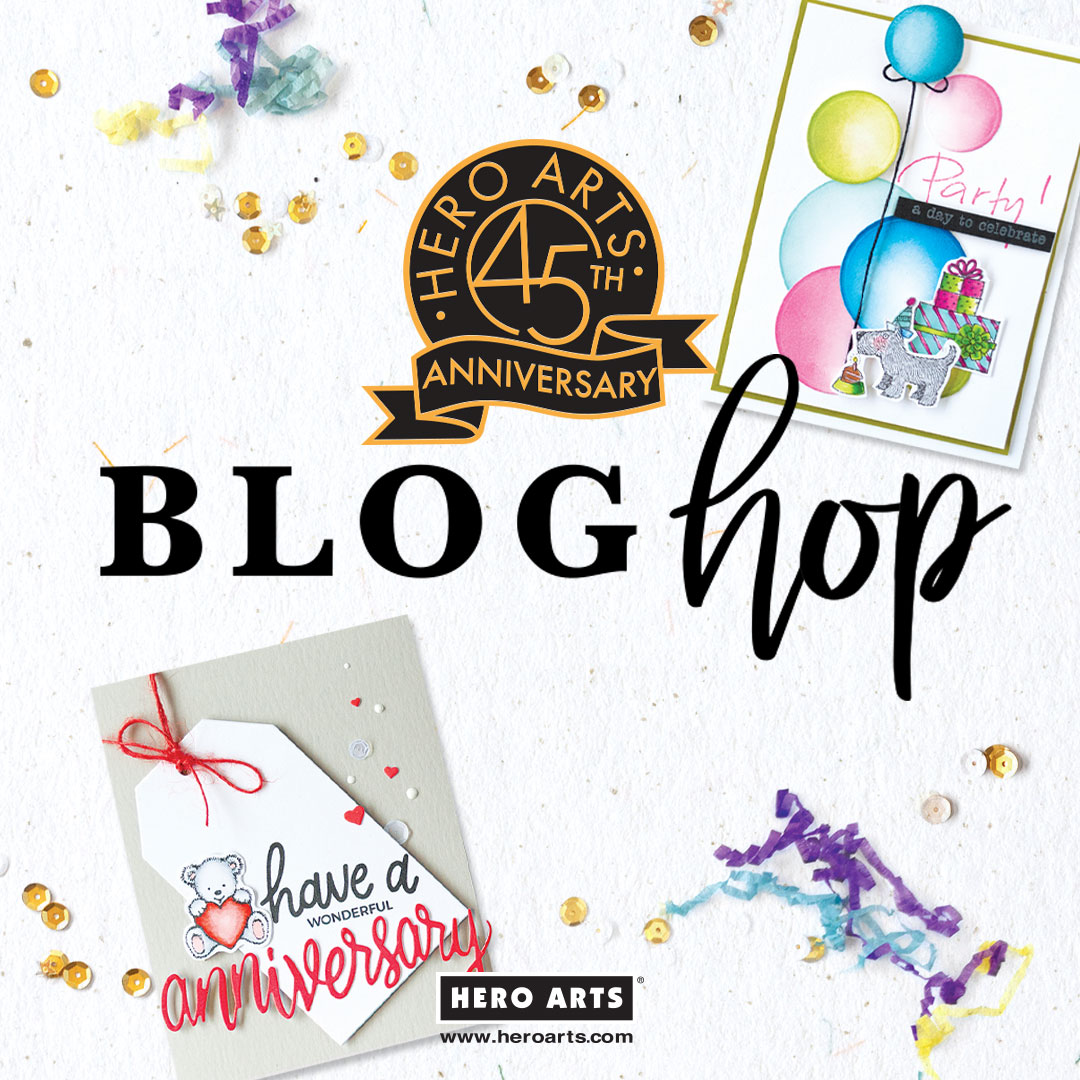 Happy 45th birthday, Hero Arts!  To celebrate, you are invited to a 3 (yes, three!) day party to include eye candy for all who hop along and an introduction to the new Summer 2019 Hero Arts catalog.  Who else is invited?  These fabulous Hero Arts industry friends and partners … each of which have donated prizes to be won! Woo Hoo!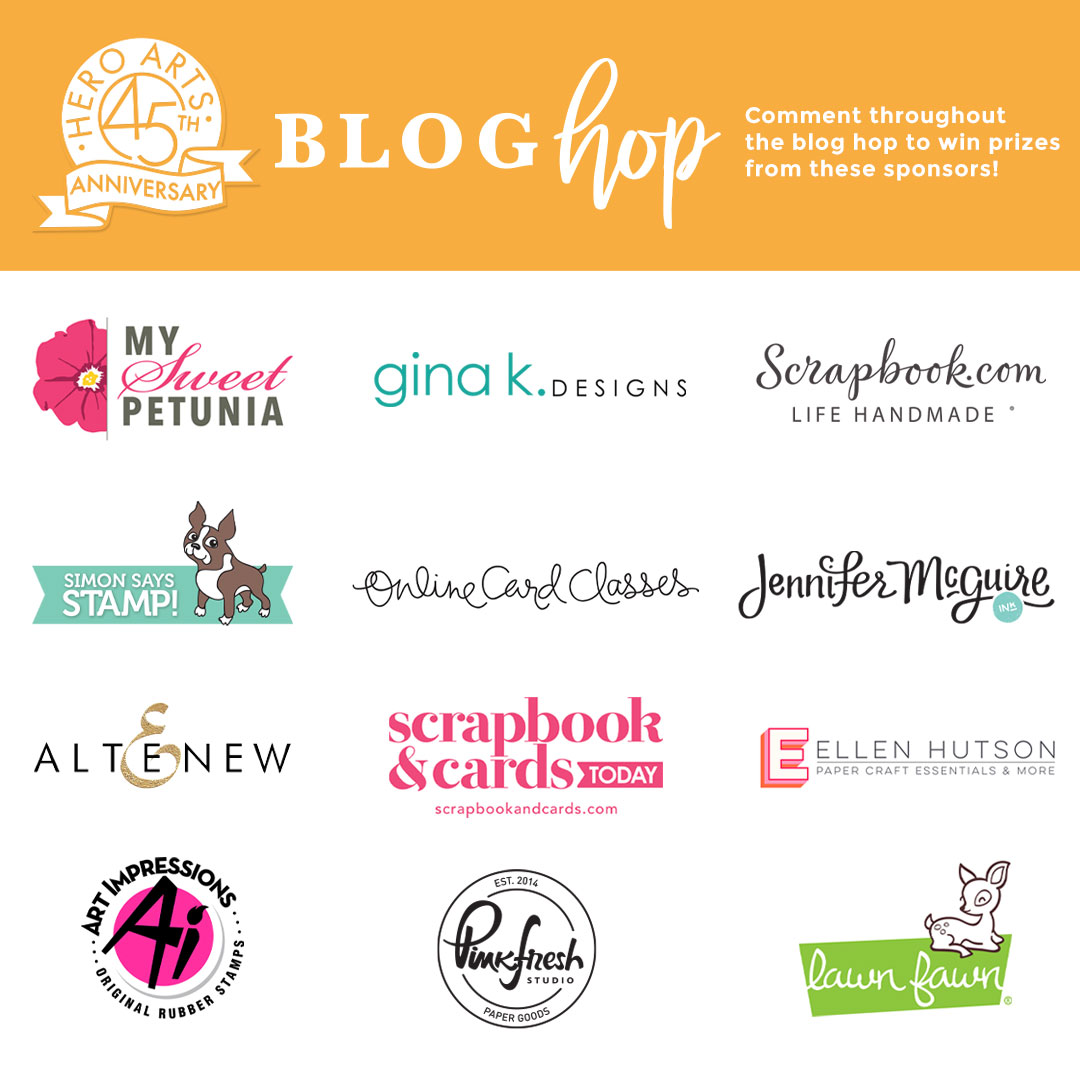 Hero Arts and friends are donating the following birthday party gifts:
Winners will be drawn from people who leave comments along the blog hop over the three day hop – comment all three days for more chances to win! Comment by Sunday, June 2.. The winners will be announced on the Hero Arts blog.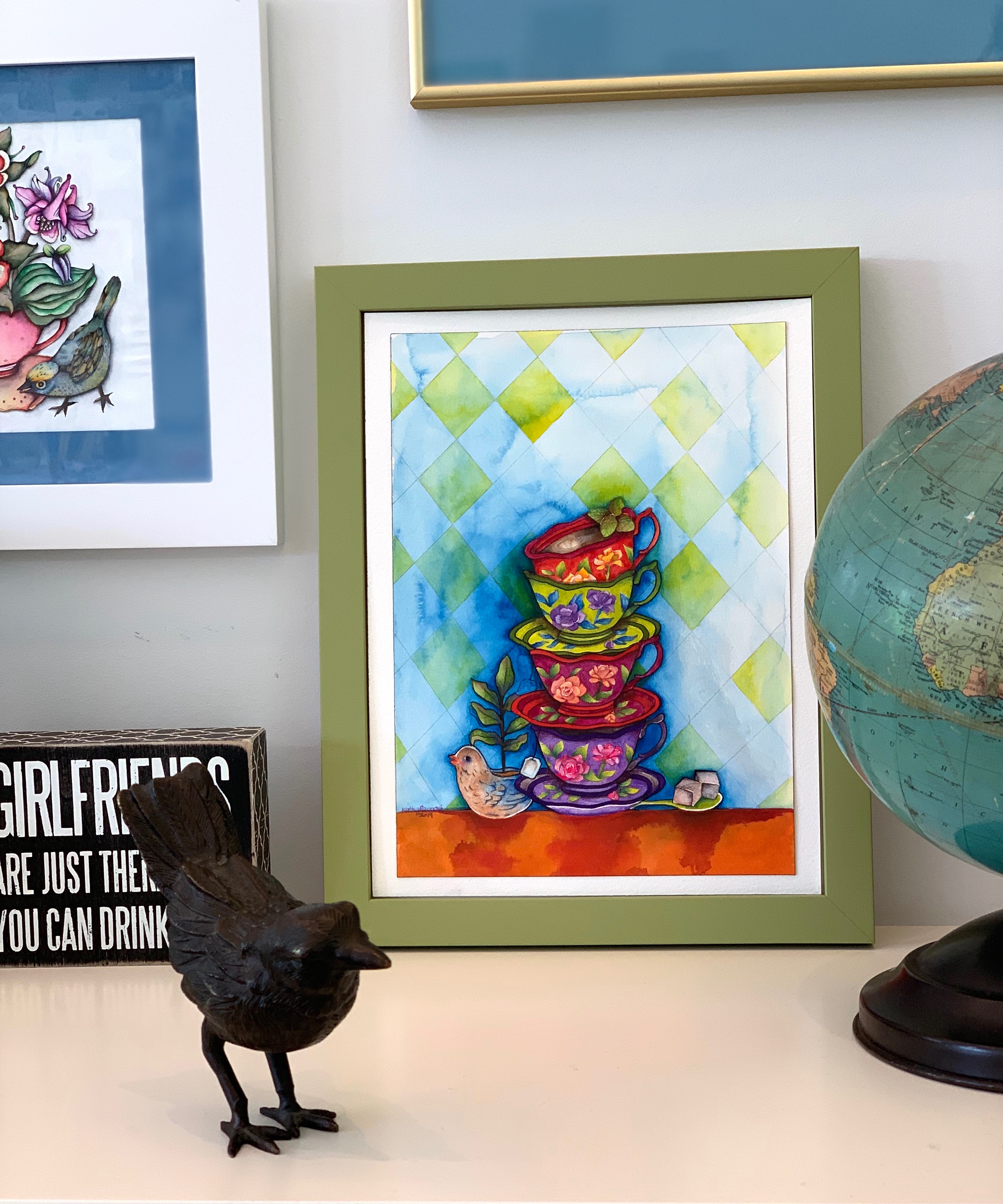 Today is the first day of the three day hop. To start at the beginning of the hop go to the Hero Arts blog. If you arrived from Julee Tilman's (Poetic Artistry) blog, you are in the right place.
I am thrilled with the new Hero Arts release and it was really difficult to decide what images I wanted to watercolor … so many lovely choices.  As much as I have an affinity for beautiful floral/plant images, I also enjoy tea cup images.  It was so much fun to mask the images from the new "Spill the Tea" and a bit from "Hang in There Pots"…tea cups with flowers?  Yes, please!
My favorite part of this wall art is converting the bird lemon squeezer into a small potted plant with this stamp set.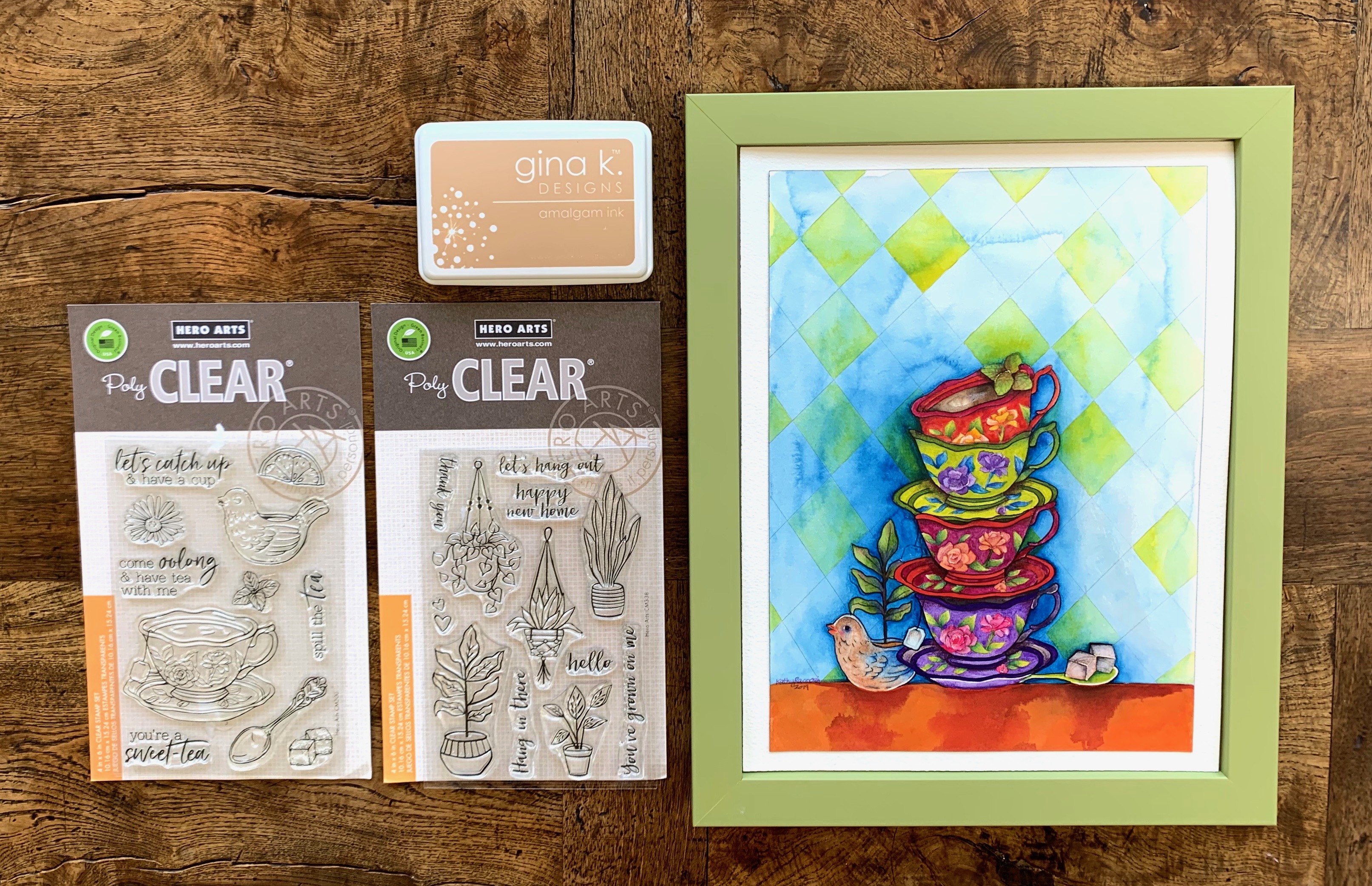 If you follow my blog you know I have been into making wall art instead of a card thanks to my new bff the large misti.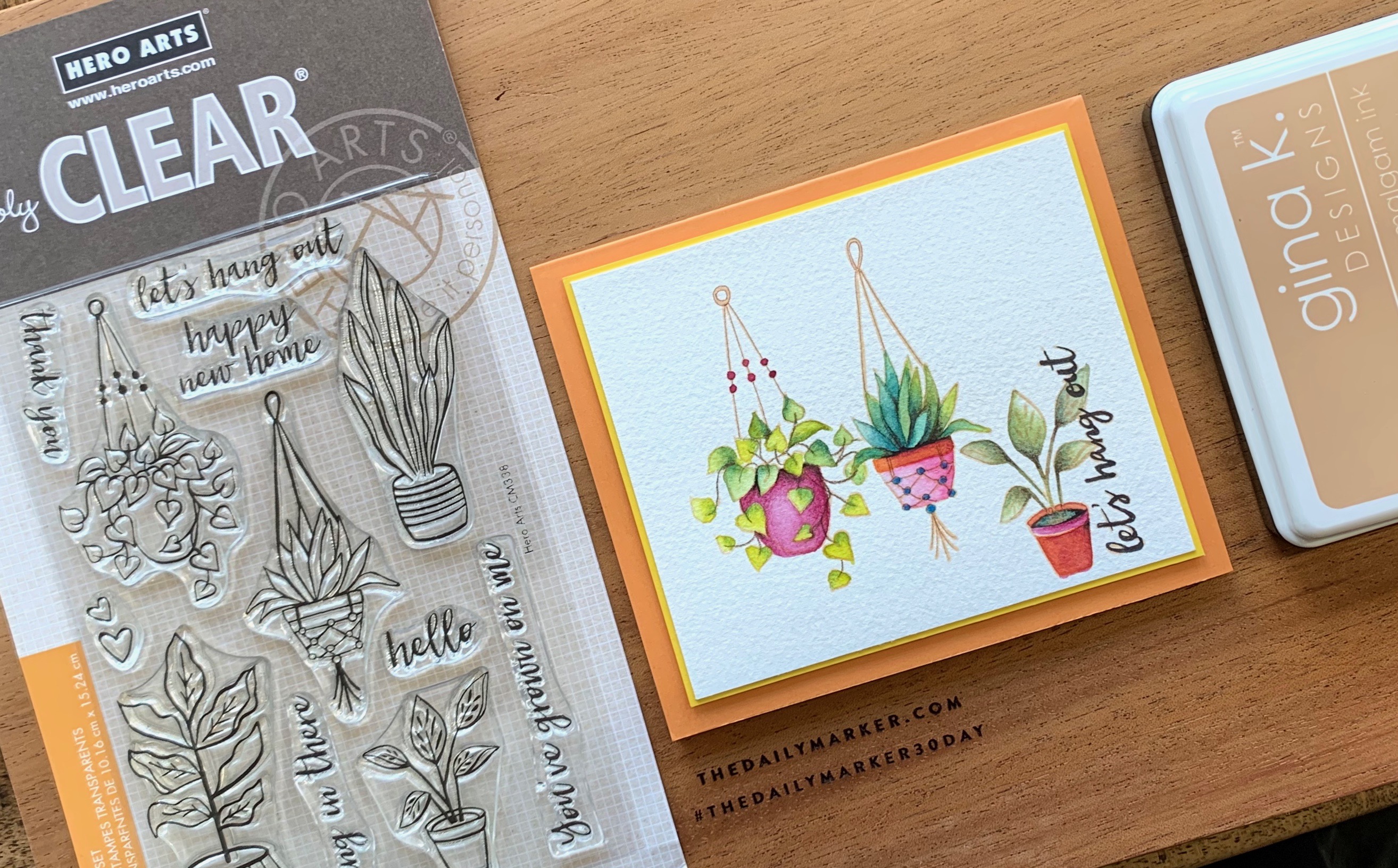 For today's post I decided a bonus card was a must and I was really wanting to use these beautiful plants as a focal point from the "Hang in There Pots"stamp set.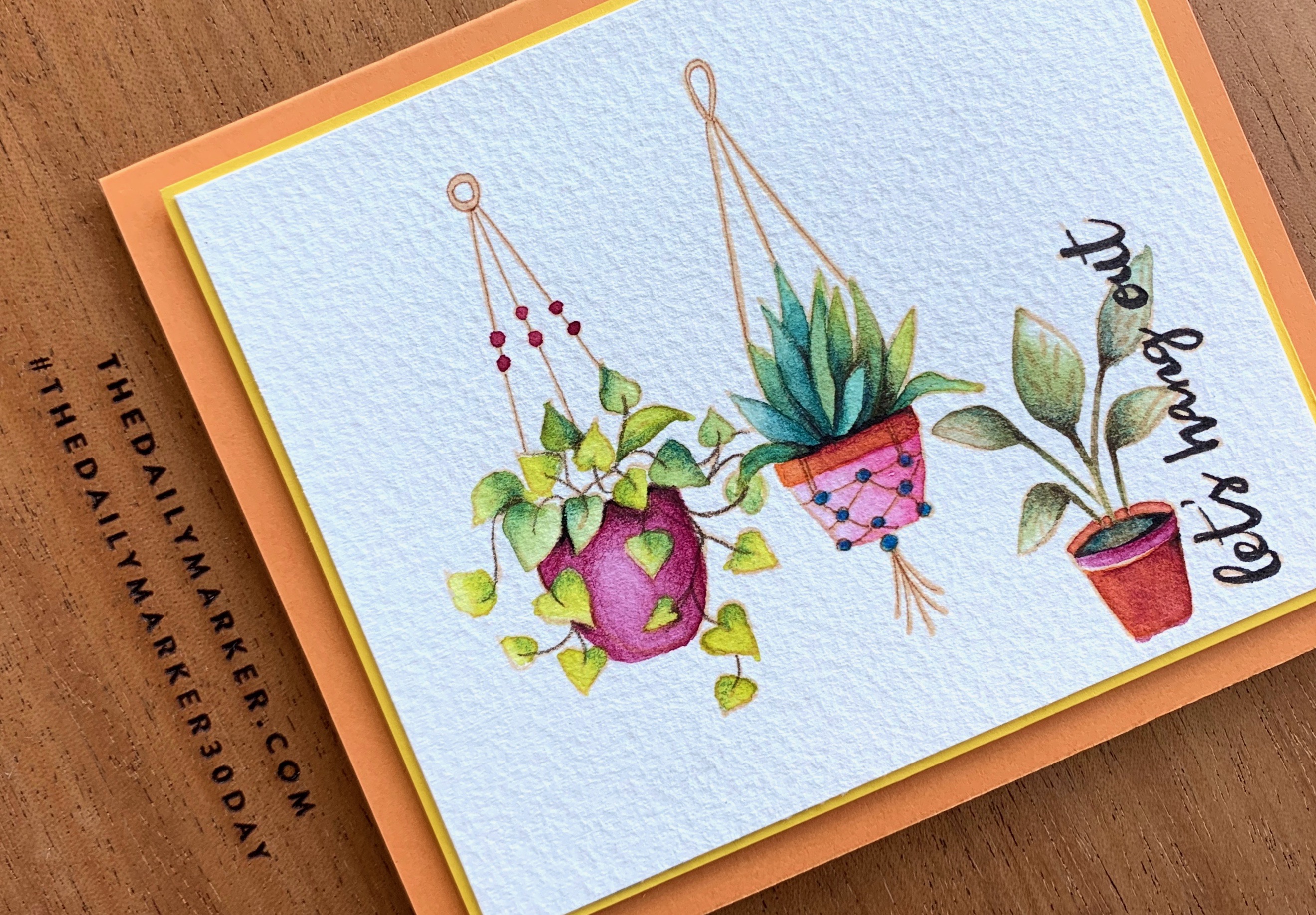 This is the paper of my choice for the weight and the texture and the ink I love using is not only great for watercolor but, copic markers too.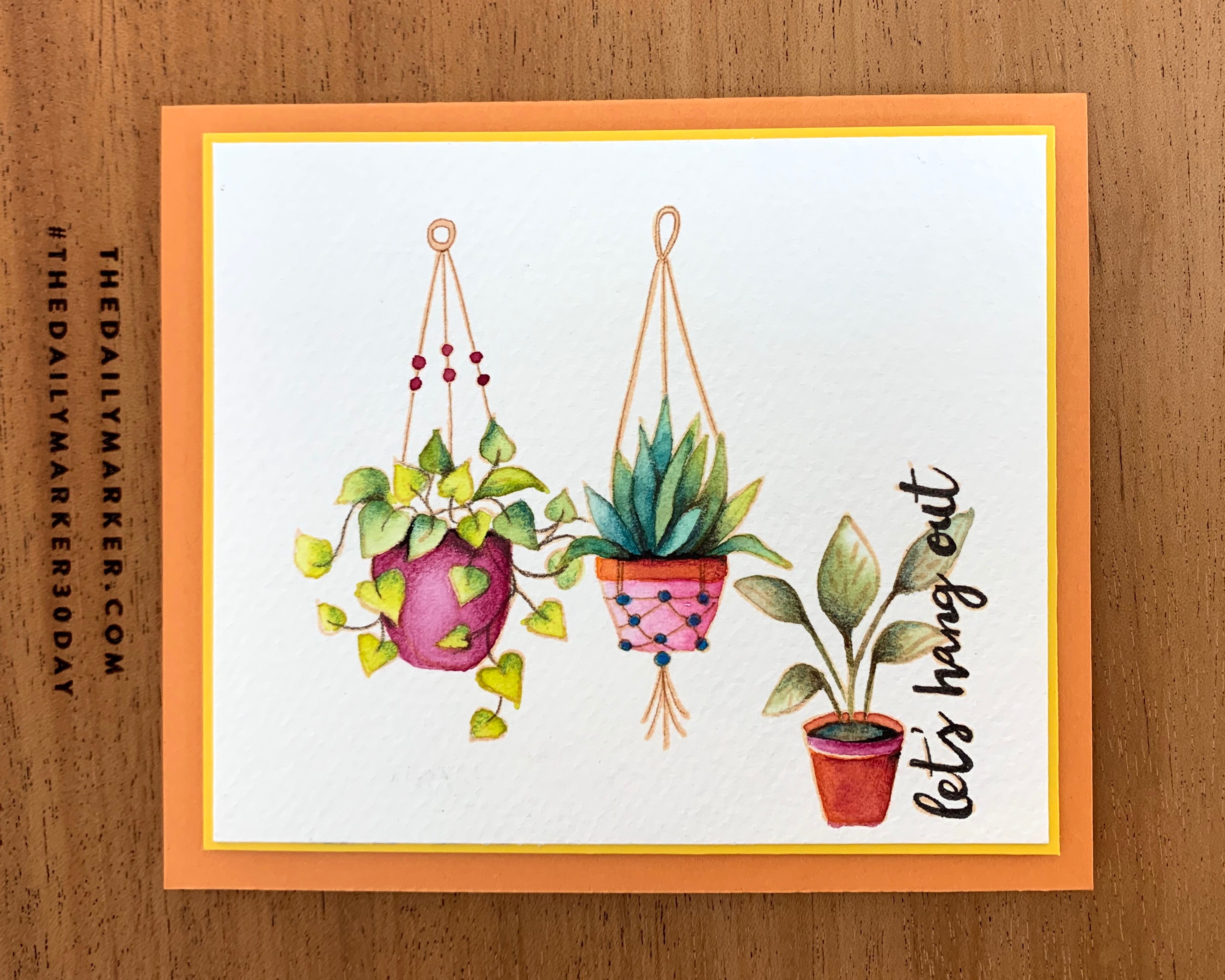 After my watercoloring was dry and I was happy I grabbed a few pencils and darkened a few areas on the plants.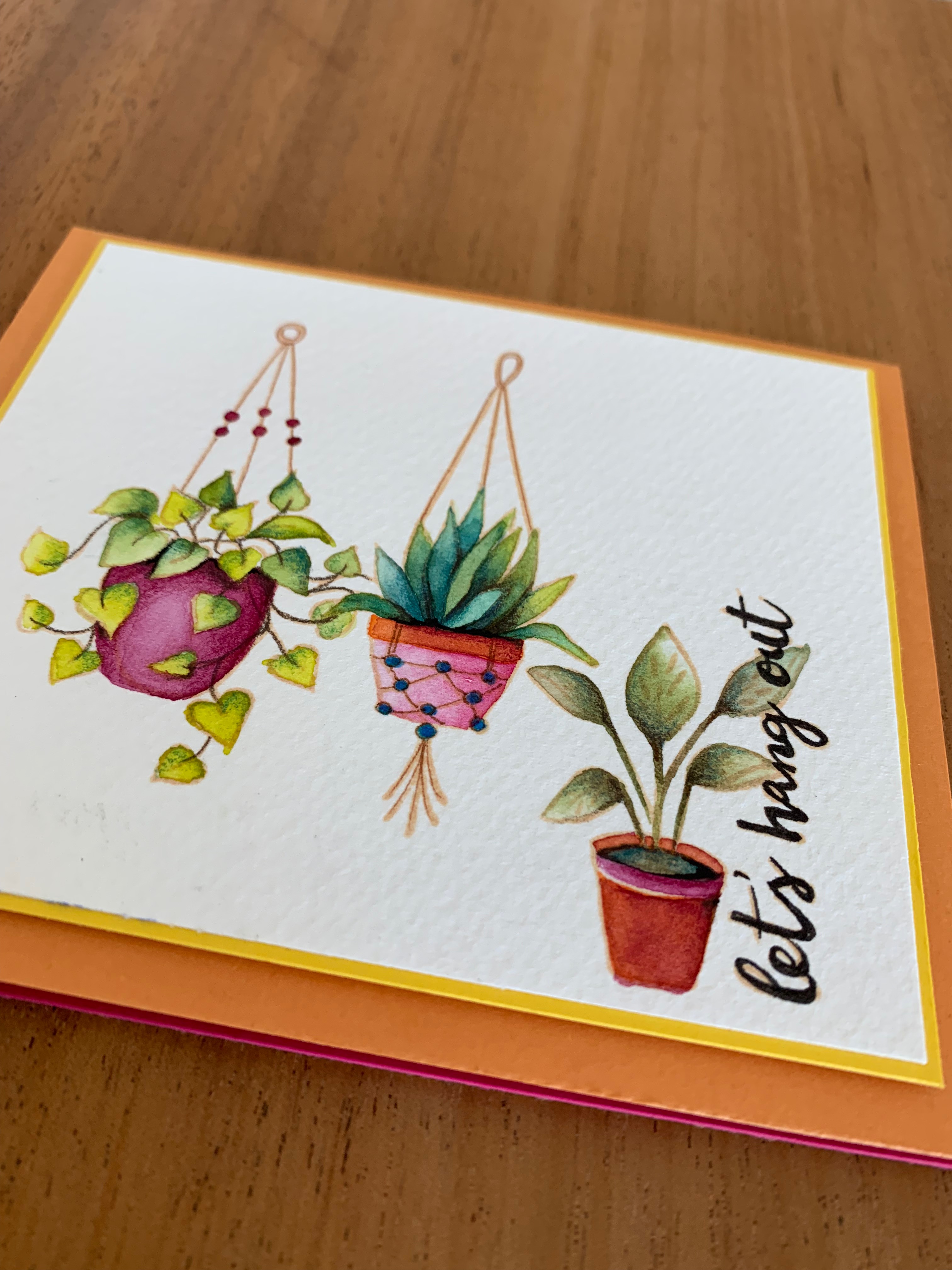 Usually my pencil colors of choice are black, deep navy, dark brown or dark grey. Adding a smidge of dark really enhances your coloring.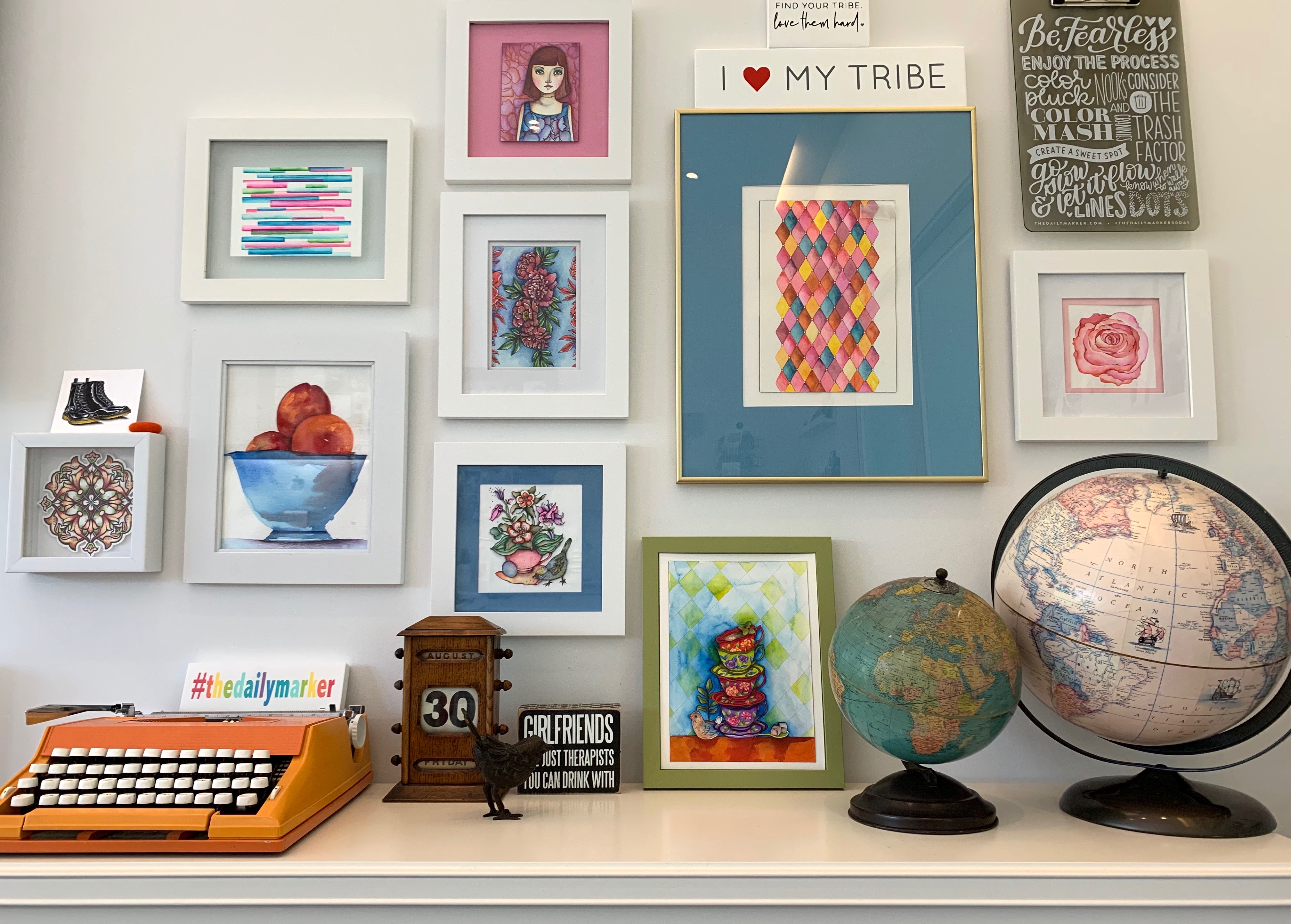 This is my wall full of projects that I painted. I can pop them off the wall and give them as a gift.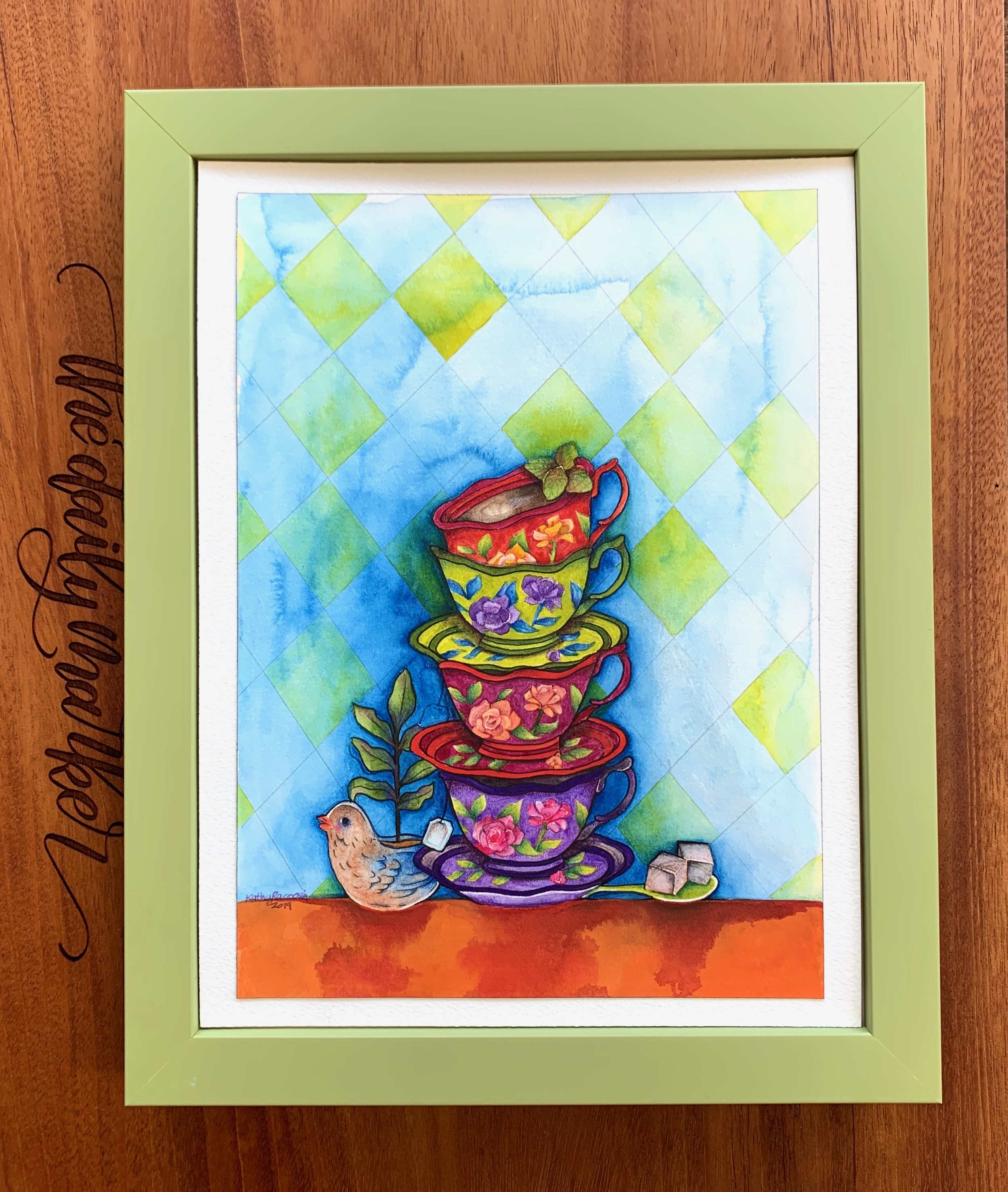 This particular composition took some masking but, it's always worth the effort and fun to watch it come together. I do have to admit I wish I didn't paint that background?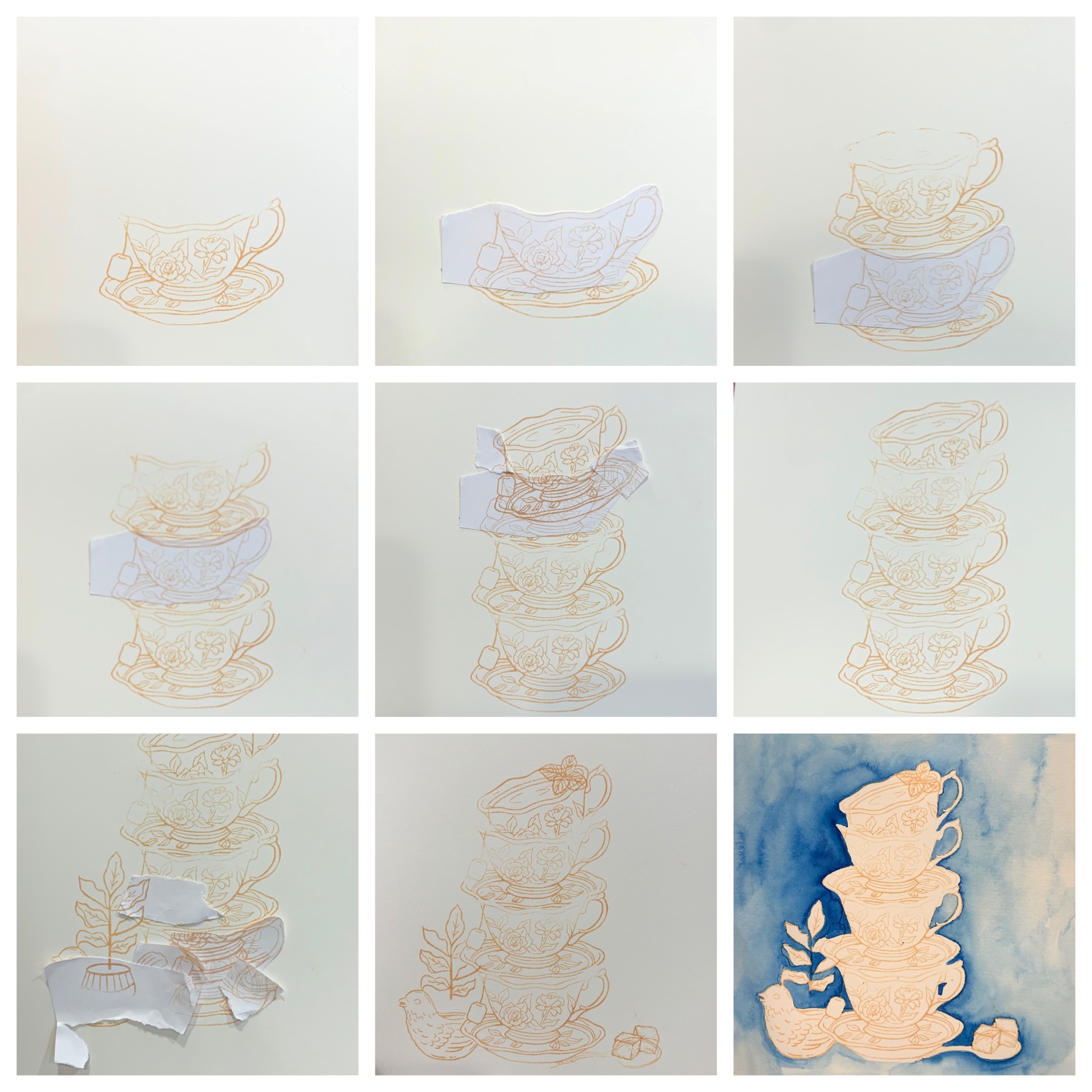 When I was inking the Spill the Tea stamp I tried not to ink up the back edge of the cup. When I use a mask I don't fussy cut the mask perfectly that is to time consuming.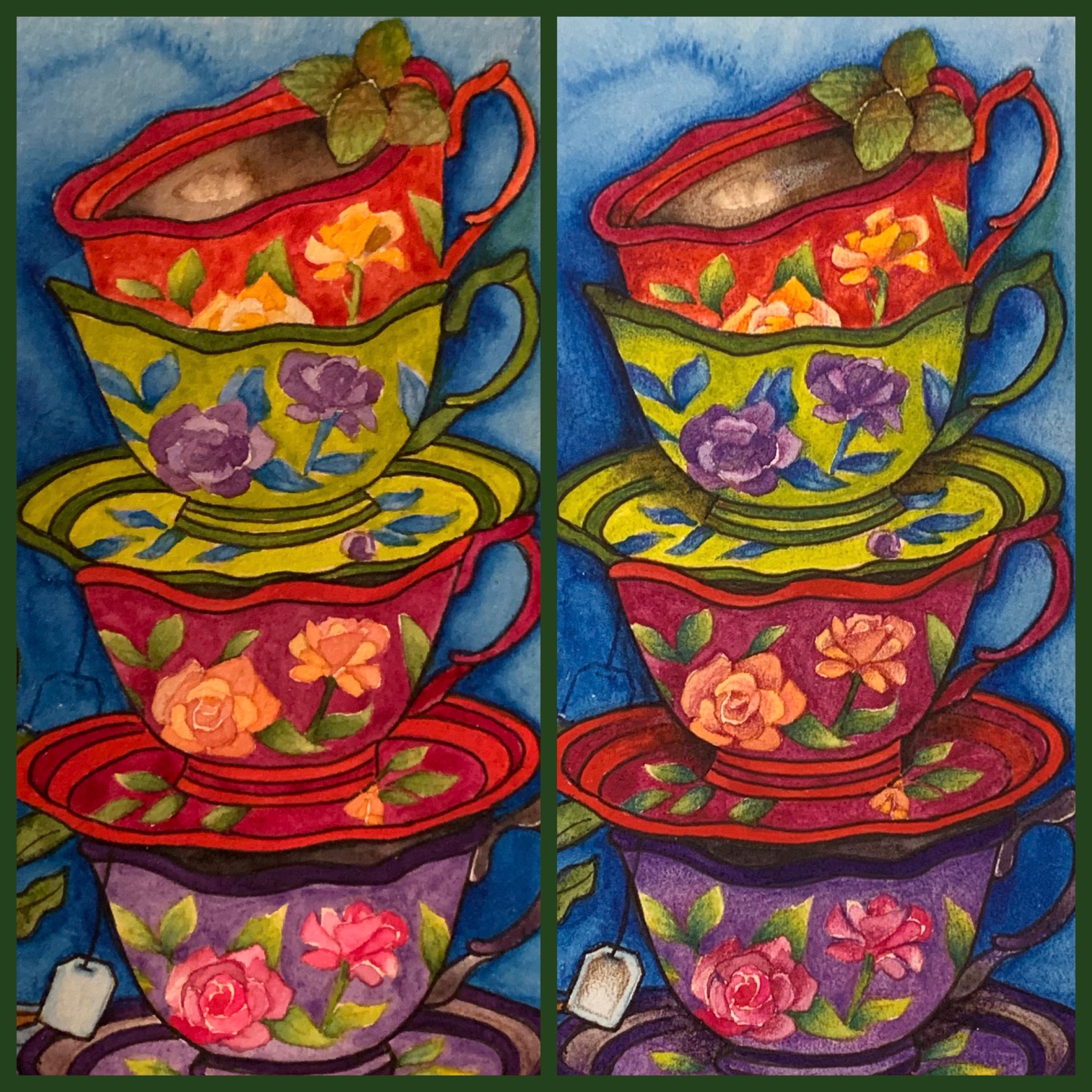 The cups and saucers on the right are enhanced with pencil in some areas. Keep in mind especially with textured paper you need a really sharp pencil.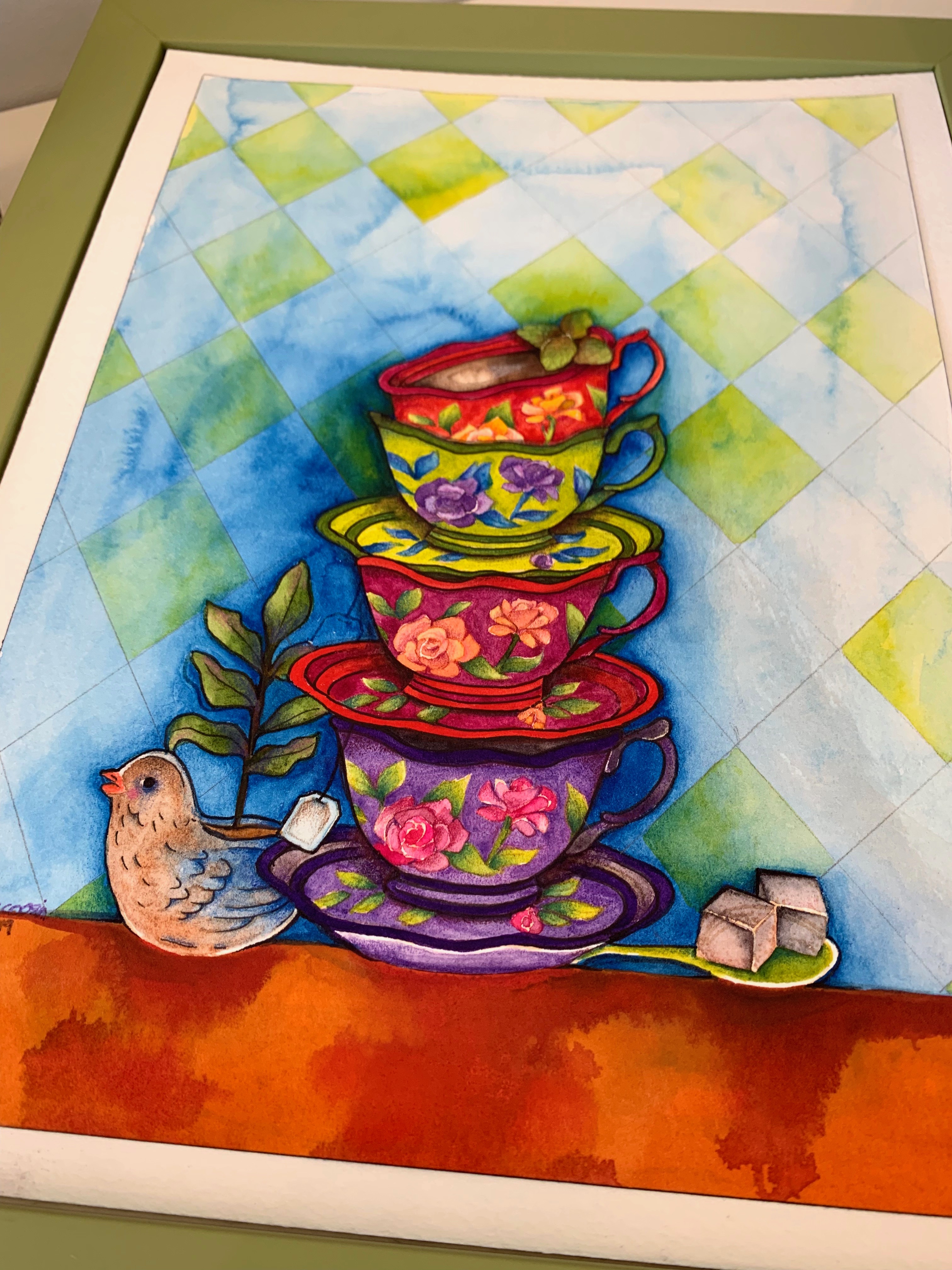 Here's a closer look. I decided to paint the sugar cubes something other than white. Once I was finished with the blue background I felt it didn't look right … needed something so I drew a pattern with a ruler and painted some of the diamonds for more interest. I would love to hear what your thoughts on that background.
Card Supplies and Links: Affiliate links are used to support 100% of my Coloring Challenge Road Trips at no cost to you.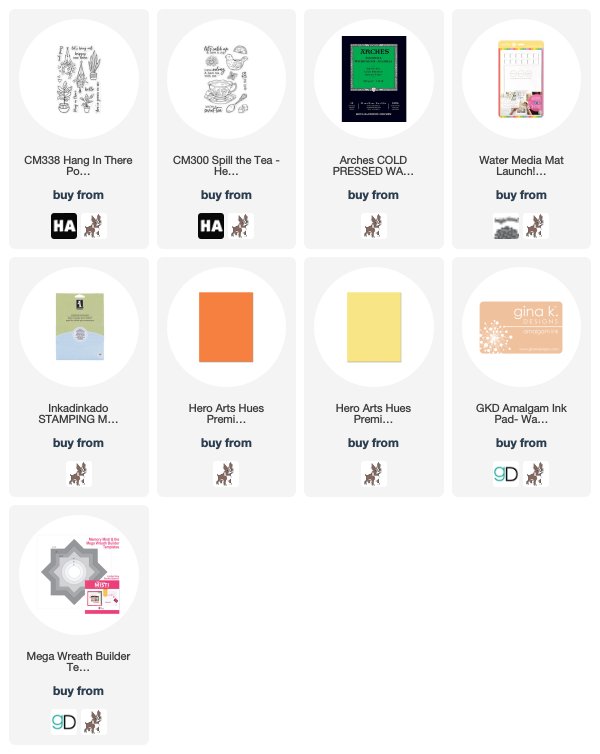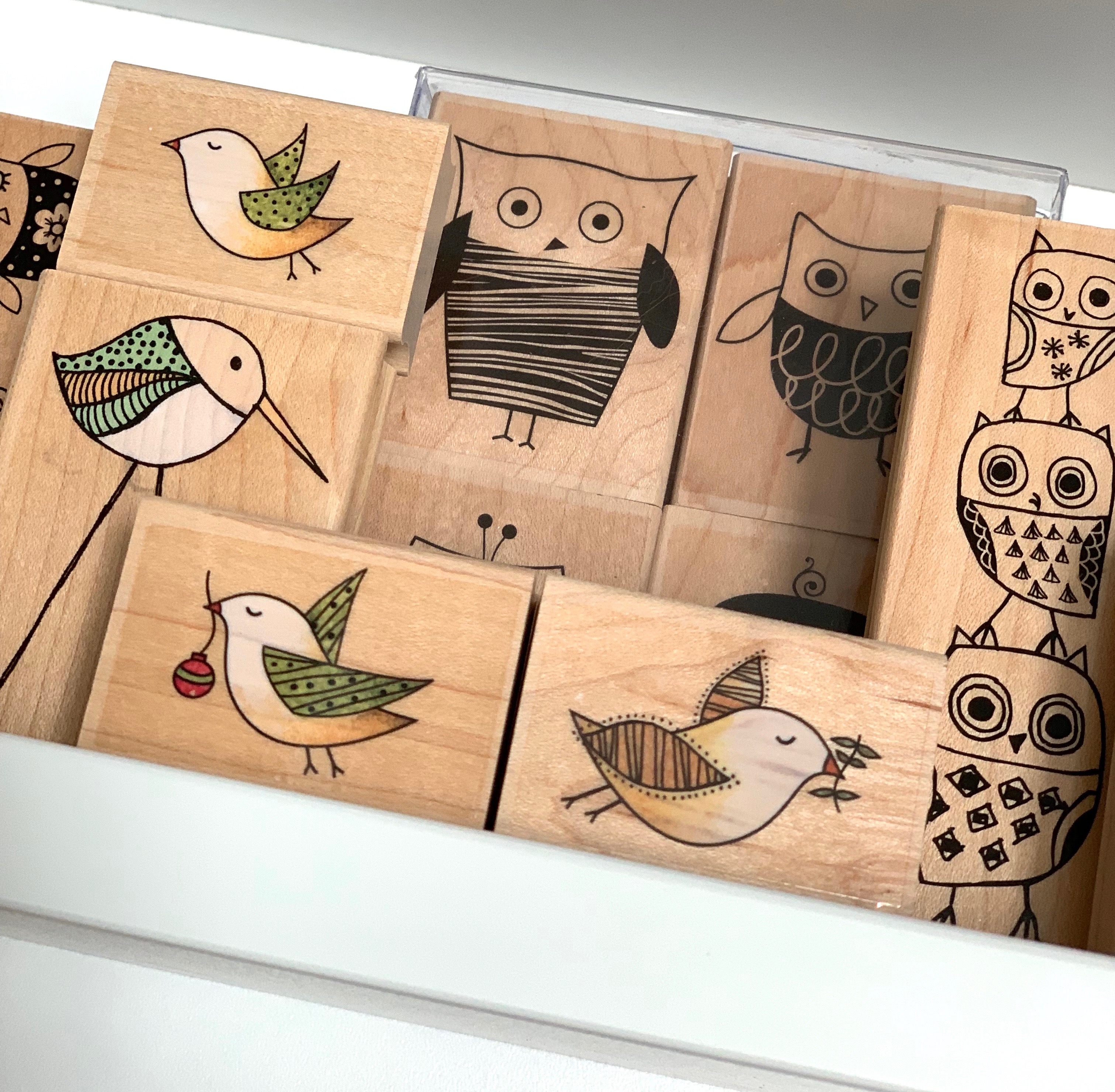 Since Hero Arts has been in business for 45 years I wanted to share some of my oldies that are favorites. I will keep them forever. LOVE these birds and owls!
Thank you so much for hopping by. I truly appreciate your time and I hope you are enjoying Hero Arts birthday celebration.  Your next stop is the awesome Libby Hickson (Libby's Little Addiction). Good luck and don't forget to start at Hero Arts and hop along tomorrow (and Friday too!)  What a wonderful way to start the long weekend.  I hope you enjoy your Memorial Day weekend. Hugs, Kathy
Helllloooo Friends! How are you? How was your weekend? Today I am a guest on the Power Poppy blog for another one of their "Inspire Me" features. Check out their blog to see how this painting was enhanced and how I altered this stamp. … {Continue Reading}