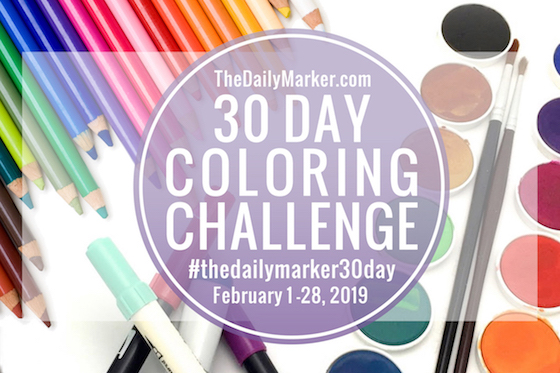 Hello Friends, Happy Saturday! Today is the day I get to share my announcement. I am soo dang excited and honored that Simon Says Stamp asked me to bring The Coloring Challenge Road Trip to Simon Says Create!! Woo Hoo
Sooo many of you guessed it right!!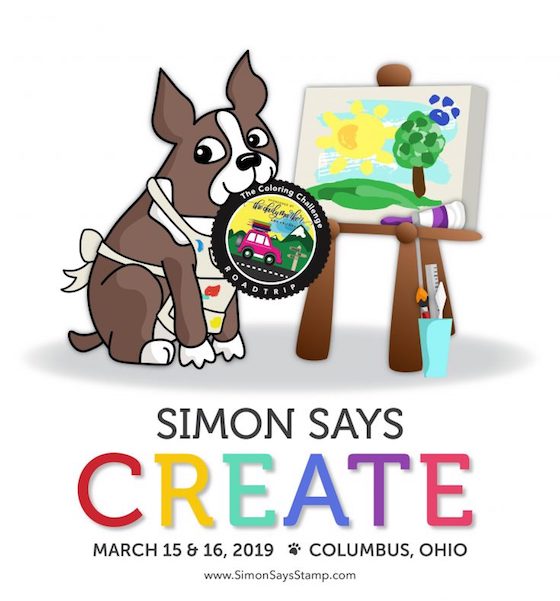 What: The Coloring Challenge Road Trip at Simon Says Create 
When: Friday, March 15th from 1-5 PM ET
Where: Simon Says Create / Nationwide Conference Center 
in Columbus Ohio
I realize this might cause some confusion. The Simon event is sold out. The Road Trip is a separate thing. It's only $45.00 and it's a half day event. I will be doing what I normally do during my Road Trips. The best part is the people that come to see me will have access to all the make and takes, the Simon store and be able to meet up with everyone before or after all the classes.
*If you are attending the event and are available Friday 1-5 you can attend if you purchase a ticket .
TO REGISTER a pre-registration payment of $45.00 is required. CLICK HERE to sign up. Questions? You can read Simon Says Stamp blog post here.
I would love to hear if you are able to sign up for The Road Trip (insert prayer hands). Super exited that I might meet some of you or see some of you again. Wooo Hoooo!! Tell me in the comment area if you signed up. Thank YOU!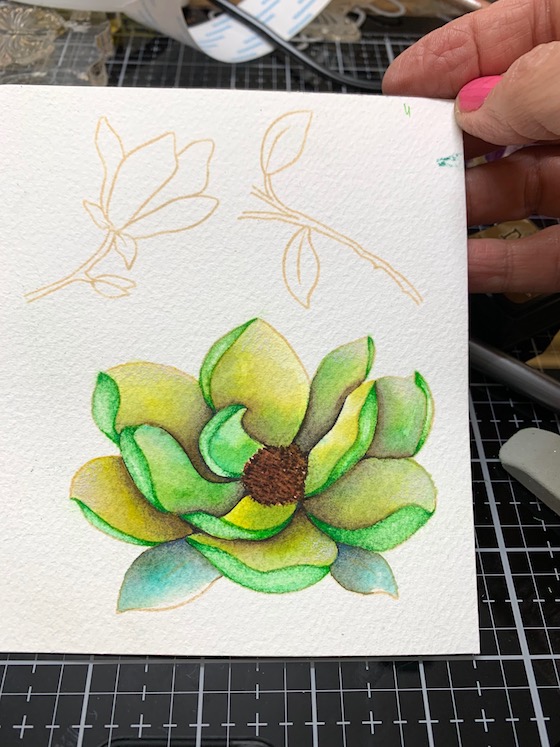 Just a quick share for today. I wanted to paint something with a different color combination. This beautiful magnolia is from Avery Elle.
What do you think about the grass green accents on the tops of the petals? Hummmm … not to sure lol but, I had fun playing.
This is how it was coming along as I was adding brown to some of the petals.
Have a wonderful weekend and see you tomorrow. Hugs, Kathy
P.S.  There are 3 ways to share what you are coloring. If you want to join a community of coloring enthusiasts I recommend  FaceBook or Instagram. Be sure to tag me and use the hashtag #thedailymarker30day. Kids & young adults use #thedailymarker30daykids.
The 3rd way is to link up to my blog to share your coloring click here to link up.
P.S.S. If you have any questions about the coloring challenge you can refer to this post . If you want to get my posts in your mailbox you can sign up here or subscribe to my videos.
Card Supplies and Links: Affiliate links are used to support 100% of my Coloring Challenge Road Trips at no cost to you