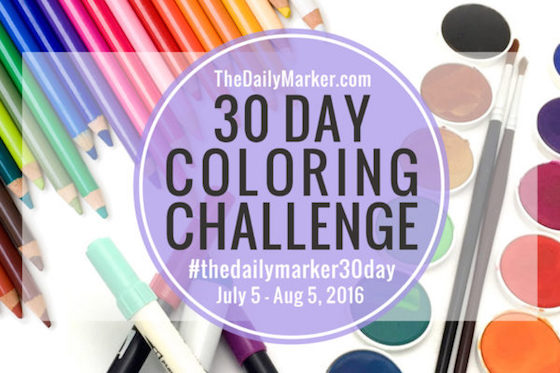 Hello Friends, How is your week going? I have been spending a lot of time in the kitchen because I started a food detox. Eek!! I would rather be doing more coloring.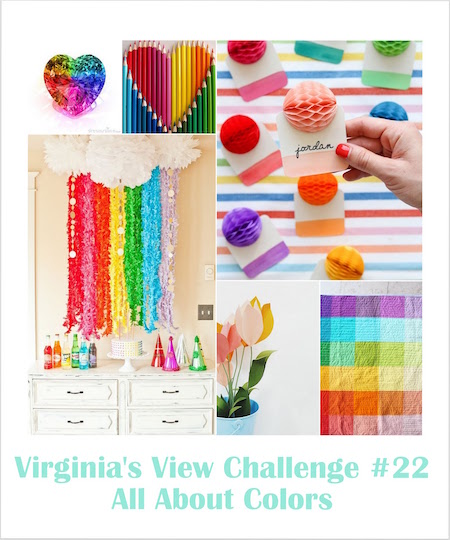 Speaking of coloring …  Virginia's View Challenge is "All About Colors" and Virginia asked me to play along, Yes please! Her photo oozes inspiration. The funny part is I didn't pay attention to this until my card was finished … good thing it's a colorful one today.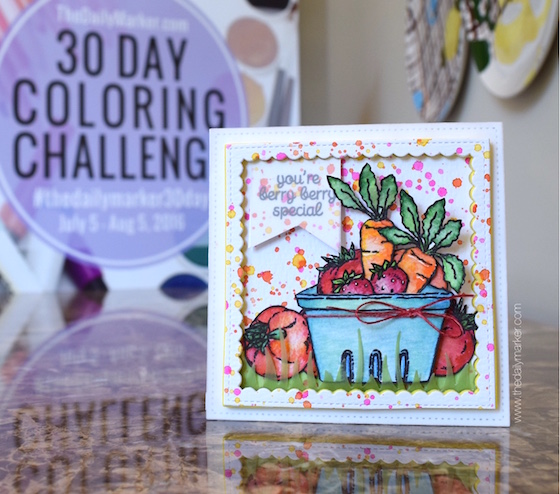 Three colors were splashed & splattered on my background. I waited for each color to dry before I added more of the background color with my watercolors.
If you want to see how I pulled this card together you can watch the UNCUT and UN-EDITED VIDEO. If you don't like those kinda videos you might want to skip this one 🙂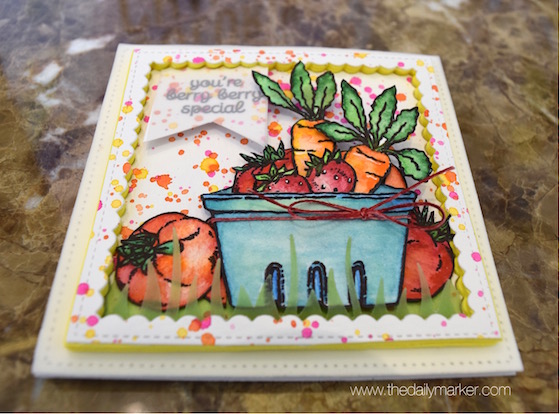 I inked up "Farm Fresh" with SSS black dye ink and used watercolors on the fun fruits and veggies. The scalloped square from PPP worked perfectly with LF's large square die. The sentiment banner was had cut and layered with some vellum on top to soften it so it stands out more on the background.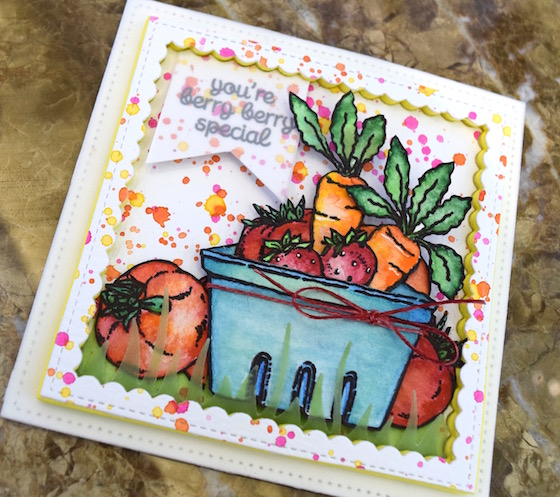 Under the scalloped die you see some yellow fun foam peeking out. I wish I had this foam with a sticky back … it would have been much easier. However I love the pop of color. I always die cut two layers and glue them together to pop the frame higher on my card. So you really can see the yellow. The grass was cut from green vellum and I used a Copic marker to color the twine red.
A big thanks to my sweet friend Virginia …we go way back in our card making journey meeting in the Hero Arts Flickr Group.  I am a big fan of the Virginia's View Challenge. If you don't know Virginia I think you will love her and Virginia's personal blog called, "Yes, Virginia". She loves to share about her travels & her hubby Dr. John and lots of other stuff.
Thanks to you for your visit today. See you tomorrow. Hugs, Kathy
P.S. IF YOU WERE A WINNER YESTERDAY I WILL CATCH UP LATER TODAY ON EMAILS. THANKS FOR YOUR PATIENCE 🙂
P.S. If you want to share what your creating go to DAY 1 and scroll to the bottom of the post. You will find a blue Inlinkz tab to link up your coloring.
(If you are new to the challenge or want to know more about it click here.)
Supplies and links: Affiliate linking might be used depending on the product.