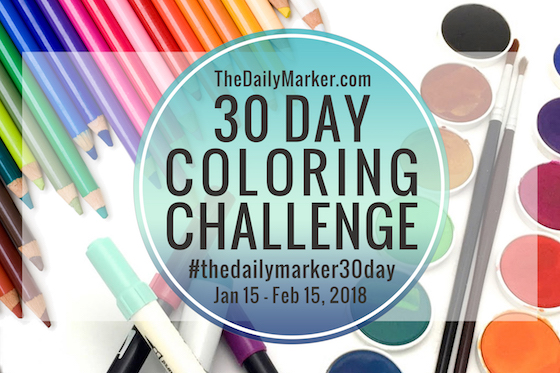 Hello Friends, It's me again! How has your week been? Today is Day 4. already and I am really enjoying myself and I hope you are too. It feels to good to just color for the fun of it. Life picks up tomorrow and I probably won't be able to do as many videos but, I will try. The problem is it cuts into my time on seeing what you all are up to and that stinks.
I wasn't able to do the voice over so I ended up making this a 60 second video. Do you mind telling me if you like these quick ones in the comment area … pretty please. You can just say yes or no.
Watercolor markers are so easy to travel with and I will be packing some Tombow markers in my bag for the weekend. I love that the colors are as vibrant as the Zig markers but, Tombow have a dual tip and the colors are easier to identify from the lid color.
Another day and another stamp that I love lol. This rose is so balanced and symmetrical & I like that the blooms are a trio.  I decided to color up a multi colored background using three colors (staying in the trio theme) . I ended up using three colors on each petal. I guess my brain must have been thinking in three's too.
The stamp is a 6×8 from Gina K. Designs kit called, "Hearts and Flowers" and it's only available in the kit right now. If you aren't a kit kinda person the stamp set will be available to purchase mid March.
I have to add that I went to Gina K. Designs store in Wisconsin for one of my road trip stops. The store is called Village Paper & Ink in Wisconsin and it's such a creative, energizing & beautiful store. I love the vibe and I'm sure that comes from Gina who is an amazing person … kind, warm, generous and full of life not to mention super creative!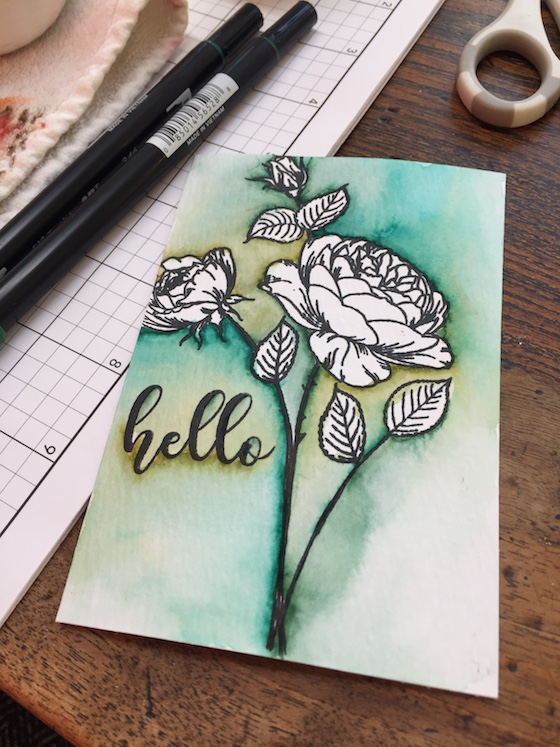 The rose was stamped on this paper and I used this ink … same as yesterdays post.
I just have to tell you all again how much I love seeing your coloring and what you are doing & thank for for your visit … I am always grateful. See you tomorrow. Hugs, Kathy
COLORING CHALLENGE INFO BELOW… QUESTIONS? NEWBIES? SHARING?
If you have any questions about the coloring challenge you can refer to this post . If you want to get my posts in your mailbox you can sign up here or subscribe to my videos here.
There are now 3 ways to share what you are coloring. If you want to join a community of coloring enthusiasts I recommend  FaceBook or Instagram. Be sure to tag me and use the hashtag #thedailymarker30day. Kids & young adults use #thedailymarker30daykids.
The 3rd way is to link up to my blog to share your coloring here.
P.S. If you want to share the logo when writing your blog post or on Facebook etc. that would be lovely & so appreciated :).
P.S.S. Did you catch my first road tip in 2018 is to So California with Lawn Fawn!?
Card Supplies & Links: Affiliate links may be used depending on the product and 100% is used toward my Coloring Challenge Road Trips