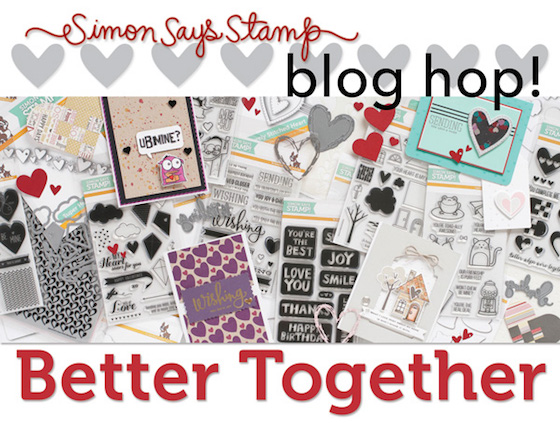 Hello Friends, How are you today? I am so excited to be participating in Simon Says Stamps Blog Hop showcasing the collection called, "Better Together" celebrating life.  Heidi said, "sharing hugs, sharing love, spending time together, giggling, laughing, expressing how much we care for each other are great ways to celebrate our lives.  Even though we are often physically far apart from our friends and family, we can connect through words and cards are such a delightful way for us to reach out to one another." Heidi couldn't have said it better.. Love you Heidi!
I hope this blog hop encourages you and I to continue to connect with our people …. in good times and in bad, Life truly is "Better Together". 
 My first two cards are created with the same stamp and die cut combo but, with two entirely different looks. My son is flying the coop so I wanted to make him a special card.
With the stamp & die set called, "Love Makes a Home" I found myself  really enjoying building a few houses, drawing some drapes and laying some stone :). I extended the size of the house and actually made a video for you. The background is on watercolored "Sticky Back Canvas" that I love. I discovered a tie die method that I am sharing in Part 2 of my todays video.
CLICK HERE TO WATCH PART1 (the card) VIDEO IN HD.

CLICK HERE TO WATCH PART2 (the background) VIDEO IN HD.

It was so much fun playing with all the pieces and the possibilities with the stamp and die set that I wanted to design another card with an entirely different look… a more graphic looking card.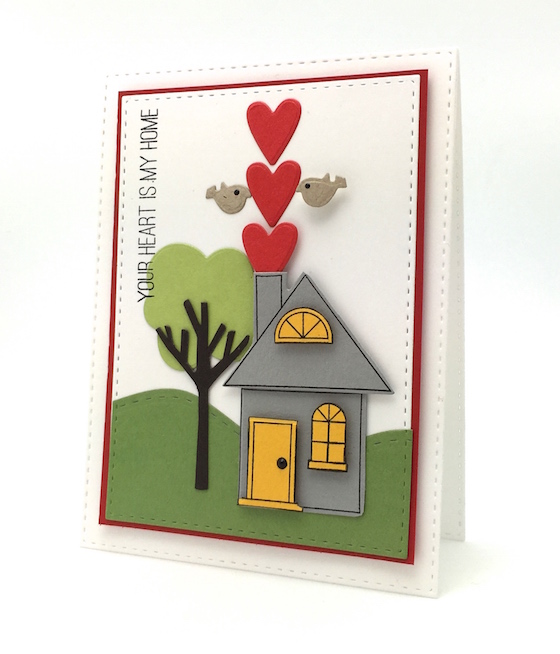 Have you ever had hearts come out of your chimney…heart smoke!  The card pulled together really fast because I cased my first card. Enamel Accents were used on the door knob. Below I use the foliage on the tree as a cloud.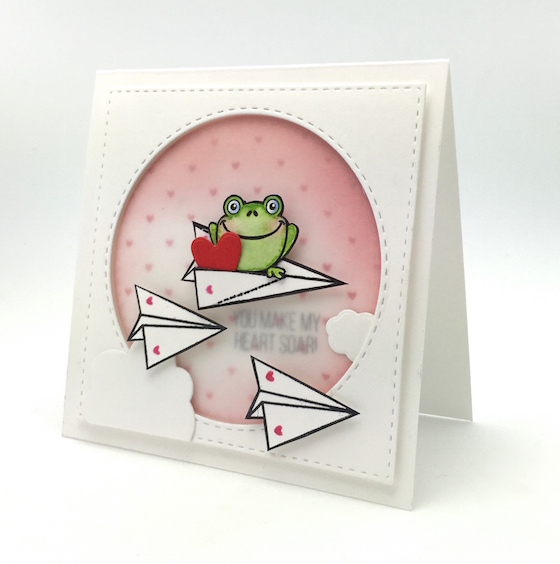 The adorable frog was watercolored and decided to take flight on one of the paper airplanes.  I enlarged the paper airplane and tucked in a leftover heart from my graphic card. After using the tiny heart stencil on the background I glued vellum on top to soften the background.  The clouds were leftover from my top card but, they really go to the tree die cut. The Stitched Dies from Simon are a must have. Love…love..LOVE THEM! They make every card beautiful honestly. I used them on every single card today and will be reaching for these dies all the time. 🙂
GIVEAWAY: Each stop on the hop will receive a Simon Says Stamp Prize pack randomly selected on January 23. Winners will be announced on the Simon Says Stamp Blog. Good luck!
It's time to hop to the oh so talented Yana Smakula. Thanks so much for your visit today I always appreciate it 🙂 Hugs, Kathy 
P.S. Did you see my Card Kit Giveaway here? I am luck to be giving away SSS February Card kit thanks to Simon.
CARD SUPPLIES and LINKS: click on any of the links below 🙂