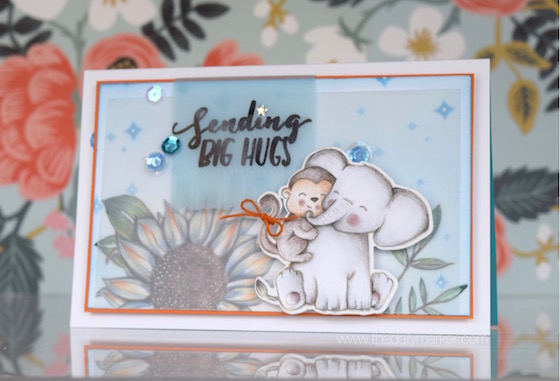 Hello Friends, How are you? I can't believe the 30 day coloring challenge is right around the corner and I still need to do my information post and video. Nothing will change from the last challenge so if you have questions in the mean time … this will do for now. Sorry sooo much going on.
Today I am thrilled to be a guest to celebrate Winnie & Walters Birthday Bash on their blog … it's been a month long celebration for them packed with inspiration from so many designers on the Winnie & Walter blog!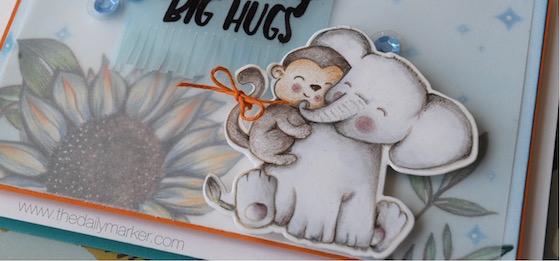 The new stamp set called, "Big Hugs" has so many precious huggable images. I used some pencils to color 80% of my card today and the other 20% some grey copic markers. Mixing flowers in for a jungle kinda look was fun. The flower is from this stamp set called, "In Bloom". I stamped the sentiment on some blue vellum and cut some fringe. To finish off my card I colored some twine and wrapped it around the monkey's tail. Some of Lucy's sequins are always the final touch … I find the best "glue" for sequins is this.
I hope you enjoy the video and thank you for watching … If you like it a thumbs up is always appreciated. 🙂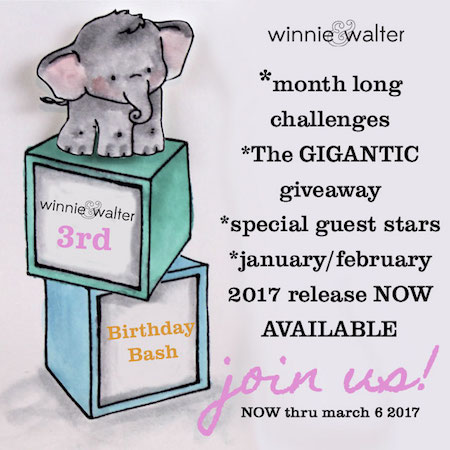 Check out the Winnie and Walter blog to find out the big giveaway, challenges and lots more. Thanks so much for your visit today . Have a happy weekend. Hugs, Kathy
CARD SUPPLIES & LINKS: Depending on the product affiliate links are used.