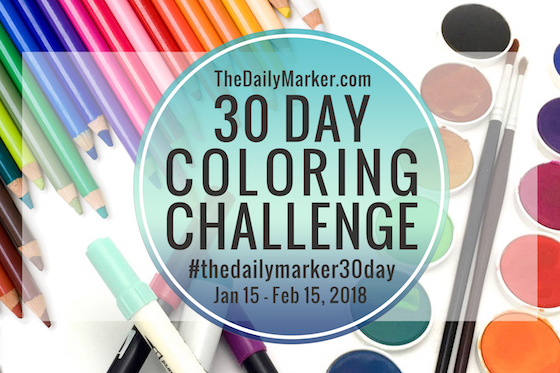 Hello Friends! How are you today? Happy weekend to you. It's Day 7 already. Sorry I have been M.I.A. but, I will be back up and running on Monday. I will try and share more product on my Instagram. It's been so fun running into so many of you and hearing how you are enjoying the coloring challenge warms my heart so much!!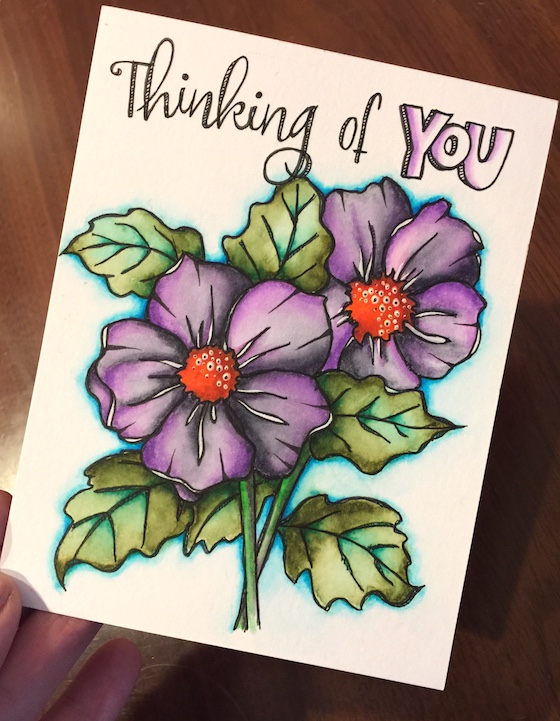 95% of the time when I am traveling I take some of Suzy's watercoloring cards on the airplane with me. Thanks to SSS for selling the cards they make me so happy. (Suzy is the illustrator)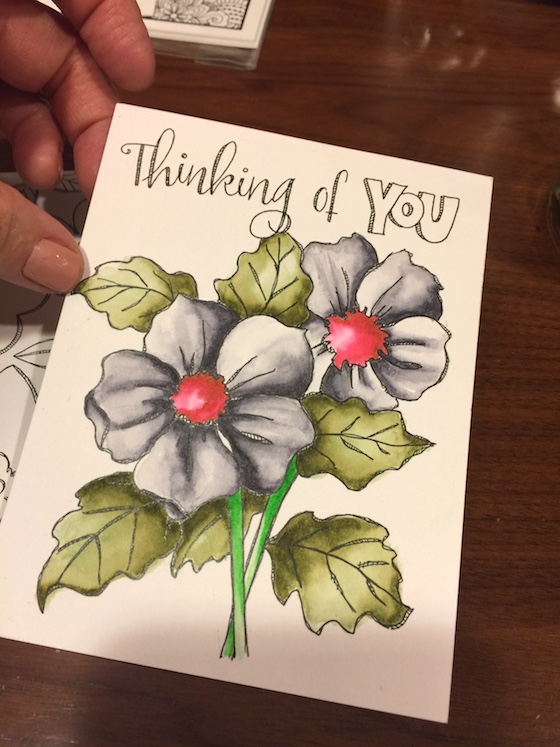 This is the part I did on the airplane with some Zig markers.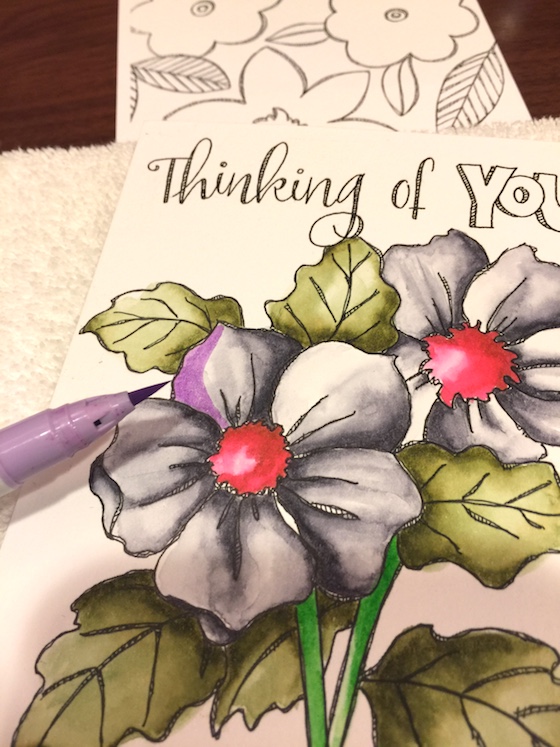 When I got back to the hotel for some night time coloring I finished this. First I put some purple on each petal and then blended it out with water.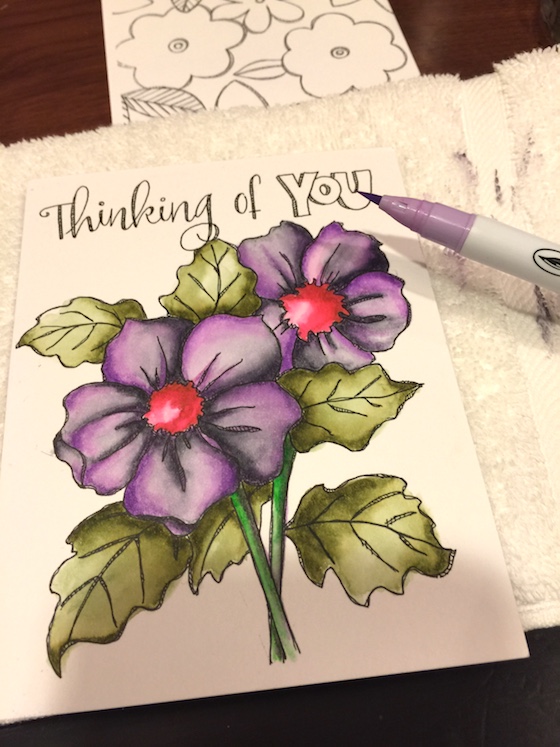 Here's how it looks finished … with the purple that is.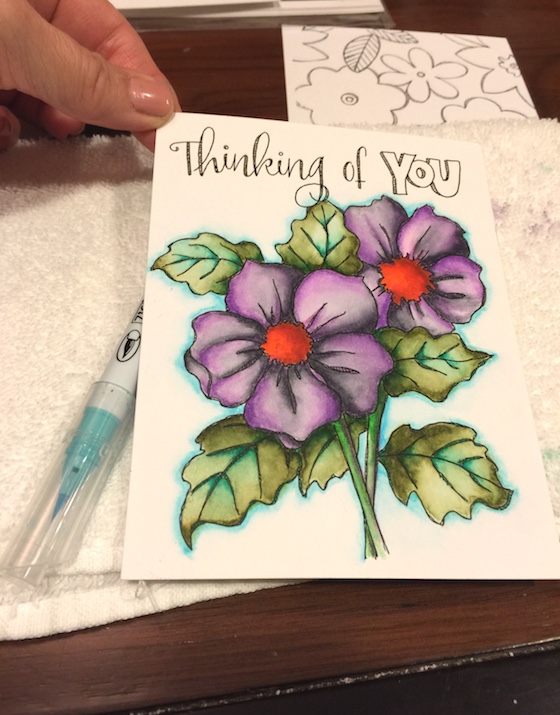 I colored with a light blue around the image and on the green leaves and then I blended the blue lines out with some water.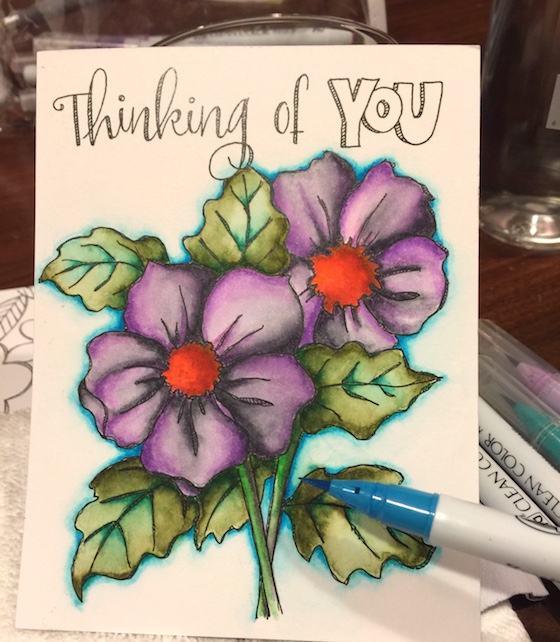 Adding a darker color to the nooks and crannies around the flowers enhanced the image.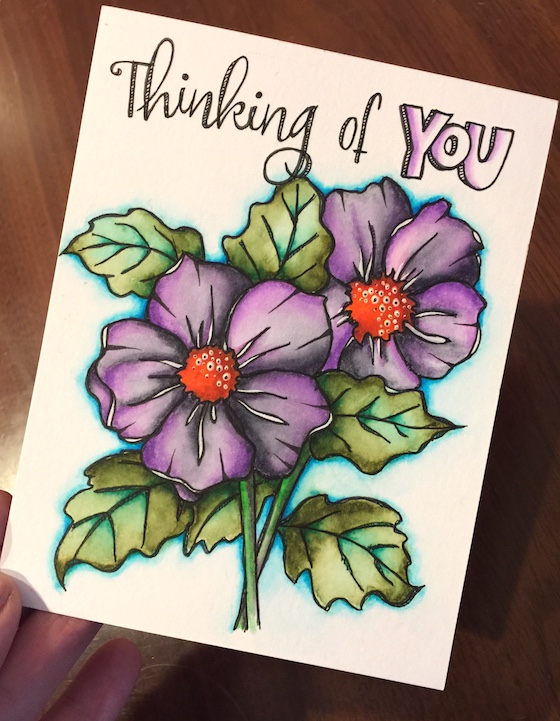 Outlining the image and adding white accents were the finishing touches.
Off to bed to recharge. Hope you all are enjoying yourselves. See you tomorrow. Hugs, Kathy
COLORING CHALLENGE INFO BELOW… QUESTIONS? NEWBIES? SHARING?
If you have any questions about the coloring challenge you can refer to this post . If you want to get my posts in your mailbox you can sign up here or subscribe to my videos here.
There are now 3 ways to share what you are coloring. If you want to join a community of coloring enthusiasts I recommend  FaceBook or Instagram. Be sure to tag me and use the hashtag #thedailymarker30day. Kids & young adults use #thedailymarker30daykids.
The 3rd way is to link up to my blog to share your coloring here.
P.S. If you want to share the logo when writing your blog post or on Facebook etc. that would be lovely & so appreciated :).
P.S.S. Did you catch my first road tip in 2018 is to So California with Lawn Fawn!?