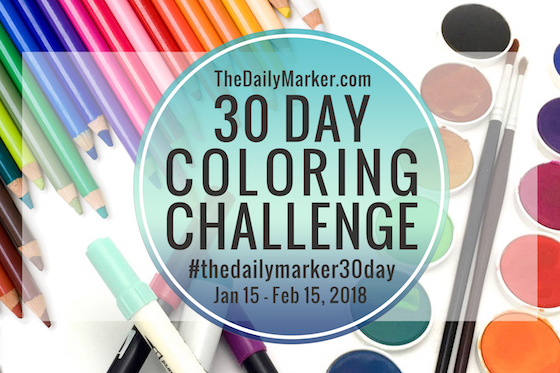 Hello Friends. Welcome to DAY ONE of my 9th coloring challenge …. "The Daily Marker 30 Day Coloring Challenge" OMG I can't believe it's DAY ONE!!! YIPEEE!! I am so excited you are here and that so many of you are taking the challenge. If this is your first time don't be hard on yourself and jump in when time permits. If you have any questions about the coloring challenge you can refer to this post . If you want to get my posts in your mailbox you can sign up here or subscribe to my videos here.
Marcella from Power Poppy is such a beautiful illustrator … she defines what an artist is and she is incredibly inspiring! This bouquet is a new digi & it's oooohhhh so fun to color. Click here if you have any questions about using a digital stamp and click here to purchase this digi stamp called, "Rose All Day" Isn't it perfect for the coloring challenge and for 6 bucks it's a steal! Thanks Marcy!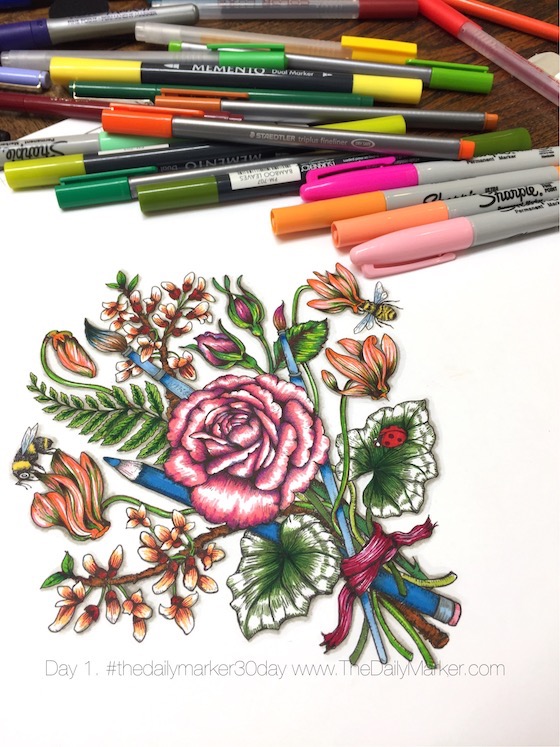 Often I am reminded that not everyone has a nice stash of copic markers or some of you are on the fence about making that kind of investment. Either way there are other alternatives and you can add color variations on your images with Sharpie markers or lesser quality markers.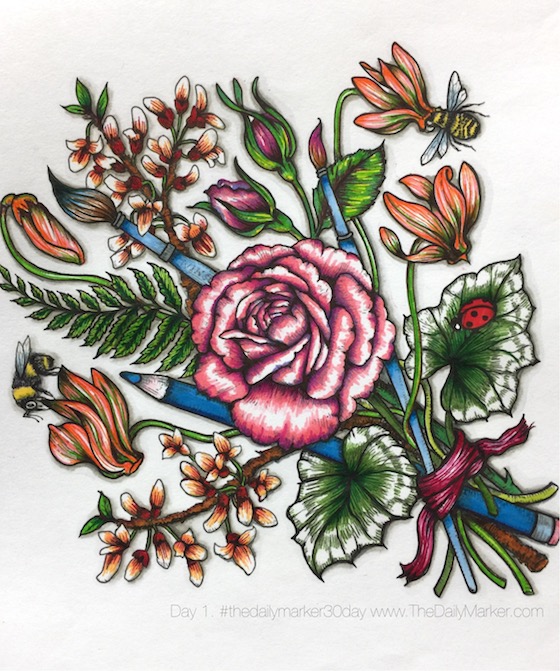 I will be honest I am not keen on digi stamps because I have printer problems but, my printer worked today thank goodness lol. This beautiful image was printed on regular dull copy paper with a regular printer. It can be done! I might put this in a frame for my momma.
*** On another note … If you subscribe to my emails and my blog posts land in your "in box" I am having issues. It seems like my posts are arriving to you a day late. DANG! Until I get this figured out keep in mind you can visit my blog the old fashioned way. I will be posting daily so I wanted to give you a heads up.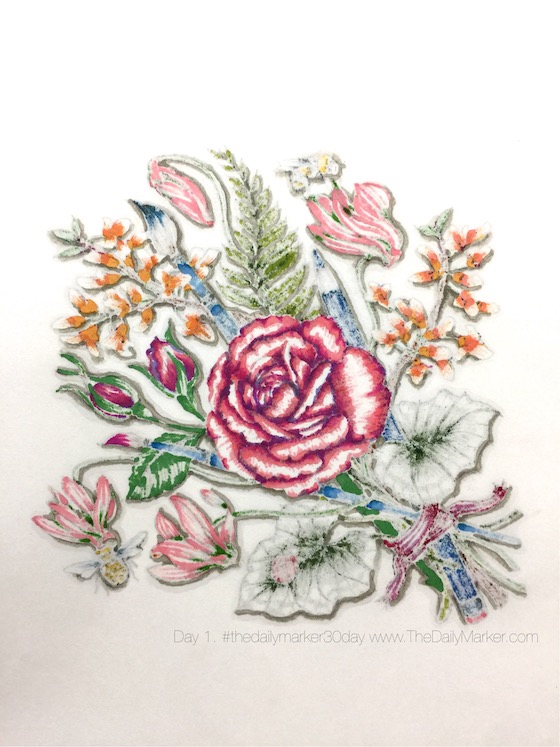 This is the flip side of my coloring … kinda cool and abstract. What do you think? Check out what these lovely ladies from the Power Poppy design team has colored! Oh my! Kathy Jones, Christine Okken, Tosha Leyendekker ,Broni Holcombe, Jessie Banks, Nancy Sheads, Barbara Walker,  Elizabeth Zaffarano
There are now 3 ways to share what you are coloring. If you want to join a community of coloring enthusiasts I recommend  FaceBook or Instagram. Be sure to tag me and use the hashtag #thedailymarker30day. Kids & young adults use #thedailymarker30daykids.
The 3rd way is to link up to my blog to share your coloring. It will always be on todays post…DAY 1. each day I will link you back here to share your coloring.
*** The link up tool is at the very bottom of this post. *** 
Thanks for your enthusiasm for the challenge and I hope you know that I am just as excited as you are. Thanks for your visit and I will see you tomorrow  Hugs, Kathy
P.S. If you want to share the logo (at the top of the post) when writing your blog post or on Facebook etc. that would be lovely & so appreciated :).
P.S.S. Did you catch my first road tip in 2018 is to So California with Lawn Fawn!?