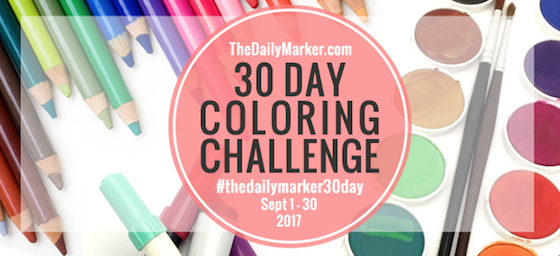 Hello Friends, Welcome to Day 2 of "The Daily Marker 30 Day Coloring Challenge" AND BLOG HOP!  I am sooooo EXCITED, thrilled and honored that I have this awesome group to hop with us today. I wanted to jump start our creativity for the challenge with most of the stops that will be on "The Coloring Challenge Road Trip" plus my favorite OnLine Card Classes.
If you are new to the challenge …. The premise of "The Daily Marker 30 Day Coloring Challenge" is to color something everyday even if it's for five minutes. (However feel free to  jump in or out as time permits). Any coloring medium is welcomed. Click here for DAY 1. TO UPLOAD YOUR COLORING  or here on Instagramor here on Facebook (FB is a closed group). Please remember to use the hashtag #thedailymarker30day  kids & young adults #thedailymarker30daykids
If you have any questions about "The Daily Marker 30 Day Coloring Challenge" you can refer to this post.  If you want more info on The Coloring Challenge Road Trip click here.
Here is the full hop list  If you encounter a broken link please refer to the full list to get you to the next blog.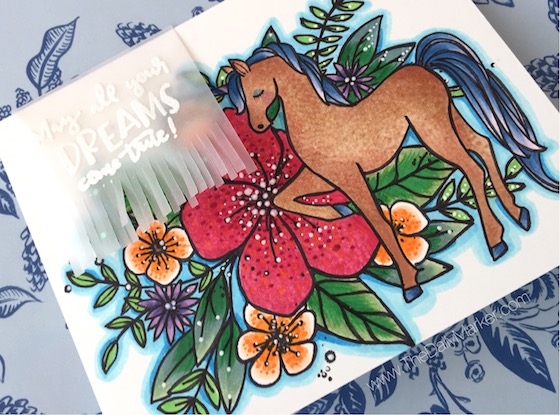 Flowers are my favorite stamps to color and I love the new "Unicorn Awesomeness" so I thought it would be fun to combine them. The "Hello Lovely Florals" is a beautiful bouquet and is super fun to color.
I grabbed a white folded 4 bar card that's 120 lb. The best part is that alcohol markers don't bleed through the paper… perfect for a one layer card. This cardstock is so smooth and thick … just to note that it's slightly different blending because of the coating on the paper. Great to have on hand!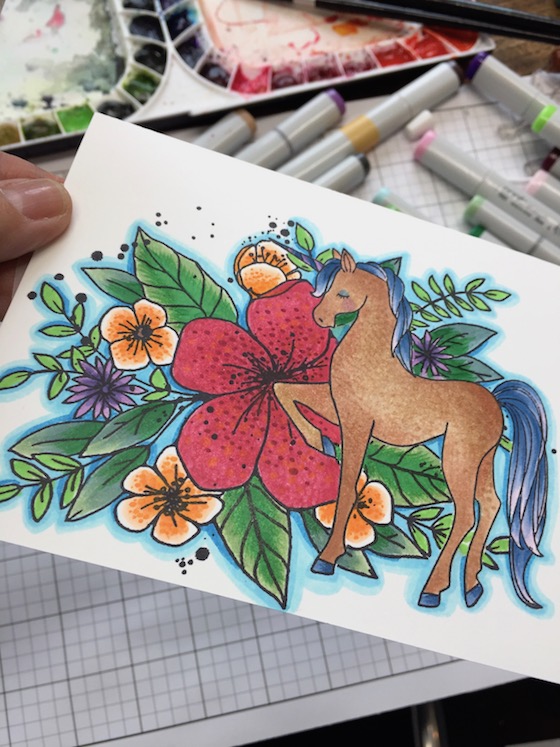 I used some blending solution with a rag on the horse & the large flower for texture. Adding more dots with the brush tip of the marker adds even more interest. Blue halo yes please. I have been outlining the images for years with a blue marker and can really make your image pop.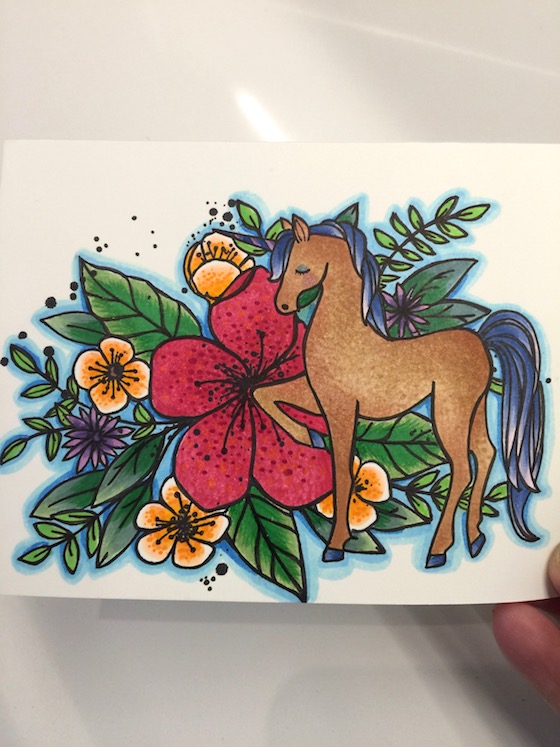 Since I enjoy tracing the images with a sharpie I decided it was necessary to do on this card.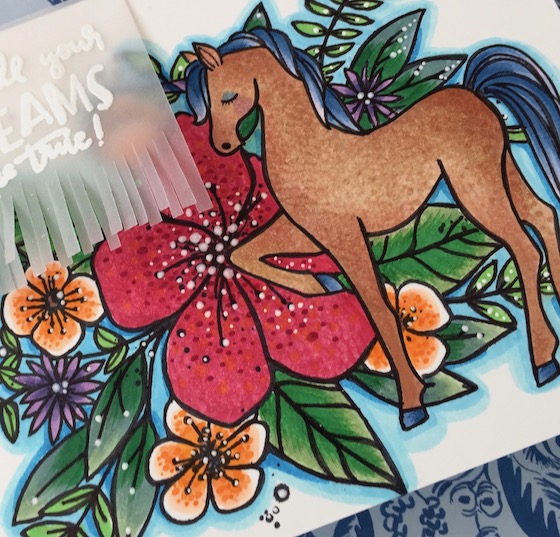 Then I added lots of white dots with a gel pen .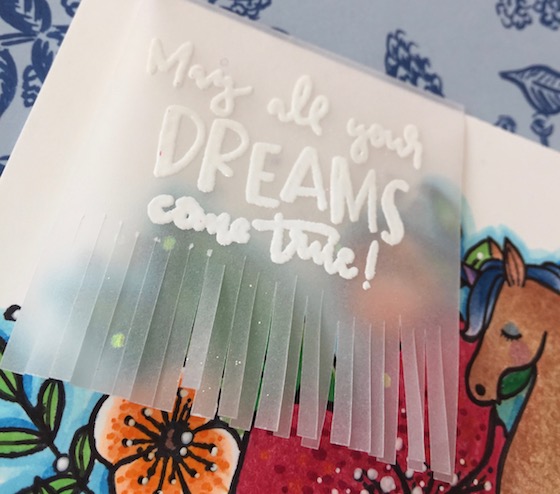 After embossing the sentiment with white embossing powder I cut a strip of vellum, scored it and cut  a fringe on the bottom. Instead of gluing it down I taped the vellum to the back of the card.
GIVEAWAYS!! YES YES : You will find lots of generous giveaways along today's hop. (check each blog in the hop for the specifics of their giveaway)
My giveaway is FOUR $25.00 GIFT CERTIFICATES to a stamp store of your choosing. TO QUALIFY all you need to do is say "yes" or "no" in the comment area to this question. Are you taking the challenge?
The full list of ALL winners from the individual blogs will be announced here on Tuesday September 12th.
NEXT ON THE HOP IS Mama Elephant! (Mama Elephant will be the next stop for The Coloring Challenge Road Trip & you can register here) Thank sooo very much for your visit today and a big thanks to everyone in the hop and for such generous giveaways!! Woo Hoo!! I will see you tomorrow for more coloring. Hugs, Kathy