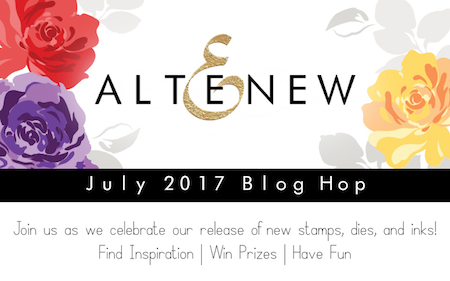 Hello Friends!!! Welcome to the Altenew July 2017 Release Blog Hop + Giveaway!! Wooo Hooo I am so happy to be participating with this amazing line up of creative people showcasing the new release …. I think you are going to LOVE it!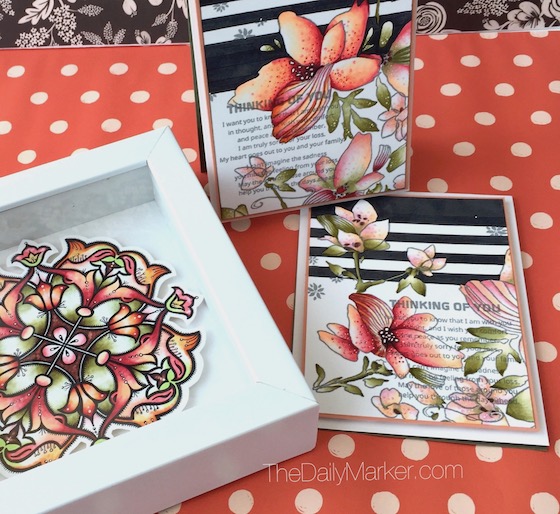 For the hop I created two cards and some wall art for my post today and I truly enjoyed creating with these beautiful and versatile stamps.
Memento Grey Flannel ink is what I used to stamp on some heavy weight 110lb white cardstock .
To start at the beginning of the hop go to the Altenew blog. If you are arriving from the talented Erum Tasneem blog you are in the right place.
If you want to watch the video in HD click here and if you like the video a thumbs up is always appreciated.
Ahhh this stamp set called, "Sketchy Floral" is nice and large … I love my stamps large … so many more options in my book. I stamped six different card bases from the one stamp and I had enough time to color two of them. The rest I will save for the next 30 day coloring challenge. Win win!
The misti "Creative Corners" has a nice acrylic ruler that I used to draw the stripes on my cards. Love how you can interpret the floral design in the stamp as a leaf or a petal depending on what color you need. I wanted more green so I colored some perhaps petals as leaves.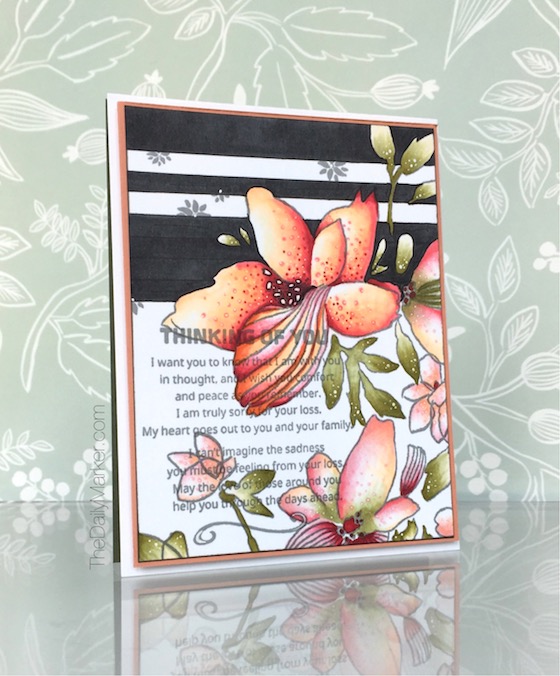 One focal flower on each card draws your eye in and saves you some coloring time. More time was spend on the focus flower and the other flowers were colored with less detail so it they were faster to color.
The text is from the new stamp set called, "Beautiful Inside" but, I loved the words so much I decided to stamp them on the outside of my card instead of the inside. The memento grey ink worked beautifully and seemed to sit on top of my coloring.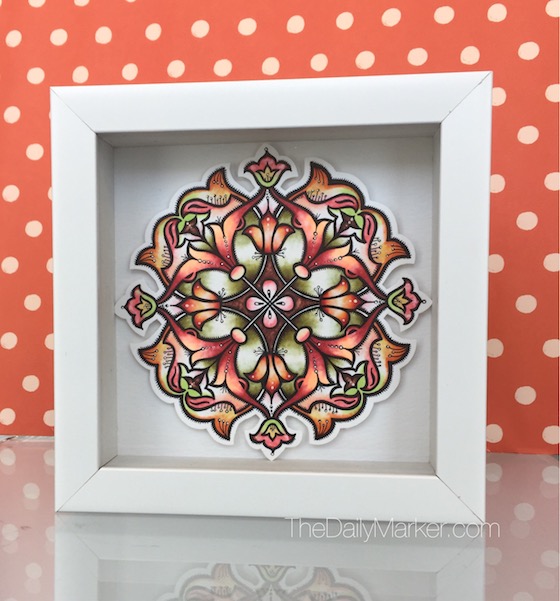 Ahhhh yes please … this stamp screams COLOR ME!! BUT, … the great part is this large Arabesque Medallion is beautiful for you ink lovers … no coloring necessary!
Rather than inking it up I chose to color the medallion using … what I like to call "Color Smashing" with my alcohol markers.  When I was finished I added some of my favorite details like dots and eyelash lines with a black fine tip sharpie and white gel pen.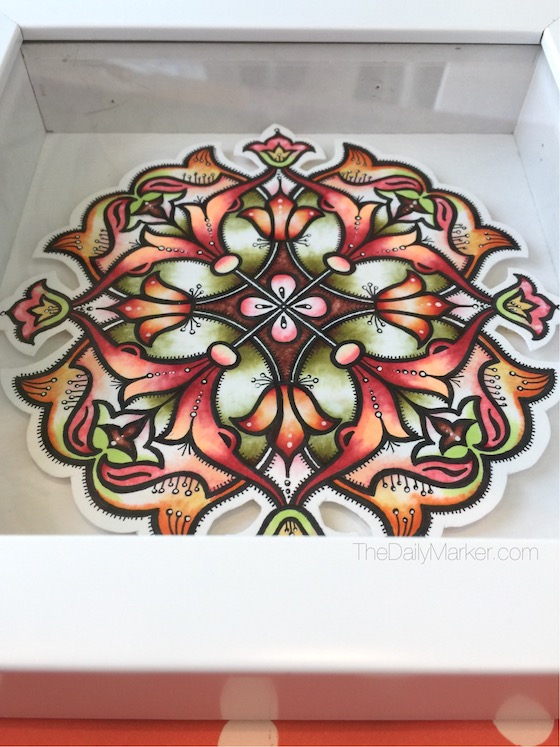 When I find a decent shadow box frame I am a happy girl. I found this 6×6 frame from Michael's .The backing in the frame was similar to black felt so I covered that with white cardstock. After cutting out the "Arabesque Medallion" foam tape was added to the back of the medallion for extra dimension when mounted in the frame.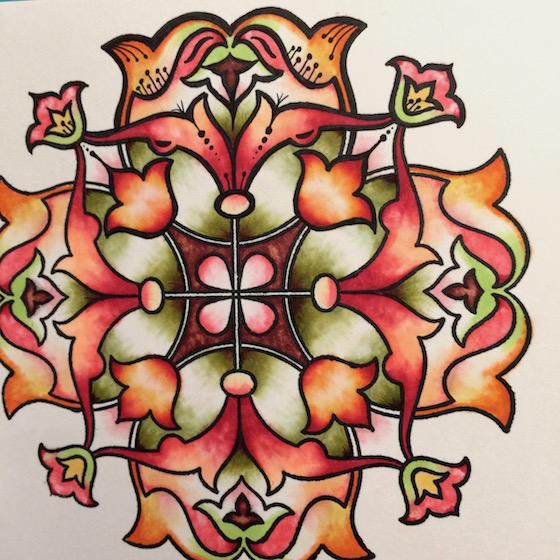 I thought you might want to see the beginning stages of my lines and dots on the top of the medallion.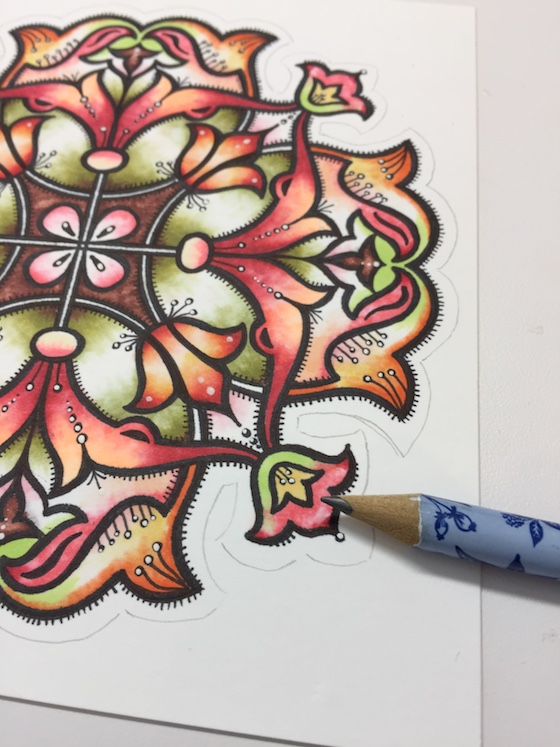 This is the finished result. (sorry for the blurry photo) To make it easier to cut out I used a pencil to draw around the medallion … then I cut it out carefully. (Don't forget to erase your pencil lines)  If you are mounting your medallion on white cardstock that's more forgiving.
Giveaways! Prizes! Yes please!
To celebrate this release, Altenew is giving away a $50 gift certificate to FIVE lucky winners! Please leave a comment on the Altenew Card Blog or/and Scrapbook Blog by Thursday, July 27th at 11:59 pm EDT for a chance to win. The winners will be announced on the Altenew Card/Scrapbook blogs on Sunday, July 30th.
ANOTHER GIVEAWAY!! I have a $30 gift certificate (thanks to Altenew) to giveaway to one of my blog readers. Please leave a comment on my bog and I will  announce the winner on on July 28th.
Next on the hop is Lilith Eeckles (an amazing scrapbooker) You will find the full hop list at the end of my post. Thank You sooo much for your visit today.
Hugs, Kathy
P.S. Have you heard about The Coloring Challenge Road Trip? Click here for the all the details.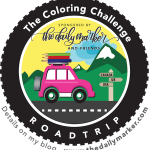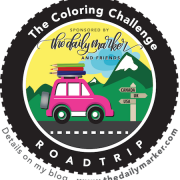 Card Supplies & Links: Affiliate links are used depending on the product.