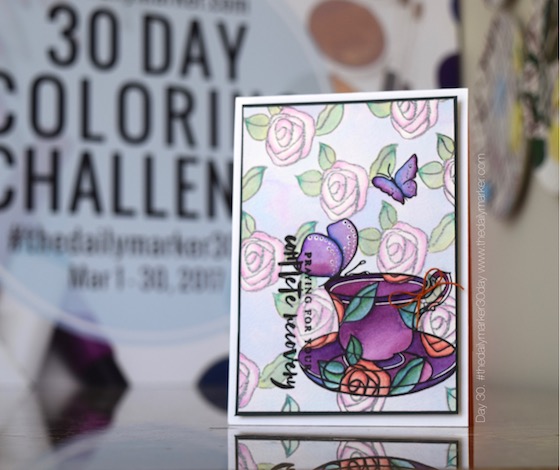 Hello Friends, How are you? It's day 30!!! Omg!! I can't believe how these coloring challenges seem to go by so quickly. I had a blast viewing all your creativity and reading how making time for yourself has been a positive experience for you like it is for me :). It's music to my ears when you mention the calming effect of coloring. You all have been so kind and supportive of my 30 day coloring challenges and words can't begin to express my gratitude.
I do have to apologize that posting in the FaceBook group was just to much for me. FB is a place I never visit and I wanted to be able to be a supportive person in the group but, every day I thought I could and then it just never happened. So sorry. A super huge thanks to the Good Will Ambassadors for spreading love Erica, Barbara, Michelle, Elaine, Debra, Maggie, Alba, Laura & Maria & many of you for being so active and supportive and encouraging in the FB group & at Instagram.  I hope we were able to reach you and encourage you. Our community is the best and the most supportive people I have had the pleasure of knowing. Thanks to each of YOU for motivating me to do these challenges.
Today I have an optical illusion card and a video. If you want to watch the video in HD  click here.
When I was watercoloring this card I was thinking of you all and it made it a very enjoyable watercoloring experience. Kinda like a prayer quilt. (read more about what that is here)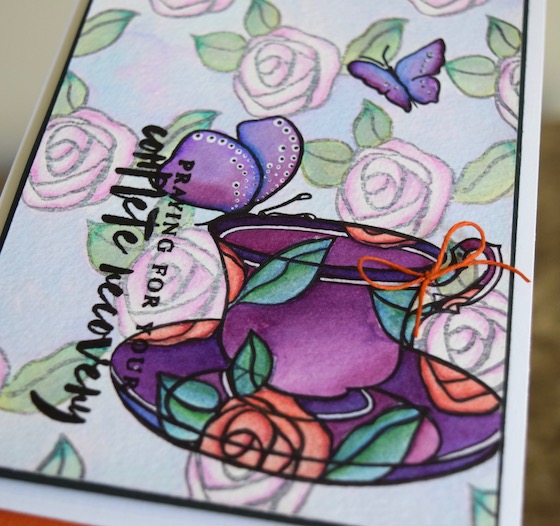 Ahhh flowers … flowers! This challenge I have used more flowers than any other of the 30 day coloring challenges & I still want to color more flowers. I try to mix things up during the challenge but… oh well lol that didn't happen.
To create my optical illusion I used "Vintage Tea Cups" and "Bamboo Rose" from Altenew.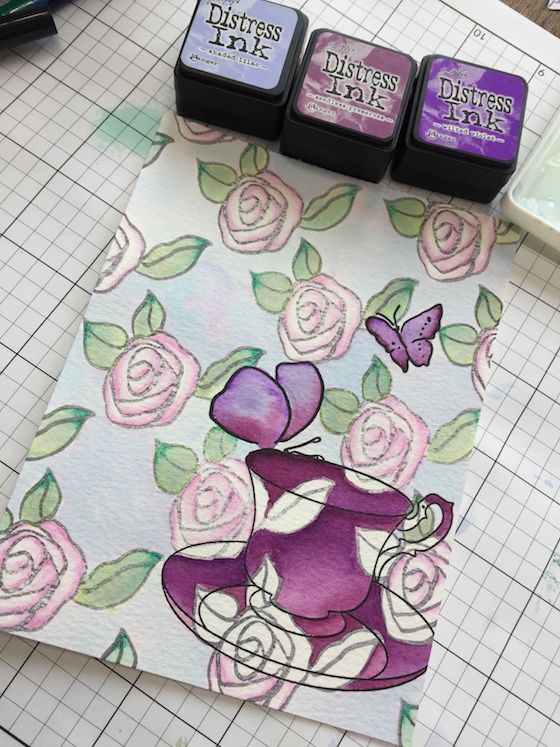 Distress ink was used for the background and the vintage tea cup plus the butterflies. Shaded Lilac, Seedless Preserves and Wilted Violet work so beautifully together…. plus a little Blueprint Sketch. This is the ink I used with my watercoloring.
In the video I show a few different techniques to get the soft look on the background and a more vibrant look on the tea set and butterflies.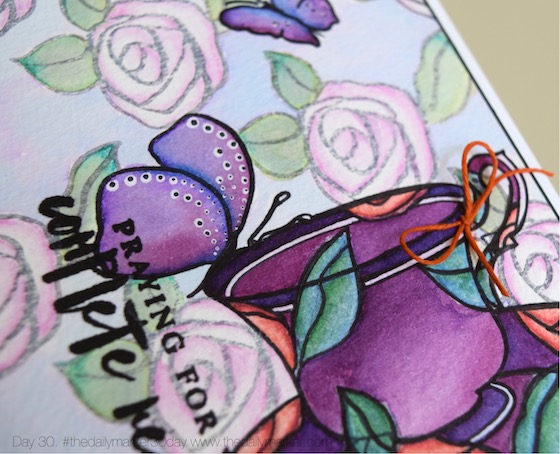 I had to add some twine (Yay it's back in stock!!)  and double dots with a gel pen and a fine tip sharpie on the butterflies.
In closing … The last day is always so bittersweet for me …it's like when the holidays are over and you get that let down. I want to thank you each and everyone of you for making the challenge a super fun one. Your daily visits, the comments, the participation, the support etc. etc.  T.H.A.N.K.   Y.O.U. from the bottom of my heart  🙂
AND … just so you know…  you can continue to play along for the next few days so we can separate slowly. Also I will announce all the other winners in a few days with all of the other giveaways by Monday.  Thanks again and again for everything! Big ole' hugs and lots of love to you all, Kathy xoo
 P. S. The Winner for  DAY 22: A $30 gift certificate to the Altenew store is Donna Rinckel. Super congrats to Donna!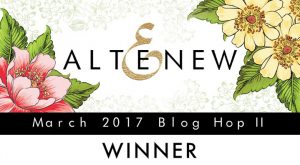 P.S.S Click here for DAY 1. TO UPLOAD YOUR COLORING on my blog or here on Instagram or here on Facebook (it's a closed group). Please remember to use the hashtag #thedailymarker30day and for kids & young adults #thedailymarker30daykids
CARD SUPPLIES AND LINKS: Affiliate links are used depending on the products.