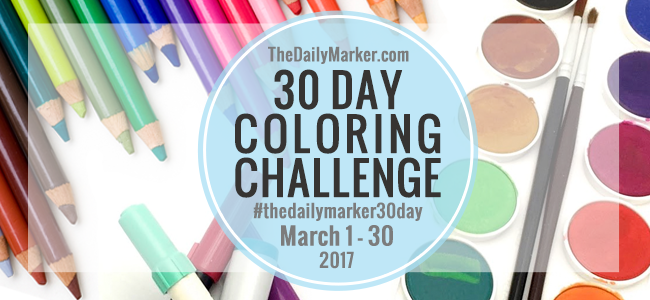 Hello friends! Welcome to Day 2 and "The Daily Marker 30 Day Coloring Challenge" Blog Hop. Excited! Giddy! Inspired …that's what I am feeling and I am so happy that you all are here today! My favorite stamp companies & my favorite Online Class "OnLine Card Classes" (also known as OCC) partners are joining us for the hop too. Mixing stamp companies on a card is one of my most favorite things to do … that was the inspiration behind the hop and all these beautiful company's hopping together brings me so much joy. 
If you are new to the coloring challenge read on if not ….  skip to the photos 🙂
The premise of "The Daily Marker 30 Day Coloring Challenge" is to color something everyday even if it's for five minutes. (However feel free to  jump in or out as time permits). Any coloring medium is welcomed. Click here for DAY 1. TO UPLOAD YOUR COLORING on my blog or here on Instagram or here on Facebook (it's a closed group). Please remember to use the hashtag #thedailymarker30day and for kids & young adults #thedailymarker30daykids
If you have any questions about the coloring challenge you can refer to this post and see my  video here. If you want to get my posts in your mailbox you can sign up here.
To watch the video using Copics and colored pencil accents click here. 
When you get to the Simon Says Stamp blog you will find photos of my card but, I wanted to share the video here. Mixing different brands brings me so much joy and  for this project I used Simon Says Stamps "Cups & Succulents" and Stamping Bella's "Thinking of You" . The scale is of these two stamp sets are perfect together and I love them both so much. I had so much fun making this card and adding lots of patterns and detail. The background stamp is awesome and I can't wait to give it center stage. It's aptly named "Topography" from Neat & Tangled.
My second video … was created for  The Stamping Bella blog  (one of my regular features there) and you will find the photos to this watercolored card but, again …. I wanted to share the video here for you. Concord & 9th spectacular butterflies had the perfect symmetry for Stamping Bella's  "AlmostElla" Danielle Donaldson collection. The bold colors from Tombow's watercolor markers are easy to use and vibrant.
GIVEAWAYS!! YES YES ….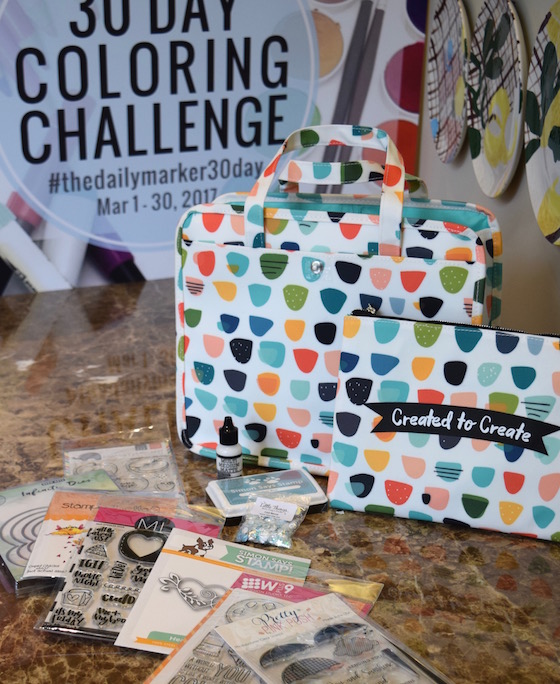 GIVEAWAYS: You will find lots of generous giveaways along the hop.  The full list of ALL winners from the individual blogs will be announced here on Sunday March 12th.
My giveaway is over $100.00 the prize package includes 5 stamp sets, 2 die cuts, ink, sequins, matte medium and this beautiful illustrated bag and kangaroo pouch. TO QUALIFY all you need to do is say "Hello" in the comment area on my blog. Super easy.
Here is the full hop list and if you encounter a broken link please come back here to get to the next blog.
Jennifer McGuire (Co owner of Online Card Classes)
Kristina Werner (Co owner of Online Card Classes)
NEXT ON THE HOP IS MY STAMP CRUSH HERO ARTS. Thanks for your visit today and a big thanks to everyone in the hop and for such generous giveaways!! Woo Hoo!! I will see you tomorrow for more coloring. Hugs, Kathy