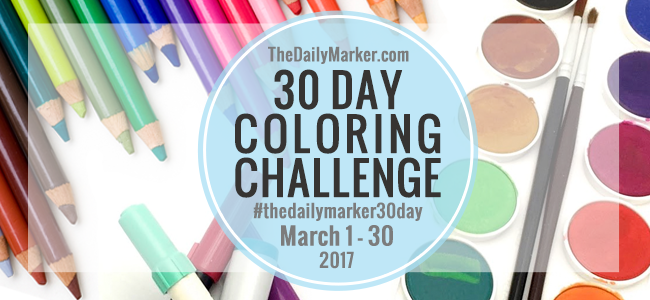 Hello Friends. Welcome to DAY ONE of my 7th coloring challenge …. "The Daily Marker 30 Day Coloring Challenge" OMG I can't believe it's DAY ONE!!! YIPEEE!! I am so excited you are here and that so many of you are taking the challenge. We have lots of newbies and lots of repeaters!! If this is your first time don't be hard on yourself and jump in when time permits. If you have any questions about the coloring challenge you can refer to this post and see my  video here. If you want to get my posts in your mailbox you can sign up here.
To get this party started today, I'm sharing a video & 3 cards. Tomorrow there will be a mega hop with amazing prizes. If you are not on Instagram join the Facebook page called "The Daily Marker 30 Day Coloring Challenge"  .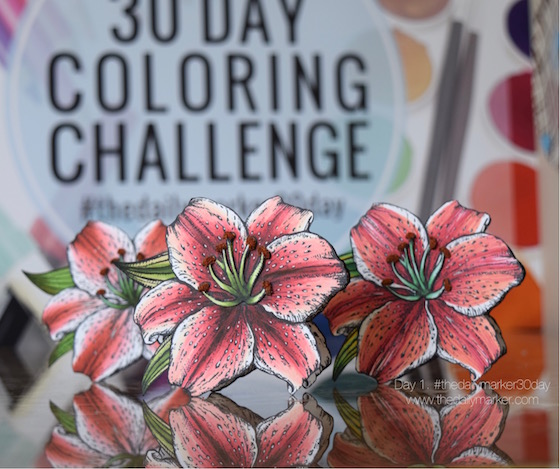 My goal in life … one of them lol is for YOU to feel success with your coloring. Honest engine that's one of my goals!! I know many of you don't have a lot of supplies and or alcohol markers so Day 1. brings three kinds of coloring. Coloring with sharpies, distress ink & Altenews alcohol markers.
Coloring with Sharpies YES PLEASE!! Can you tell which flower card is created with …. sharpie, distress ink or alcohol markers? How about this stunning "Tiger Lily" from Power Poppy!! I love everything about it especially the size & the good news is it's finally available for preorder now & they make great shaped cards. More about that in the video.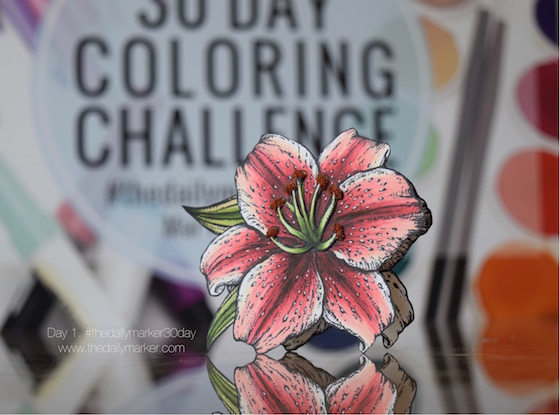 Can't decide which flower is which? … I will help you out a little bit lol. This tiger lily is colored with Altenews alcohol markers and they are affordable & sold in a set so that makes things easy for  you. More sets will be coming out I am told. It's a great way to try alcohol markers to see if you like working with them. If not I have other coloring options for you today. Check out the video here and if you aren't a subscriber you will get first crack at my videos if you are. (just click on the red button)
Let's get the coloring started but, one more time…. Have I told you how excited I am that you are here? ELATED!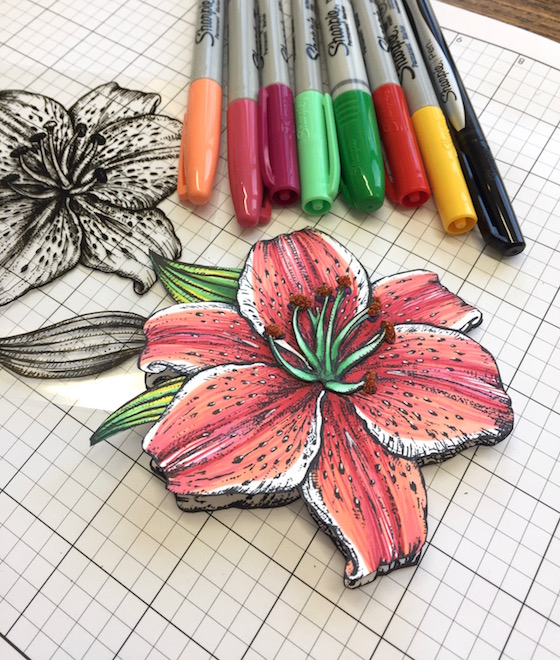 Honestly I am surprised that the results of the sharpie markers are this good. Layering the color is the trick. I fussy cut with these scissors (my son researched the best scissors & gifted me them for Christmas isn't that cool for a 25 year old) After adding glossy accents to the tips of the stamen I used flower soft but, I think sparkle dust would work even better.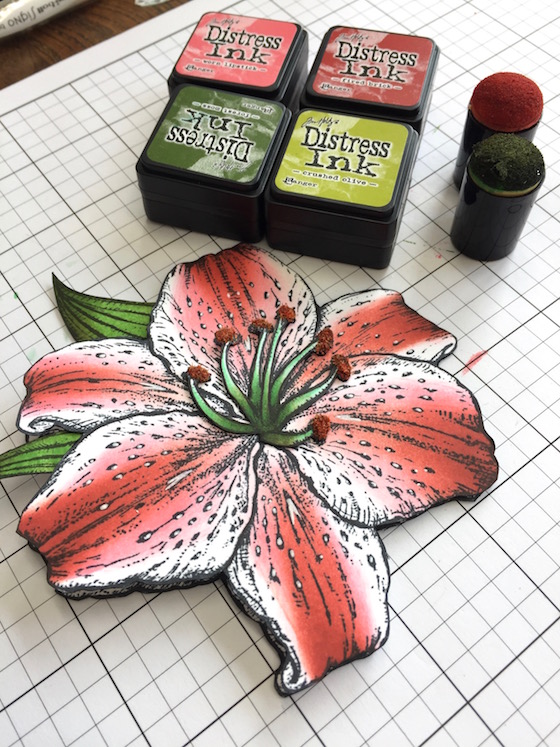 The sponge dauber is what made this coloring super easy. I used this and this distress ink for my leaves and this and this distress ink for the petals. This would be a great way to make a set of cards for a gift without to much effort.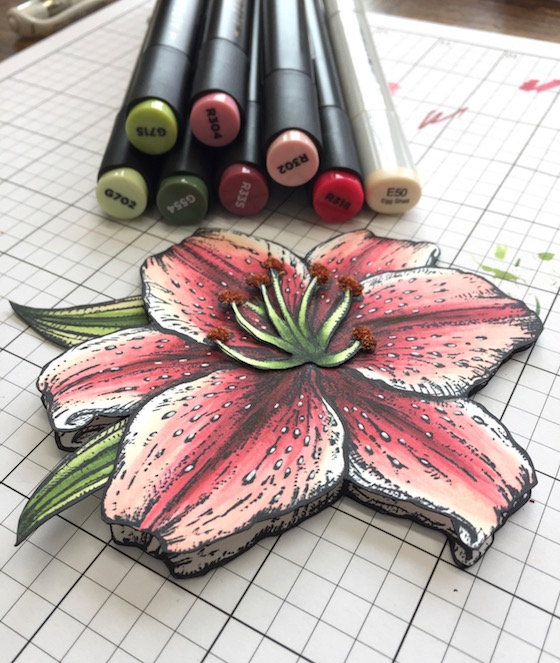 and …. this is the close up of the Altenew markers.
Fortunately "The 30 Day Coloring Challenge" has grown since the first coloring challenge because of YOU. If you want to share the logo (at the top of the post) when writing your blog post or on Facebook etc. that would be lovely & so appreciated :).
There are now 3 ways to share what you are coloring. If you want to join a community of coloring enthusiasts I recommend  FaceBook or Instagram. Be sure to tag me and use the hashtag #thedailymarker30day. Kids & young adults use #thedailymarker30daykids.
The 3rd way is to link up to my blog to share your coloring. It will always be on todays post…DAY 1. each day I will link you back here to share your coloring.
*** The link up tool is at the very bottom of this post. *** 
Thanks for your enthusiasm for the challenge and I hope you know that I am just as excited as you are. Thanks for your visit and I will see you tomorrow for a mega blog hop with some of my favorite stamp companies all rounded up for one hop … I am giddy :)!!  See ya! Hugs, Kathy
Supplies and links: Affiliate linking might be used depending on the product used.