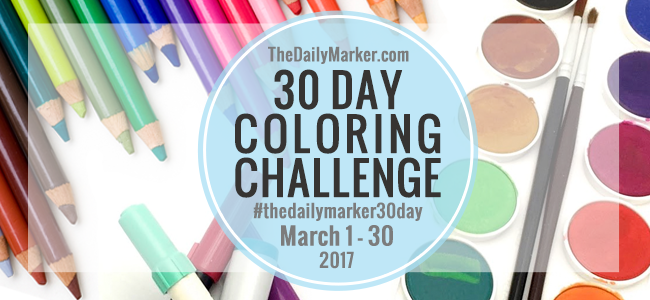 Hello Friends, It's Day 26. of "The Daily Marker 30 Day Coloring Challenge" AND today is a hop to celebrate the fifth anniversary of  … A Blog Named Hero! To start at the beginning of the hop go to A Blog Named Hero. Also you will find the full hop list in case you encounter any broken links.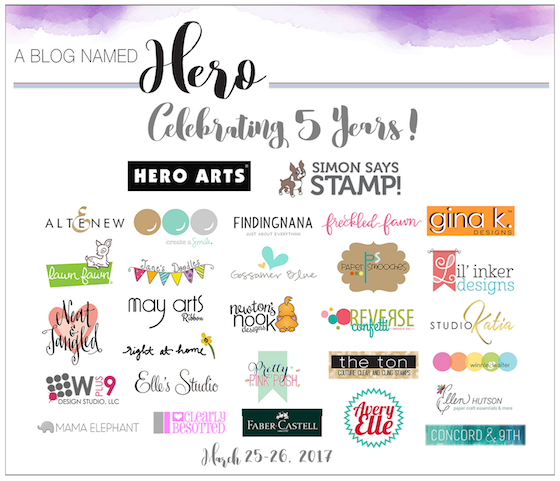 Every five year celebration brings wonderful things… like great prizes!! The hop will take place over two days and there are different giveaway prizes to be won each day … more details about today's prizes in a bit.
You might wonder my relationship with A Blog Named Hero? I would say it's a mutual love for Hero Arts and through that I was lucky enough to have them ask me to be a guest on occasion & I am super excited to be celebrating their 5th Anniversary!! Woo Hoo
Today I have a video, a set of cards and a bonus card. Let's get started …. Click here to watch the video in HD.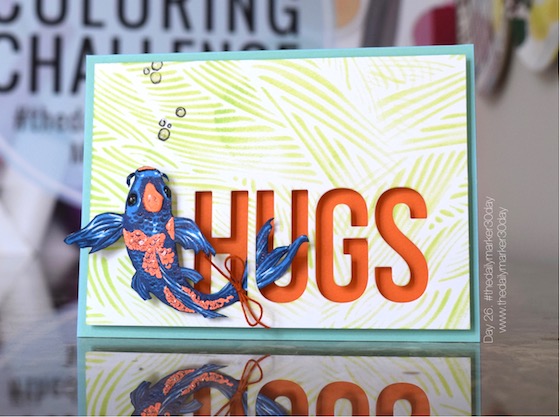 Hero Arts "Layering Koi" is one of my favorite layering stamps especially since it's great for the men in our lives. This large "hugs" die cut is perfect to take center stage on your card & I love it when you can poke an image though one of the letters.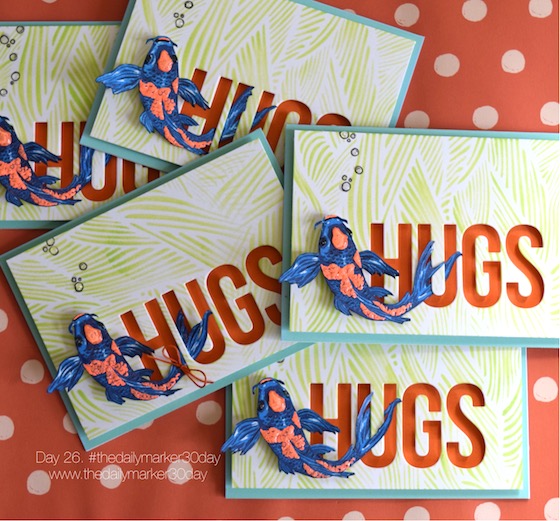 These came together quickly for me so I was able to  make a card set. (not counting the cutting but, I didn't have the Koi die cut & in this case I really recommend it) I used this stencil for the background and it's the same one on the card below.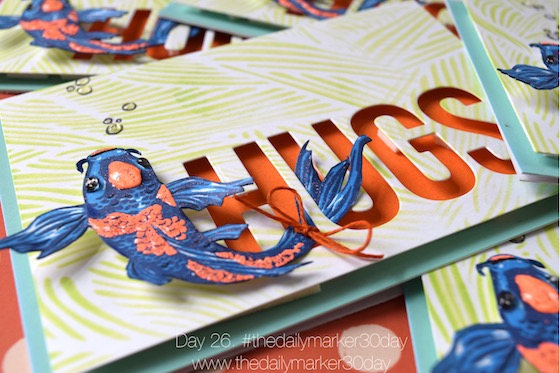 Once my card was finished I added glossy accents to part of the embossing on the body. Then I added two coats of glossy on the Koi's  head and eyes. Dots of glossy were added to the bubbles. (sequins just didn't look right)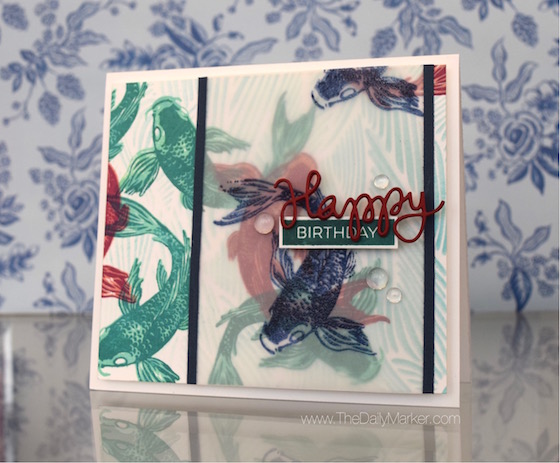 More embossing on my second card but, on vellum this time …. add a layer of dimension with vellum to mimic a koi pond and I am here to tell you that you can use only one layer of the popular "Layering Koi" if you don't have a lot of time.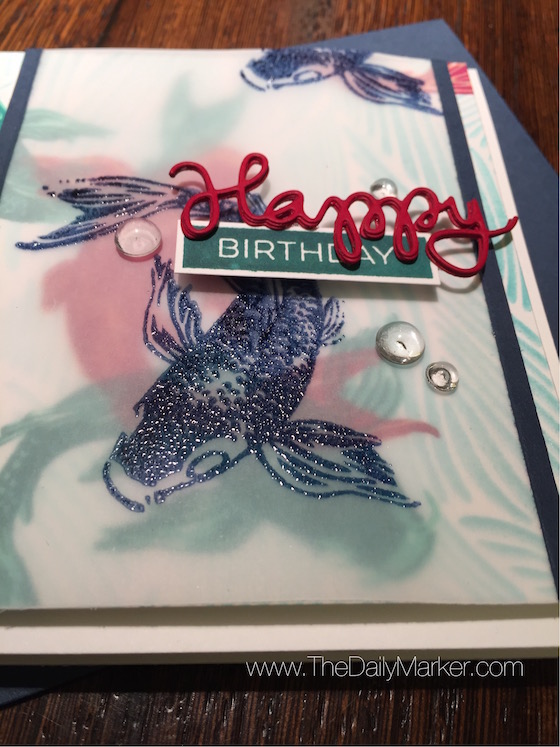 I die cut the "happy" three times with some red cardstock and glued them together. The birthday is from this stamp set that I often reach for. The happy is kinda suspended on the birthday but, it worked.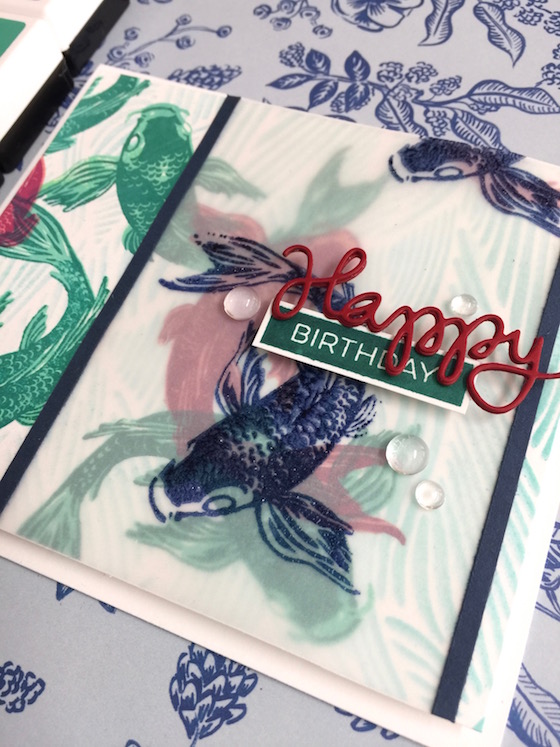 Under the vellum I stamped a few of the layers of the koi but, not all. To get more movement I used this stencil.  The water droplets in 6mm & 4mm were glued on with some matt medium. When the background was finished I stamped the 2nd layer of the koi with a layering ink and used clear embossing powder. It really does look cool in person and my 25 year old gave it his stamp of approval.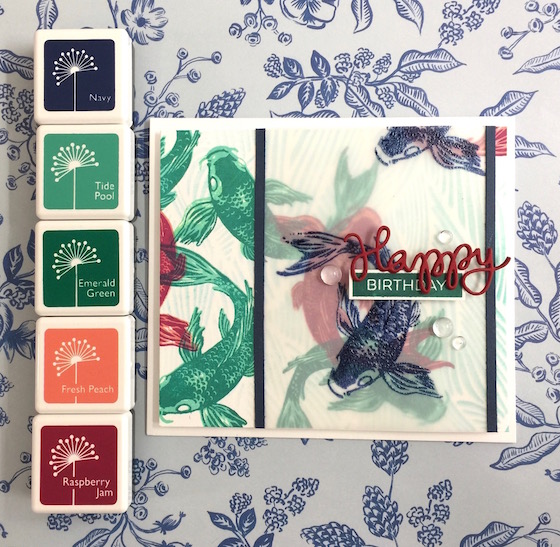 These are the inks I used for the background. I used two of the four layers of the koi on the background.
GIVEAWAY INFO: A Blog Named Hero "is so thankful for our wonderful sponsors and collaborating companies!  Several companies decided to help us celebrate our fifth anniversary with giveaways and they were so generous that we decided to spread the love over both hop days with different prizes to be won each day!  Giveaway prizes total more than $500!  To win, leave a comment on each hop stop.  We will select winners randomly from different blogs so the more blogs you visit each day, the greater your chances of winning!  And be sure to visit the Saturday post from A Blog Named Hero for the list of Saturday hoppers and prizes!  Comments must be left before 11:59 PM EDT on Tuesday, March 28th and winners will be announced on March 30th."
Today's prizes include the following: 
HOW ABOUT A GIVEAWAY FROM ME: WIN A goodie bag chock full of stamps and some other goodies. I will pick a random winner from my You Tube Subscribers and announce at the end of the 30 day coloring challenge. 
Good luck and happy hopping!!**
Next on the hop is a special company Winnie & Walter.  Thank YOU for your visit today and always. See you tomorrow and have a great day. Hugs, Kathy
CARD SUPPLIES AND LINKS: Affiliate links are used depending on the products.