Hello Friends, How is your holiday season shaping up? I hope you aren't to stressed. Sometimes finding a little  you time can give you the spirit of the holidays … especially if you can carve out a little girl time even tho it's a busy season. Last month I had that opportunity to hang with these two.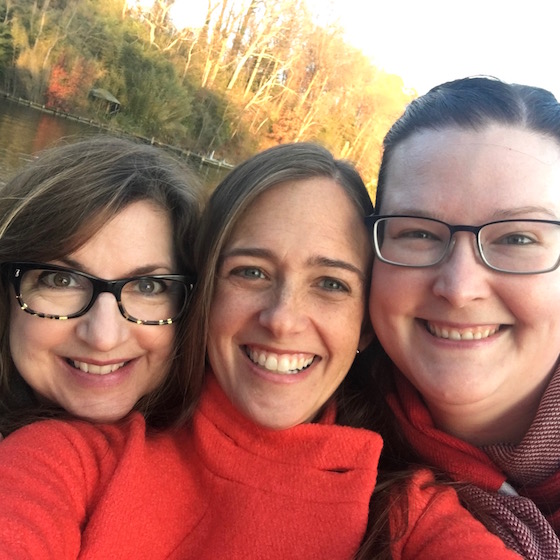 Many laughs later … and an idea that happened on that weekend … was to do a little studio tour with the three of us …   Jennifer McGuire , Kristina Werner and I. Kristina explained it perfectly … she said, "we each have similar systems but, all look & work differently." Kristina needs to see things or she forgets they are there. Jennifer has to have it all tucked away and I am a bit of both. Jennifer says that "we all are different and admire how the other works"  I couldn't agree more … do you want to see for yourself … let's start my part of the tour?
Click here to watch the video in HD and click here if you want to subscribe to my channel.
With super dark floors and constantly changing light it was difficult to get the best photos and video but, I tried over the course of several days to try and give you the best.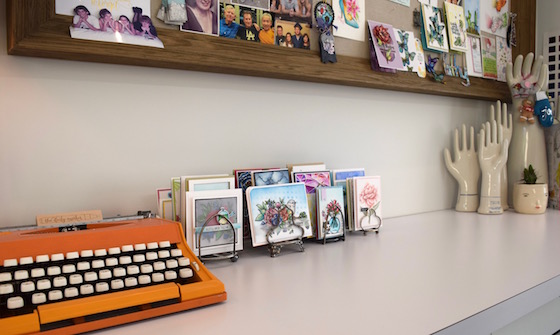 Incorporating antiques in my crafty space … make it my happy place. A vintage typewriter that I purchased on Etsy gives me a punch of color. When I started collecting 20 years ago I had to pound the pavement to build a collection .. like the hands … now days all you need to do is search google. The antique toast racks are holding cards that need to be mailed and serve as decoration too. I am temped to add a few more.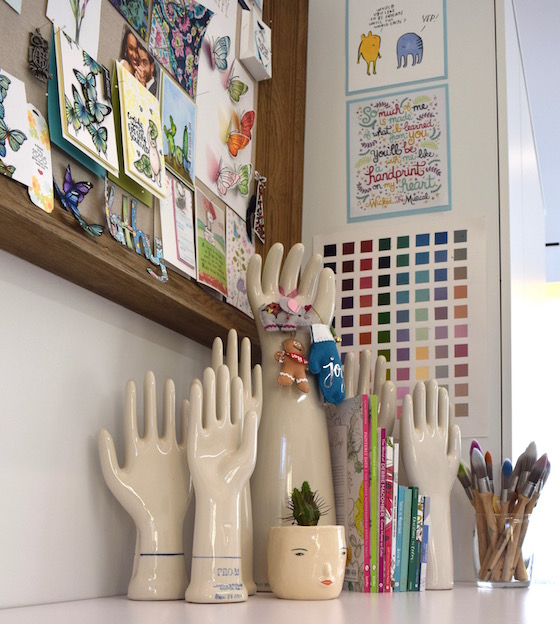 In the video I share what a disaster my studio was …. with many "before" shots. This photo is my favorite "after" shot. I did a little shopping around my house and rounded up some antique accessories that would be functional & create a more satisfying work space. These hands I have had for more than 20 years … they work as book ends for my coloring books and give me a pretty display area that I was craving. That paint chart above the hands my daughter painted. The tallest "glove mold" is holding some treasured felties that were gifts.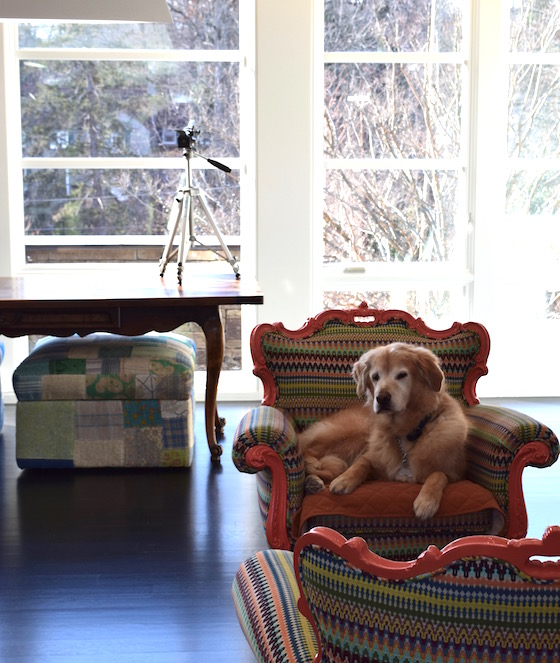 Over the years I have shared many photos of Max in his chair on Instagram. Once I cleaned out the other chair facing Max he decided to claim that one lol. Unfortunately, I had to remind him that he was lucky to have his own chair 🙂 The two benches under my long antique table double as storage space. They open up!
The story on these chairs …. about 10 years ago I convinced my friend she needed to buy these two chairs from an antiques dealer for her master bedroom. When we were building our house I had remembered hearing that my friend was tired of her chairs … thank goodness …. so we traded chairs!  I had them professionally painted ORANGE and reupholstered with a fun fabric.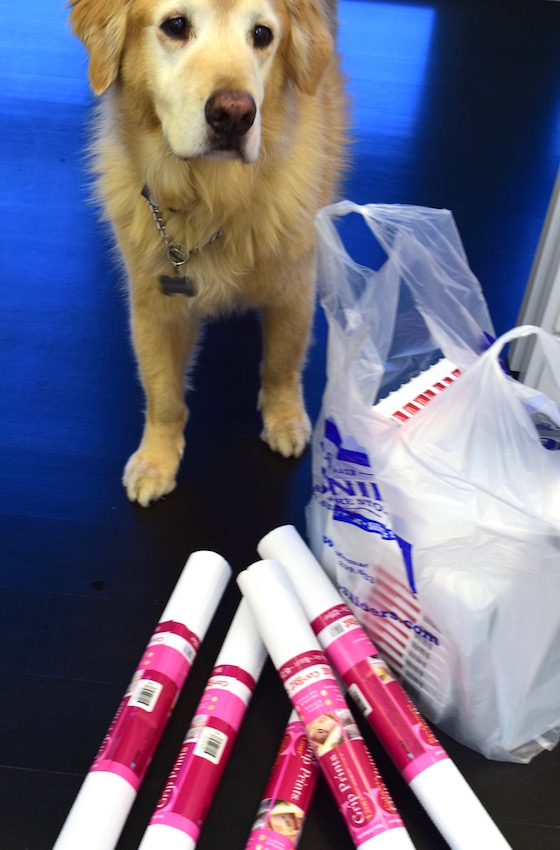 My video tour is really a long last make over. Having the right tools is necessary so I picked up several rolls of the bright white grip paper to line each drawer with. This way everything stayed in place unlike before. I purchased many of these drawer organizers to maximize my space and to make each drawer 100% functional. They were more money that I anticipated but, for four years I lived in this space with it not functional so it was a good investment in my book.
If you haven't already seen Jennifer McGuire or Kristina Werner studio tours I can't wait for you to see how there happy spaces work for them.
I would love to see how your crafty space works for you and what makes you happy. If you want to share yours click on the blue Inlinkz button at the bottom of my post so everyone else can see too.
Thanks to Kristina and Jennifer giving me the motivation to finally get my studio in full functioning mode and thanks to you all for your visit today. Hugs, Kathy