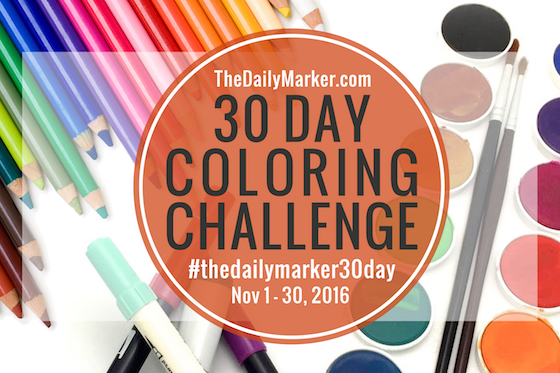 Hello Friends. Welcome to DAY ONE of my 6th challenge …. "The Daily Marker 30 Day Coloring Challenge" ! I'm super excited to have you join me in another coloring challenge. If this is your first time don't be hard on yourself and jump in when time permits. If you have any questions about the coloring challenge you can refer to this post and see my  video here. If you want to get my posts in your mailbox you can sign up here.
To get this party started today, I'm sharing two videos & a card. Tomorrow there will be a mega hop with amazing prizes. If you are not on Instagram join my new Facebook page called "The Daily Marker 30 Day Coloring Challenge"  .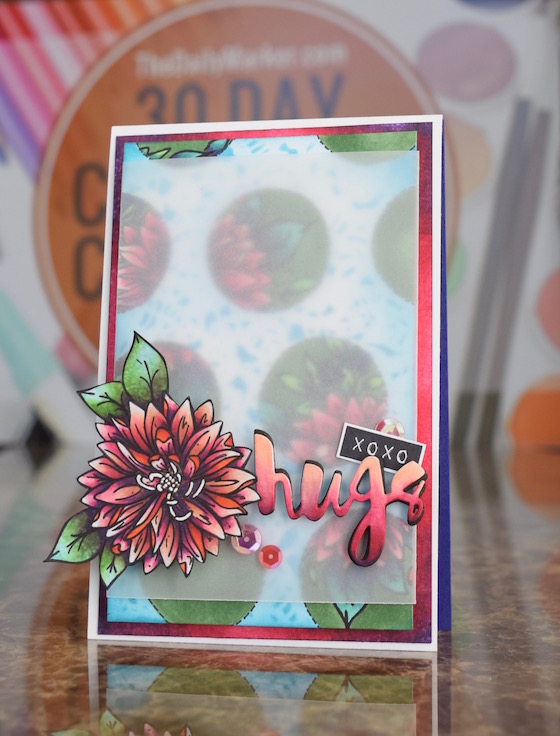 Creating backgrounds has always been a favorite of mine when time permits. The beautiful flower cluster that I used is from WPlus9 called, "Beautiful Bouquet:Mums" The sentiment is from Simon Says and it's called, "Painted Hugs" It's the perfect size and shape for any card plus "hugs" is great for any occasion in my book. 🙂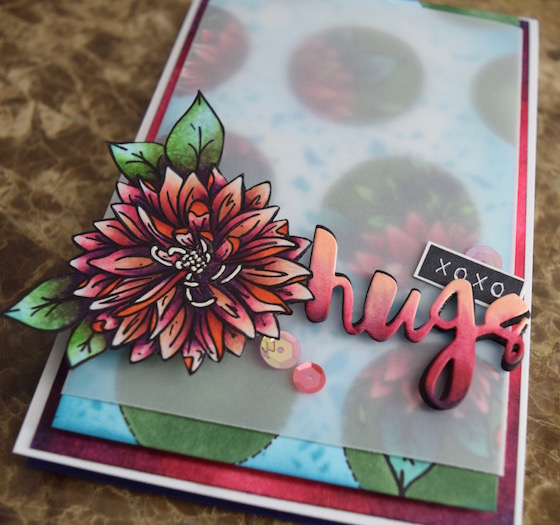 During your card making process if something doesn't turn out quite like you want .. add some vellum & or some various ink & that should do the trick. To watch Part 1. The Background click here. I broke todays card into two videos. To watch Part 2. Finishing Touches click here.
Any interest in seeing previous Day 1 past posts? I always try to do something a little different for my day 1 posts. Here is shading with distress ink, Starbucks cup card here, Butterfly shaped card here, Coloring book card here & a video of day 1 of the very first coloring challenge.
After I cut, traced, colored and masked the dots with masking paper I used some distress ink and this doily stencil to add pizzaz. White gel pen accents are a must & "Lucy's Little Things" sequins always always are the perfect final touch. I use this to glue down the sequins.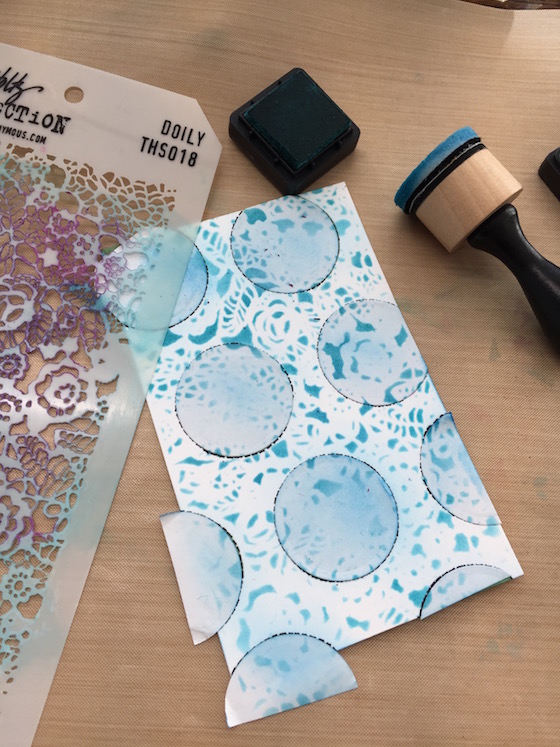 Fortunately "The 30 Day Coloring Challenge" has grown since the first coloring challenge because of YOU. If you want to share the logo (at the top of the post) when writing your blog post or on Facebook etc. that would be lovely.
There are now 3 ways to share what you are coloring. If you want to join a community of coloring enthusiasts I recommend  FaceBook or Instagram. Be sure to tag me and use the hashtag #thedailymarker30day. Kids & young adults use #thedailymarker30daykids.
The 3rd way is to link up to my blog to share your coloring. It will always be on todays post…DAY 1. each day I will link you back here to share your coloring.
*** The link up tool is at the very bottom of this post. *** 
Thanks for your enthusiasm for the challenge and I hope you know that I am just as excited as you are. Thanks for your visit and have a great week. I will see you tomorrow for a mega blog hop with great goodie bags. Hugs, Kathy
Supplies and links: Affiliate linking might be used depending on the product.