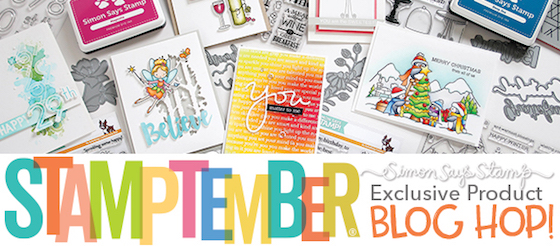 Hello Friends!! Woo Hoo Stamptember is here and I am super exited to be a part of the Simon Says STAMPtember blog hop. I always get giddy this time of year because Simon has made it where it's impossible to say September… I just think STAMPtember instead of September lol.
If you are coming from Lorraine's blog you are in the right place. To start at the beginning of the hop go to the Simon blog here.
Today I have three cards and a video for you.
Simon Says Stamp does it again with lots of exciting stamps to create fun holiday cards with. This stamp is called, "An Arctic Christmas" … I couldn't wait to ink it up and color! It's such a delightful scene and would make anyone smile. (In a week or so I will be sharing this stamp again except with the mountains all green with snowy caps)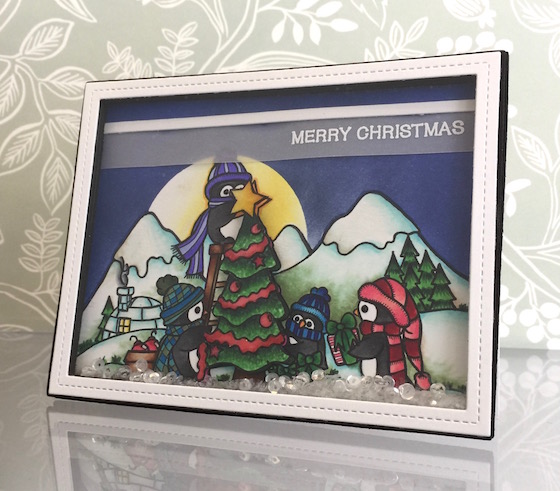 WATCH how I masked off my card and a few other key elements in this 2 minute video.
A strip of heavy weight vellum across the top worked for a last minute sentiment addition. The sentiment was embossed with white embossing powder and I added a thin strip of paper on top to hide any glue on the vellum.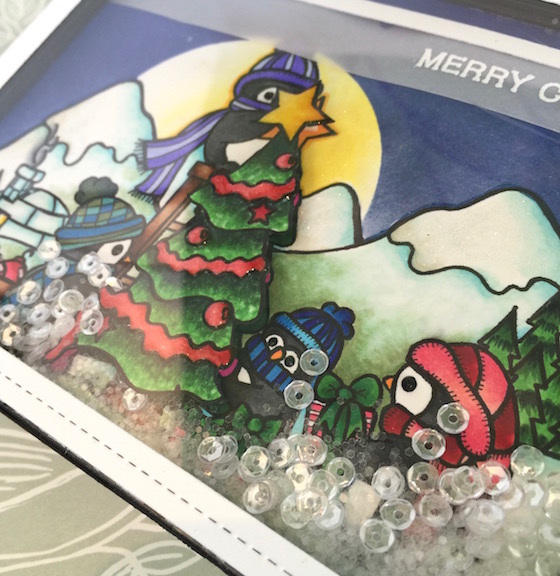 Yes you can pop a tree for added dimension and still make a shaker card. Just add another layer of foam. I keep talking about Lawn Fawn's dies that make shaker cards EASY. Today I used the rectangles.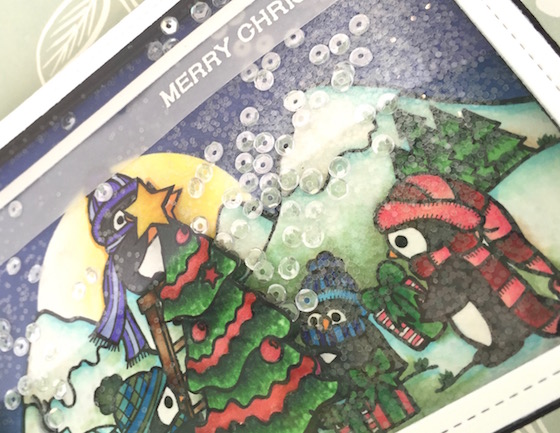 I mixed some Pretty Pink Posh sequins with some glitter. I wanted that powdery snowy effect with some sequins. I added some enamel accents to the eyeballs and some tiny details and patterns with this fine tip copic marker.
To watch my second video for today click here.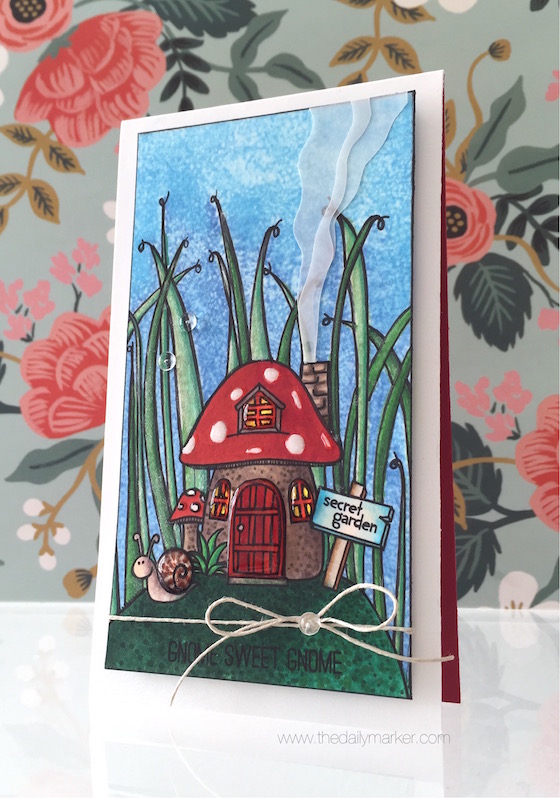 For my second card I was going for that magical forest look with a little gnome house hidden deep into the forest … between the blades of tall glittery grass. Can you tell I like fairy tales. 🙂 It was love at first sight with this stamp set called, '"Secret Garden" .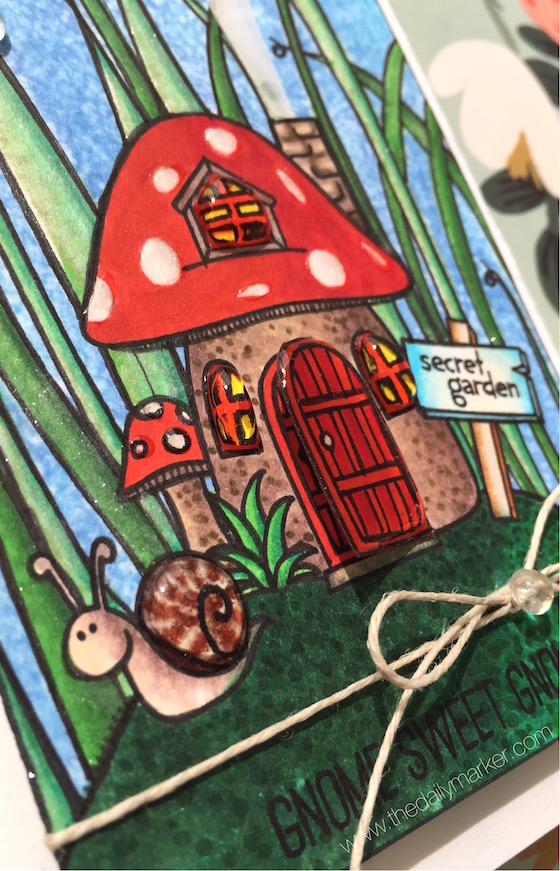 The door is slightly ajar to invite you in to sit by the fire. Smoke was created with two layers of vellum. I glued the vellum with some matte medium.
This card took patience because I added FIVE coats of glossy accents on the windows and doors. I explain it all in the video.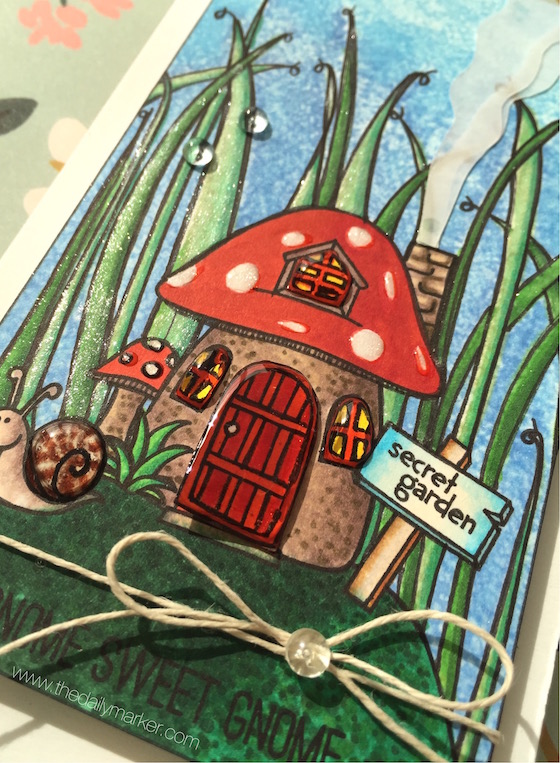 I used this to glitter-ify the blades of grass. Some blending solution was added to different elements on my card. A quick bow with some twine and a water droplet for the center of my bow was the final touch.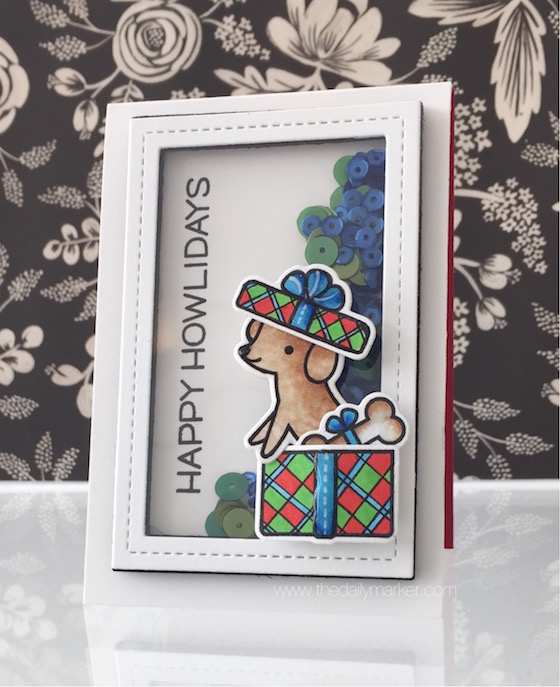 For my last card I wanted to go simple with a quick shaker card since my other two cards are a little more involved. This stamp set is a collaboration with Lawn Fawn and Simon and it's exclusive… in my post yesterday I share 3 MOCK shaker cards created with "Happy Howlidays" . Beware … last year it sold out super fast.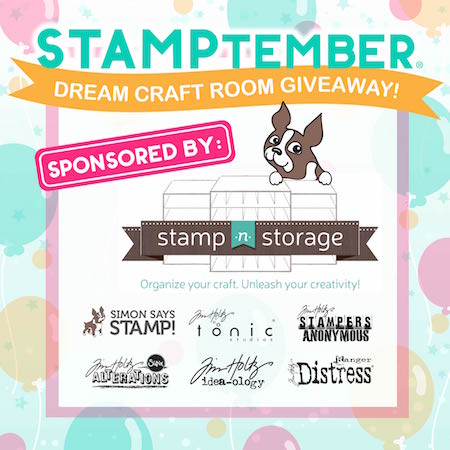 DID YOU SEE THE MEGA GIVEAWAY! It's so easy to register to win and I tell ya it's so worth entering. Be sure to watch the video … it's a dream come true giveaway. Click here for the details.
KEEP HOPPING
There's much more amazing inspiration….the next stop on the hop is urber talented Kelly Latevola's blog HERE. As always thanks for your visit today. Hugs, Kathy
Key Card Supplies & Links: Affiliate links are used.