Hello Friends,  How are you? Are you getting tired of my daily posts? I sure hope not 🙂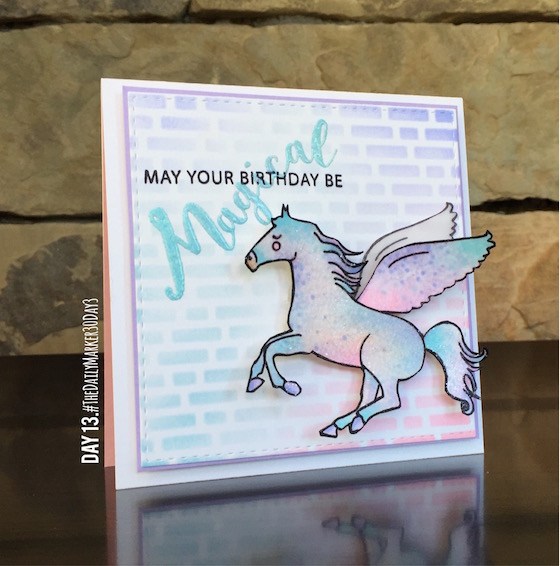 Instagram is where I saw this super fun horse that has a unicorn option in the stamp set. It's called "Magical" from Waffle Flower and I was so delighted when it appeared in my mail box. I filmed a video coloring the horse but, deleted it from the computer & the camera accidentally! Pretty stupid and lesson learned.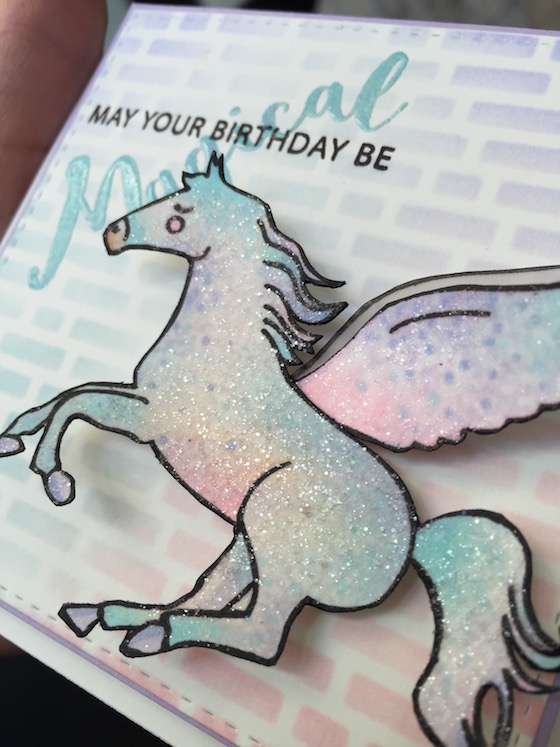 It's pretty easy to get cotton candy color schemes like yesterdays birds and this horse with Copic markers or another medium for that matter. 🙂
I embossed the word Magical and stamped on top of the embossing in black ink.
I stamped another wing on this super luscious vellum. When I cut the wing I left a tab on it so it would  be easy to glue the wings together & on the horse. Often I will cut a strip of paper for extra reinforcement to put on top of the glossy accents.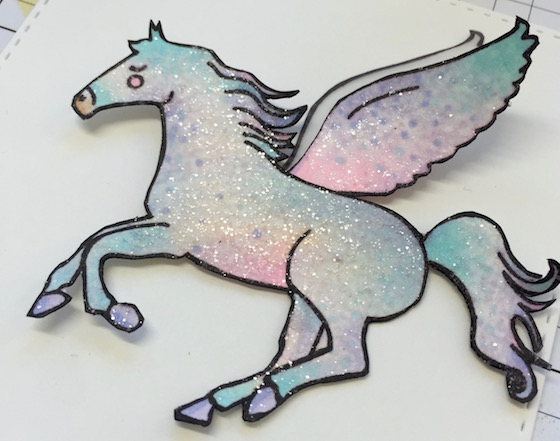 Any magical horse or unicorn calls for lots of sparkle. Rock candy is my favorite because it gives you so much texture.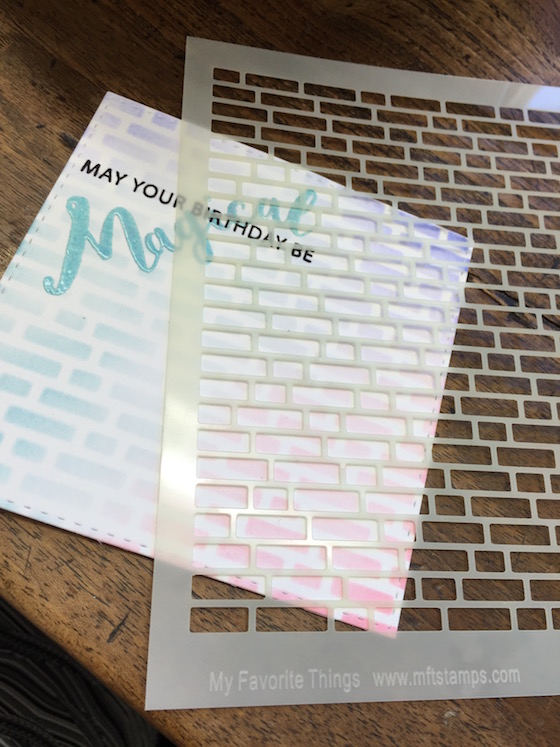 The background was created with this brick stencil and three distress inks. I have a card makeover using this stencil tomorrow and I think you will like the contrast.
THE GIVEAWAY: A goodie bag from me including a stamp and die from Waffle Flower. A random winner will be picked on Oct. 20th.


Loving all of the art and coloring that you guys are uploading on my blog and Instagram. Thanks for making the challenge so much fun. See you tomorrow for the card make over! Hugs, Kathy
P.S. TO LINK UP & share your coloring click here and go to the bottom of the post. In case you missed it you can read all about the 30 Day Coloring Challenge here.
P.S.S.If you wan to see what everyone is submitting for The Daily Marker 30 Day. Click here to see what is being shared on my blog but,  you need to scroll to the bottom of the post. You can click here too to see everything under the hashtag #thedailymarker3day3 that's on Instagram.