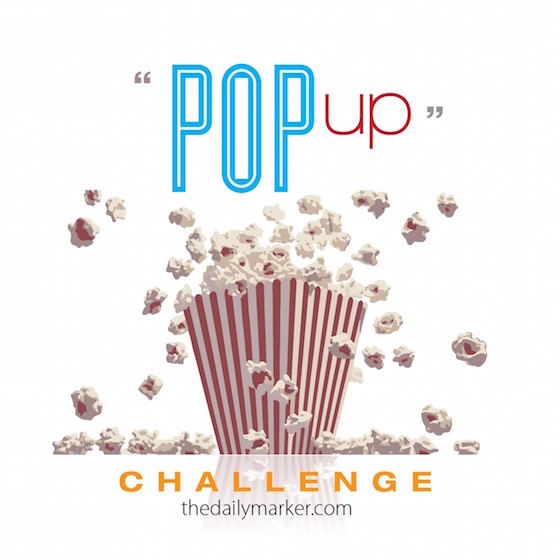 Hello Friends! How are you? Today I have some news, dates and a giveaway. Since my third "30 Day Coloring Challenge" won't start until October 1st. I wanted another way to share with you in a fun & trendy way with a new concept called "Pop Up Challenge" My Pop Up Challenges will be in between my 30 Day Coloring Challenges.
The FIRST Pop Up Challenge dates are AUGUST 14th – 17th It will be four days of fun, videos and prizes 🙂 
Have you heard of the trendy pop up shops opening up around the country? I have seen a pop up gallery in NY, a pop up restaurant in Washington DC & a pop up boutique in Virginia.  Google says, "Pop–up retail shops are temporary stores at a designated venue, the purpose of which is to attract the consumer long enough with something exclusive, surprising and exciting, while the brand gets exposure to create an impact and communicate something specific to a large audience" The pop ups are usually short lived.
My Pop Up Challenges will have a surprise theme and will happen randomly throughout the year. They will be for a shorter period of time and will be condensed with lots of content.
Now let's talk coloring. First I want to officially announce the dates and a big thank YOU for "voting" on what month works best for you. (I know October wasn't good for some of you and it's a crazy month for me but, we can help each other out ok?.)
The third 30 Day Coloring Challenge will be October 1st – October 30th 🙂
A friend of mine just sent me this article from the  Huffington Post about coloring. The title is "Why Coloring Could Be The New Alternative To Meditation"…..need I say more? I know that I don't need to convince you but, isn't it so exciting that all of these wonderful articles of coloring are coming out.  Click here to read the full article. "6 of the top 20 selling books on Amazon are adult coloring books"!
THE GIVEAWAY : Help me spread the word about the Pop Up Challenge. Share the graphic on your blog, Facebook, email your friends etc. Please link back to this post & leave a comment letting me know how you shared the Pop Up Challenge. Feel free to share as much as you want.  I will pick a random winner – you pick a friend – YOU BOTH WILL WIN A GOODIE BAG WITH STAMPS ETC. I will announce the random winner on August 13th.
Thanks for your support and for your visit. I won't be back until the 13th because I will be working on videos. If you are new to Instagram and want to follow me I will be sharing sneak peeks. Have a great week. Hugs, Kathy