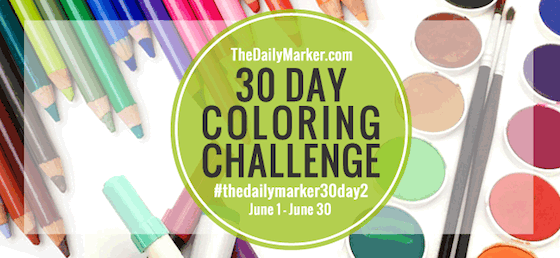 Hello Friends, How are you? I don't know about you but, I am a little sad that it's DAY 30! I want to thank each and everyone of you for your support, love, kindness, comments, participation, inspiration and so on and so on. It's because of you that the 30 Day Coloring Challenge has been a big success. So take a bow and let me give you a big hug.
Since it's the last day of this second challenge I wanted to make something special for you all and was a little stressed. I thought I had the day to dedicate to the last day and as it turned out no so much. I didn't sit down until late afternoon and than the dang video cut out parts of what I filmed. It was way over an hour so not sure if that's why but, the two most important parts were good! *whew*.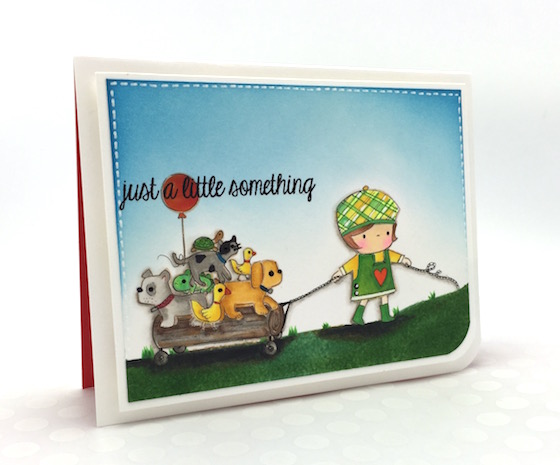 Since the "no line"coloring is so popular that is what I set out to do using Mama Elephants new stamp set called, "Sunday Stroll". The masked menagerie of animals were a little confusing without a line so I ended up taking that super fine line marker that I love and traced everything. The images were stamped with "Memento Desert Sand" and I used Copic markers to color them. Those of you new to Copics…yes they are alcohol markers.:)
If you want to watch the video larger click here. The large grid stamp pad is available now and I love mine 🙂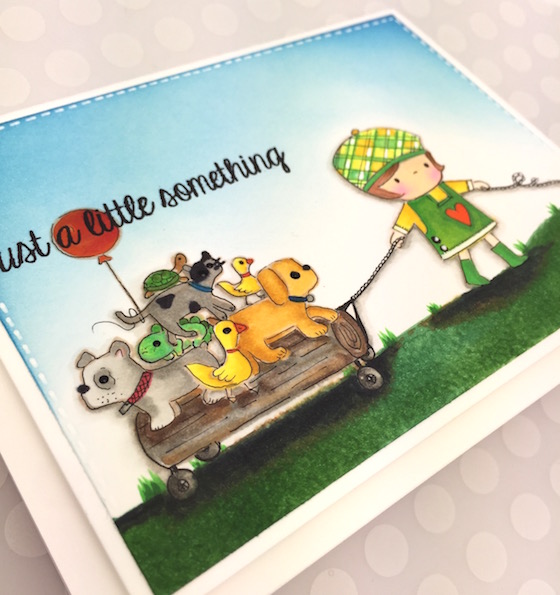 In yesterdays post I used this same technique on the background of my card as I did for the grass. The "Various Ink Blending Solution" never fails. Some of you had questions so hopefully it will make more sense now? I used the set called, "Woodland Gifts" for my little scene. I stamped the log and turned it into a wagon for her to pull. Since I had so many images to mask I wanted to use some masking paper. To finish off the background I used Salty Ocean distress ink & added some Enamel Accents to the animals eyes.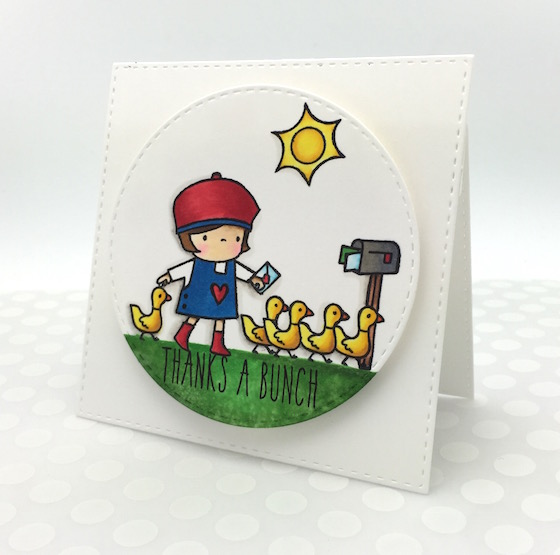 So fun to use this stamp set creating little sweet scenes. This one was easy to throw together because I already had a duck cut for the mask. The stitched squares and circles make a fast and pretty card.
So it's time to wrap this up and get to bed. I am going to try and post all of the winners on Wednesday but, don't hold me to it ok? If you guys could spare an extra day so I can catch my breath that would be awesome. I know you all are excited. Giveaways are work and I try to do as many as I can because I am grateful for you all and love to have something to giveaway. I wish I had a party favor for you…wouldn't that be cool.
Soon I will announce the next 30 Day Coloring Challenge and I have something else in the works for you. Woo Hoo!
Thanks again and again for your love and support. Group hugs, Kathy
SUPPLIES AND LINKS: