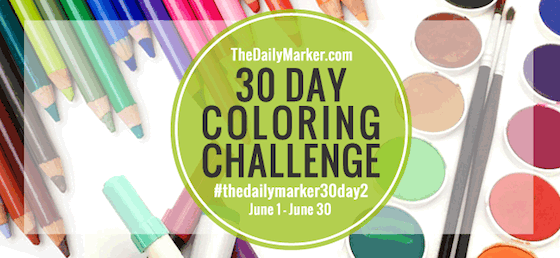 Hello Friends, Guess what happens two days from now? June 1st is my second 30 Day Coloring Challenge. Your enthusiasm and creative energy encouraged me to do it again! Thank YOU!  If you missed the 1st 30 Day Coloring Challenge… Welcome to the fun. We all deserve to do something for ourselves each and every day. So leave your stress behind and let's get ready  🙂
See the video here in HD to see my essential supplies and why.
Last time I shared this video below. I will organizing my supplies the same way this time except I will substitute my watercolor pencils for the Zig watercolor markers. (They are much more vibrant).
Having everything at your fingertips will keep you inspired. The challenge is for you to color (any medium of your choosing) and be open to experimenting but most of all to have fun without any expectations or pressure. Take days to finish a card or just color. 30 days of color therapy and entertainment is coming to you. Are you ready to join me again? Let the fun begin.
Incase you might have a few questions read below my essentials. See you June first! Hugs, Kathy
CAN YOU PARTICIPATE IN MY 30 DAY CHALLENGE?: Wow that would be awesome if you want to participate & feel free to jump in at anytime during the 30 days! Everyone is welcome!
COLOR EVERYDAY? WHAT!  The idea is to color something everyday even if it's for five minutes. Just five minutes that's it. Some days you will have more time and that's even better.It's just about adding more time to color and carve out a little time for something that makes you happy.
THERE ARE A FEW WAYS TO SHARE:  You can share your work where you are most comfortable like Facebook, Instagram, Flicker, your Blog etc. If you use this hashtag #thedailymarker30day2 I can find your work or you can link with the Inlinkz tool on Day One on my blog. Please don't NOT use INLINKZ if you are sharing on Instagram. (Instagram is the easiest for me to comment on your art work.)
WILL THERE BE PRIZES? YES! I will be working with several different companies throughout the 30 days for some super fun giveaways.  Randomly I personally will be giving away some goodies too.
WHAT TO EXPECT FROM ME: I will be posting on my blog daily and on Instagram daily. SOME DAYS I might make a one layer card & some days I might just color an image. There will be days I will use my watercolor sketch book (a must have) to draw or paint and somedays if something is more complex I will come back to it the next day. There will be watercoloring with different mediums and I will be using all kinds of different markers such as Sharpies, Bic markers and Copics.
THE GOAL IS:  To color something everyday no matter what happening. (I know that I am happier when I am coloring even if it's for 10 minutes.) I also want to show you that you can use inexpensive supplies to create something pretty. Hopefully together along the way we will all stretch our creativity a little bit more.
ANY QUESTIONS: If you have a question please leave a comment and I will answer the question in the comment area.
I hope you are as excited as I am and I am beyond thrilled that you might consider playing along. (as I mentioned feel free to jump in and out of the 30 days if that makes you more comfortable). Thanks!!Kathy