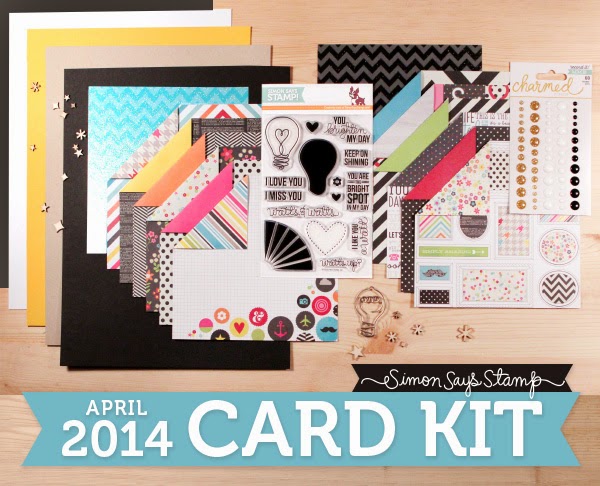 Hello Friends, How are you today? Yearning for spring perhaps or fall if you are across the pond? I must admit that
 Simon Says Stamp April Card Kit 
has given me some ….well… bright ideas! Today I have two cards to share with you and…..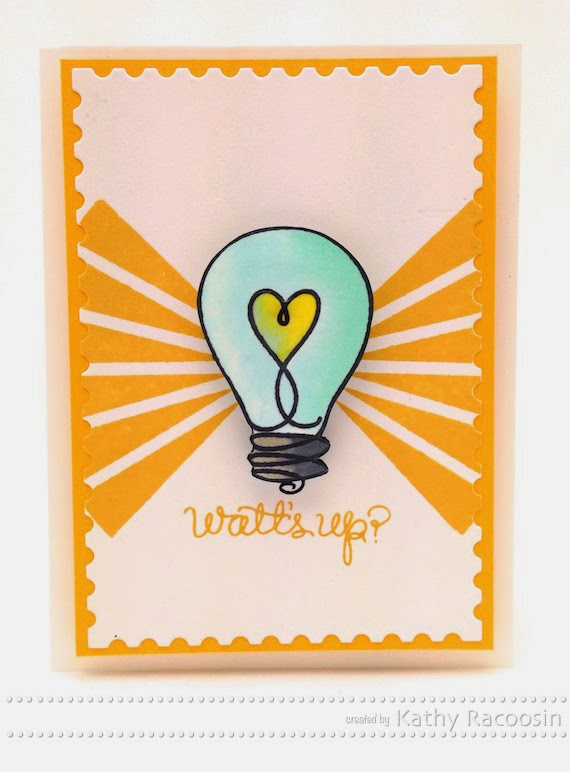 JUST LEAVE A COMMENT ON THIS POST. I will randomly select a winner on April 3rd.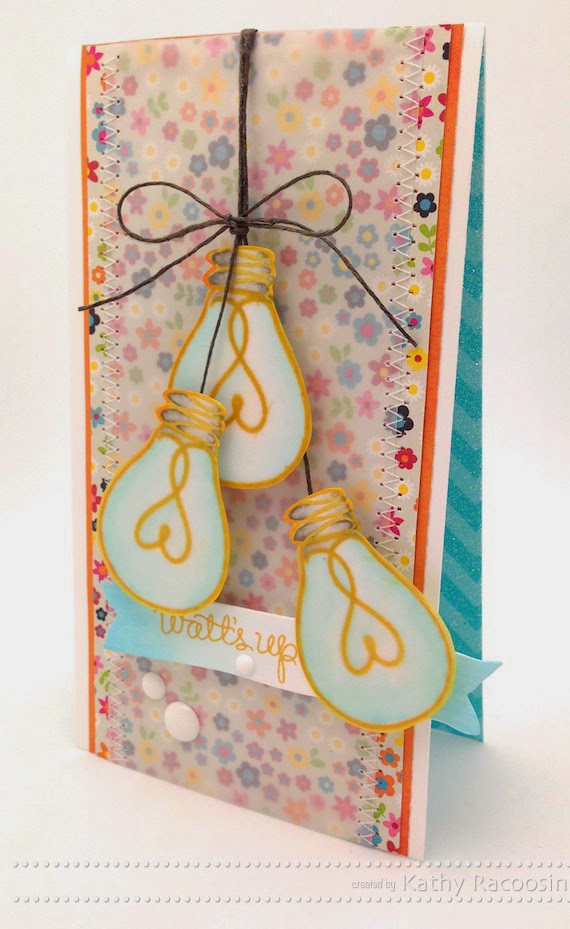 When the kit arrives I am never disappointed with it's contents. I always enjoy the kits embellishments that I never manage to purchase like these gold glittery dots (I used them on a different card that what you see in this post) . Watts not to love about this stamp set called, "Watts Up".
If you have been in the market for lighting recently you may have noticed all of the cool decorative bulbs and clusters of bulbs. The filament in each bulb is usually yellow or white so that's the look I was going for with this card.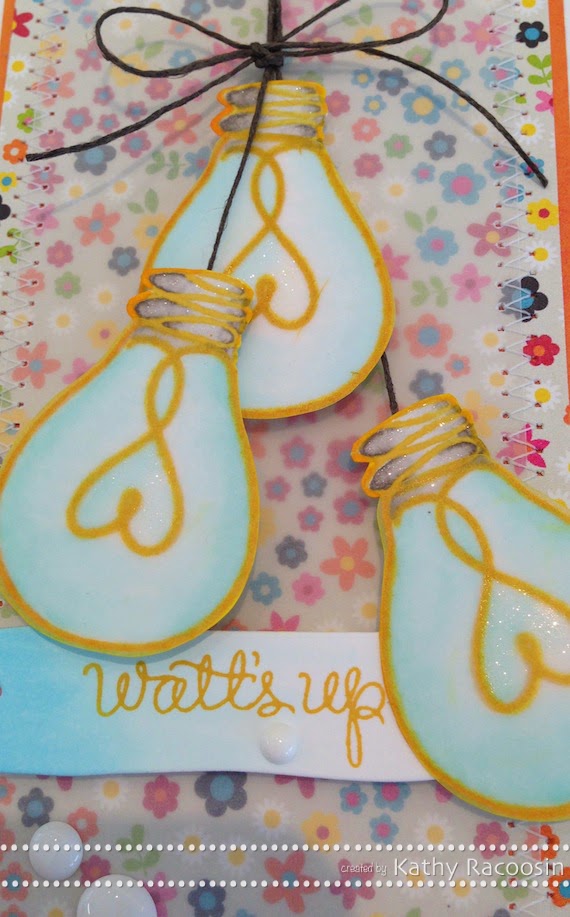 After coloring I added vellum to each bulb and also on top of the beautiful but, busy flowers to tone it down. Wink of Sella was added to the hearts and the metal part of the bulb. I usually like to select parts of an image rather than adding glitter to the entire image… I think it adds more interest.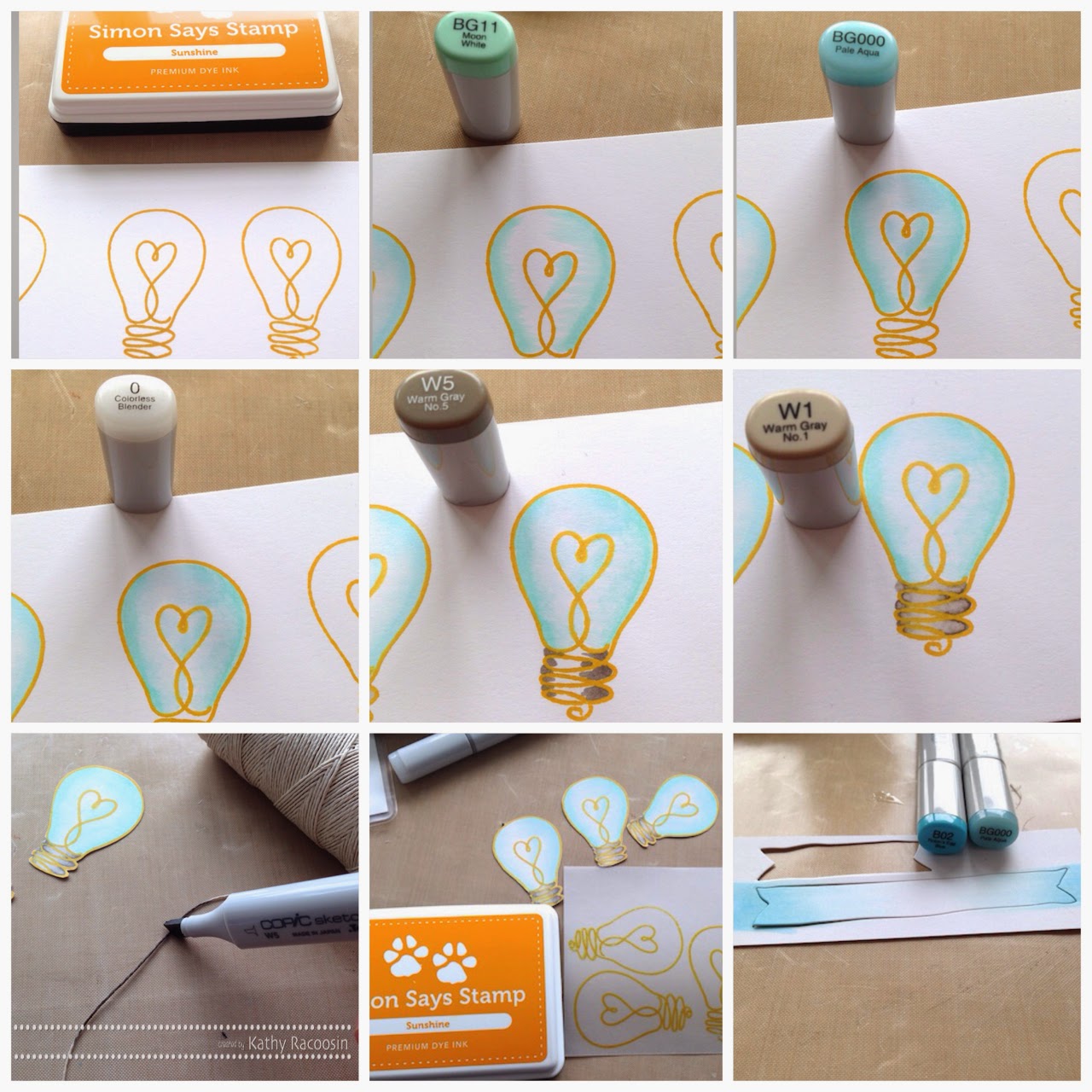 1. Stamp bulb with SSS Sunshine ink three times. 2. Add some color with BG11. 3. Add BG000 on top. 4. blend the colors with "0" 5. Add W5 to the edges of the metal part of the bulb. 6. Add W1 & blend the two colors. 7. Color some twine with W5 & let dry. 8. Stamp Sunshine on vellum and heat set carefully. 9. Add B02 & B000 to the banner and stamp sentiment. 10. use a glue pen to adhere the vellum to the light bulb. Add Wink of Stella to the bulb.
Ready for the winners? Thank You for your patience I have been trying to post the winners in a timely fashion but, didn't' this time.
The winner of the goodie bag as seen in this post is: #64 Katherine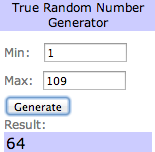 The winner of the SSS butterfly die cut as seen in this post is: #154 Larissa Heskett
Congrats to Katherine & Larissa!! I have sent you an email. Thanks to you all for your support and for your visit. Let me know if you have any questions. Make it a craft day! Hugs, Kathy
CARD SUPPLIES & LINKS…. click on any thumbnail below: