Hello Friends, How are you today? Did you have a relaxing weekend? Any time to get crafty? I had a nice chunk of time to play with Simon Says Stamps April Card Kit. The bad news is that April's card kit is SOLD OUT! I know that Simon tries really hard to not let that happen but, sometimes it's hard to prevent. If you have fallen in love with the kits you can register to get them at a mere $19.95 and a kit will be reserved just for you. It also gives Simon a heads up on how much to order AND you can opt out of the subscription… pretty sweet deal! I hear that May's card kit is going to rock your socks so keep that in mind. 🙂
THE GOOD NEWS IS I HAVE APRILS SOLD OUT CARD KIT TO GIVEAWAY! Just leave me a comment and tell me if you have ever used a card kit or not. I'll select a random winner on the 17th of April but, you must check back with me. If I don't hear from you I will pick another winner ( I will give the winner five days to contact me. If you have a card kit Simon will credit you for the value of the kit. )
I loved all the prints and colors in this "Fancy Pants, Park Bench" 6×6 paper pad. This fun die cut called, "Full Card Bubbles" has been dubbed by a few friends as the swiss cheese die..lol.  In case you missed it… I colored inside the bubbles for the Simon Says blog hop here. As you can see it's a pretty versatile die cut and love how it's fills a card.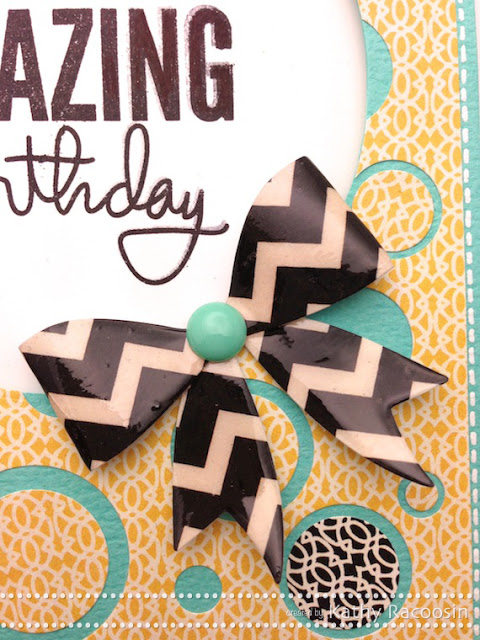 I filled the centers of the bubbles/circles with smallers ones and randomly placed them. If I filled them all it would have been to much. The yummy bow was a hit at a card making retreat I was just at. After die cutting mine I covered the bow with Glossy Accents. (stay tuned for two more cards using the "Perfect Bow" die but, NOT as a single bow as you see today)
When a card comes together it's always fun to make another one. The scale of this sentiment is perfect for a window card. The stamp set that was in the card kit is still available to purchase …. just an F.YI. 🙂
If you have questions about the card please email me. The center of the bow on this card was replaced with a dot left over from the die cut. Stay tuned … I have some Penny Black stamps to giveaway on Friday! Have a great week! Hugs, Kathy
CARD SUPPLIES: