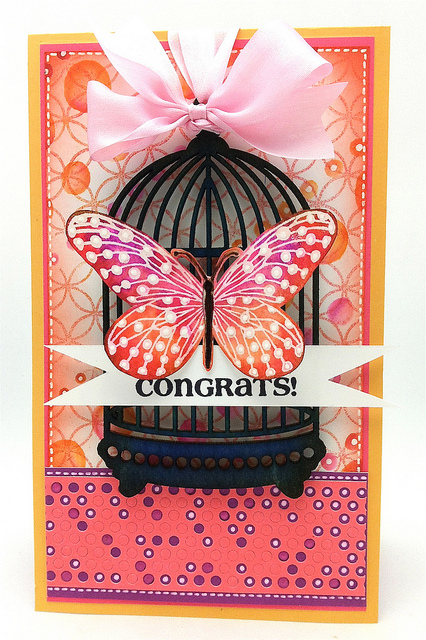 Hello Friends, Anything fun plans for your summer? Do you think you will have more or less crafting time? If you are wondering when I will move…so am I. Since my husband is the builder it's slow going and now the move MAY be in late August. Still lots to do 🙂 and I try to squeeze in crafting when I can. Today Penny Black is showcasing their NEW stamps all week on the PB blog & I think you will be pleased with the new stamps!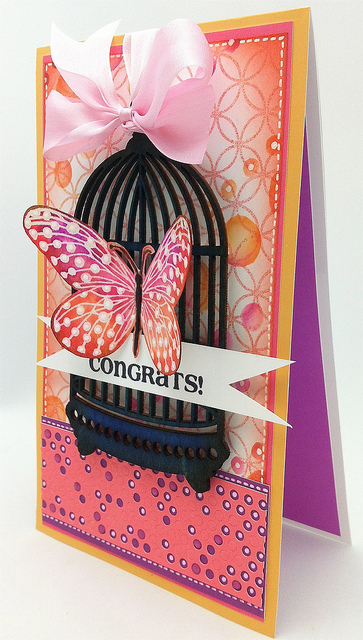 I love butterflies and Penny Black's new transparent set called "Social Butterfly" I must admit … it's a fast favorite. I used this water color paper (that is the best I have found) and embossed the butterflies with clear embossing powder, colored randomly with Tombow and spritzed with water. Give it time to dry and cut it out leaving an edge.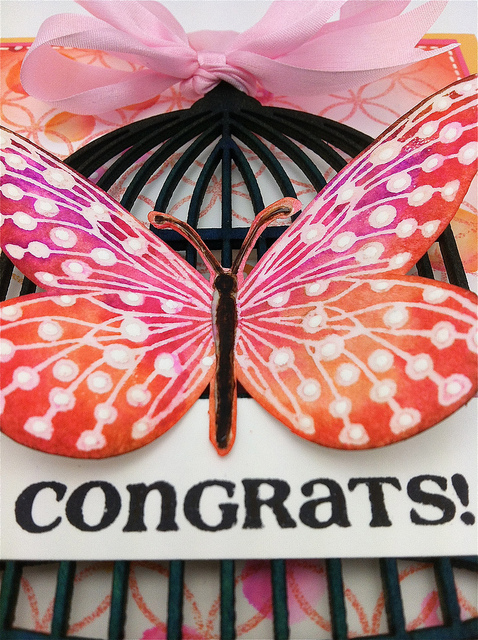 After my card was assembled I added white dots to the embossing. Love how it looks. Just remember to let the white ink pool on the dot…go slow 🙂 Don't you love These beautiful wood bird cages from Kasier? I sprayed some Dylusions on the birdcage then distressed it a bit. You can color them with markers or leave them plain.
I picked up this "inking template" from an art supply store and love using it on different projects. Works great with alcohol markers too. Today I am using Tombow water color markers on this paper.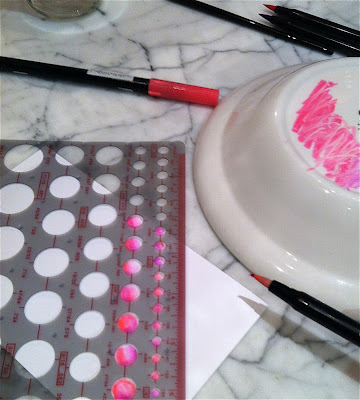 Most of the time when I use Tombow I use the blender pen that comes in most of their markers packs. I was waiting for my water to boil so I brought my supplies in the kitchen. Usually I use this but, I was to lazy so I grabbed the bottom of a bowl. In this post I have more blending info. 
After creating rows of graduated dots with my template I stamped with distress ink…. Penny Black's stamp called "All Over Pattern"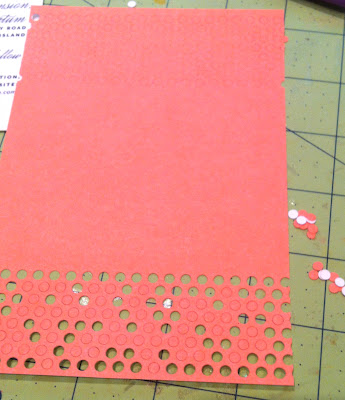 I am in love with Simon Says Exclusive dies and they are fun to experiment with. If you are lucky a few dots will decide to stick around after you die cut this boarder. Carefully flip your paper over ….. trying to keep some dots IN. Here is another card with this boarder in case you missed it.
Add some glossy accents on the back of the paper to keep the dots from falling out. 
Mount your boarder before it dries and trim. Add some white dots .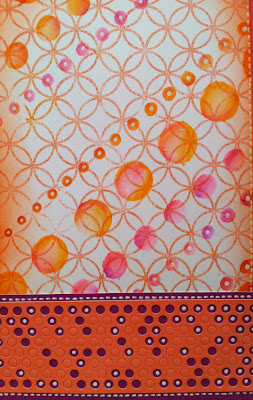 Add some distress ink. If you want to keep this simple just stamp a sentiment and you are finished. I will be back tomorrow with more cards. Off to prepare. See you then, Kathy
CARD SUPPLIES