Hello Friends, Did you see the sneak peek from Penny Black?? If you are a club member you did. What do you think?? I LOVE the images and can't wait to ink those babies up. If you don't want to miss Penny Black's new sneak peeks before they "go live" sign up here.
You will find this ornament on the Penny Black blog this week. This week we are featuring ""Fanciful Critters"….. so much fun 🙂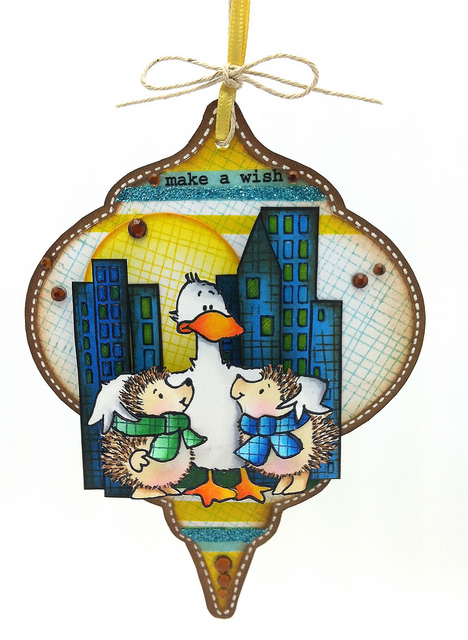 I love this Spellbinder's ornament & the new one is my wish list. If you want a peak at it you can see the new one here & it's in stock right now. Last year I made this and this with the ornament die.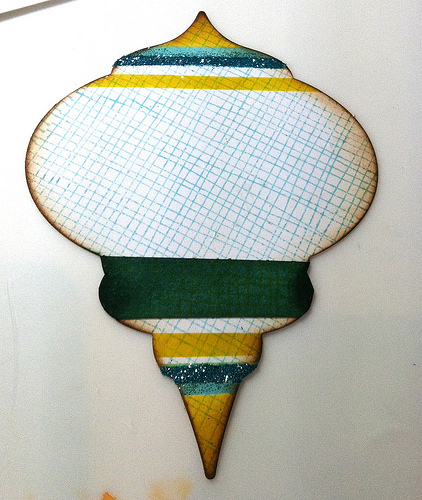 This step was super easy…. just stamped the background first with tumbled glass and this stamp from PB. Then I masked some stripes on the ornament with wild honey and tumbled glass. I put two rows of Martha Stewart glitter on top of the distressing.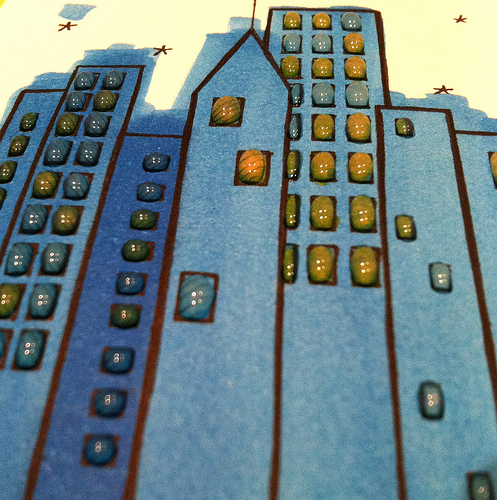 I use this "Cityscape" stamp all the time. I drew lines on the windows, colored most yellow (for lights "ON") then added blobs of Glossy Accents. Once it was dry I cut them apart and layered them up.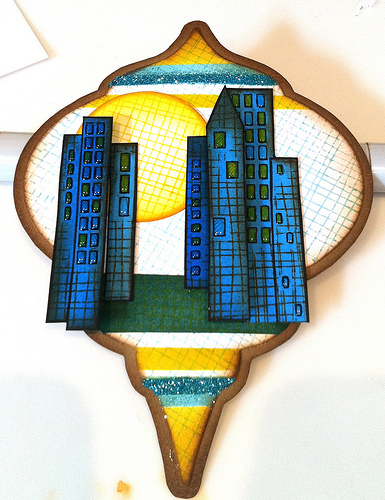 Ah…. I also stamped on top of the buildings with some distress ink after the glossy accents was dry.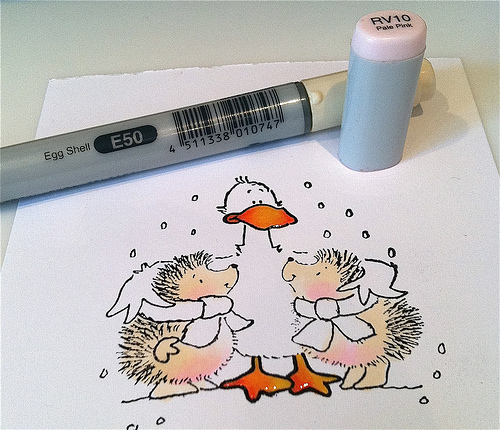 Before I went to bed I colored the beak and feet & added Glossy Accents to them .
On the hedgehogs I used E50. Try to leave a white space on their bellies. Add RV10 to cheeks and low belly.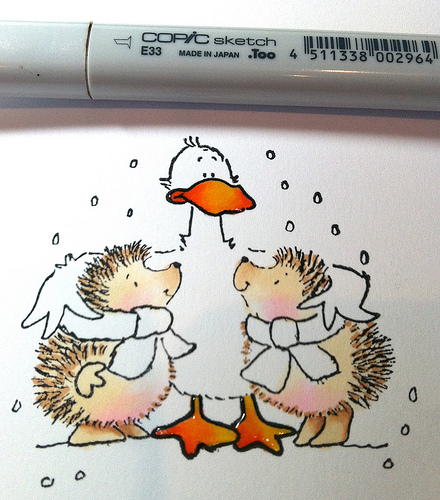 Flick some E33 on to the hairs all around the image. Add some shading to the feet and nose.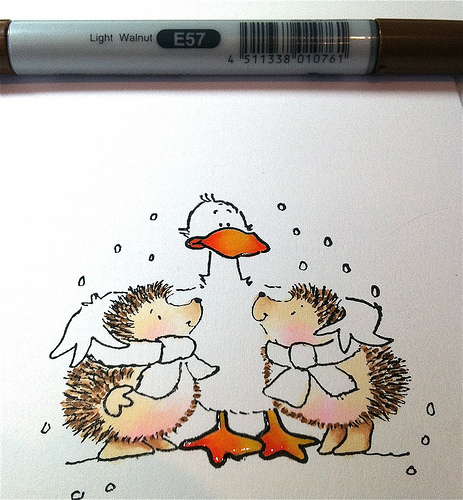 Now flick in a darker brown E57 on the hairs.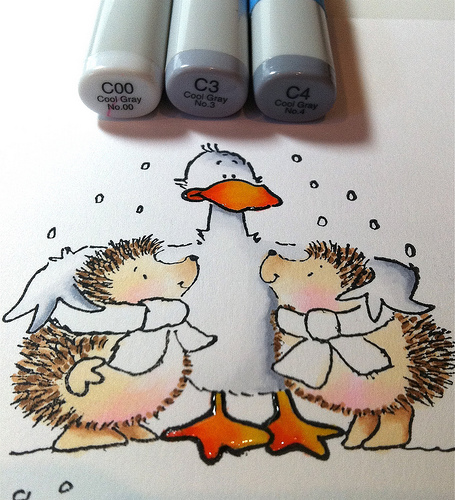 Add some shading on the duck with greys. You can really see the glossy accents in this photo.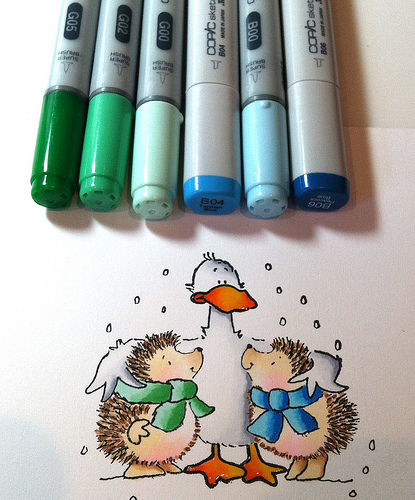 These are the blues & greens I used on the scarfs. Any colors will do 🙂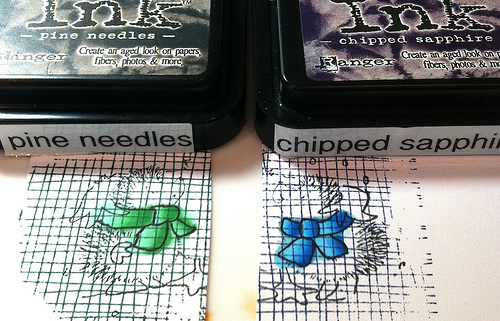 I stamped two extra scarves and stamped with the same background as I used on the buildings. I didn't worry to much about the shading since I would be stamping on the scarves.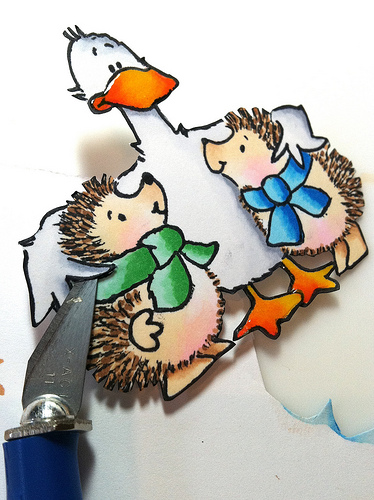 I use a blade to cut the feathers to tuck the scarf in.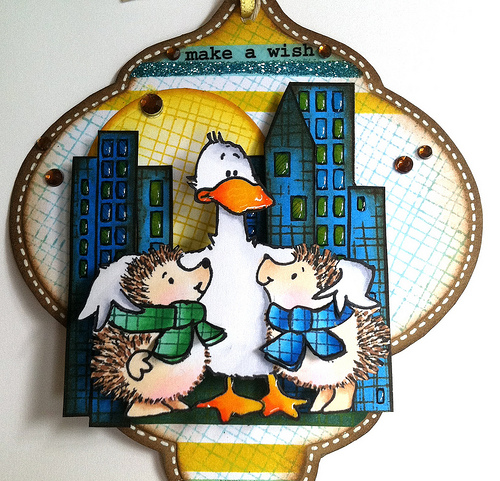 Here is a close up. This was so much fun to make. I think in my next stamp class we will be making some ornaments. Naturally I was finished and didn't know where to put a sentiment. Lucky for me …. SRM stickers saved the day again. You can add it so easily after your project is finished. Stamping when your project is finished it's so much more difficult. Yes, I am NOT a planner.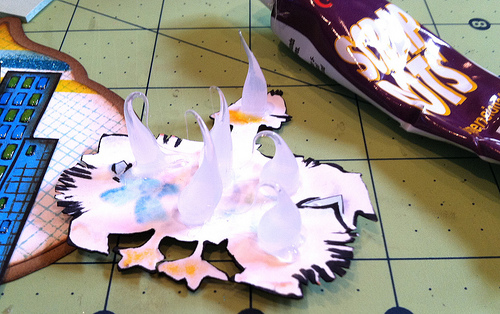 Since the buildings are so staggered Scrap Dots are a must and a huge time saver. As always I am so grateful that you pop in. Have a happy day! Hugs, Kathy
Supplies: