Hello Friends, What's new? Any plans for the upcoming holiday??
I thought I would share with you how I created the cover for "A Touch of Whimsy" catalog. I have to say I am so grateful for all of you because you can really understand the process and the work. When I share the catalog with family and friends they don't usually get it.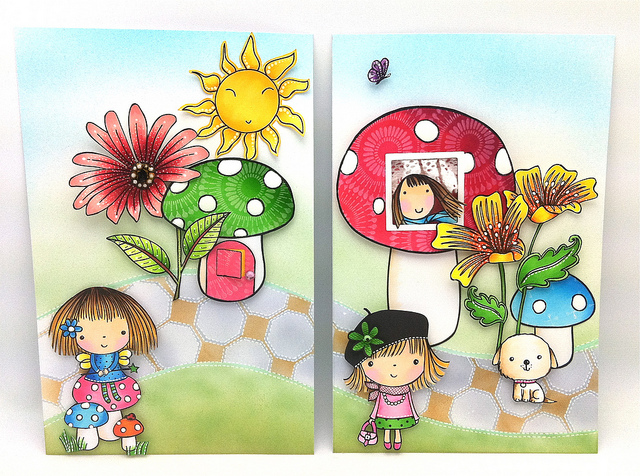 I wanted to create a little scene that extends from the front to the back cover. I wonder if any of you might have noticed this??
Excuse the bad photo but, it's easier to see how I created the path that's on the covers.
The octagons were cut with a Spellbinder die and placed down with re-positional tape.
I also drew a path on some copy paper and cut around my pencil lines.
I colored the squares within the nested octagons with some marker. This would have been a good application for distress ink but, I wanted a softer browner look.
After airbrushing the sky and grass I removed the white octagons and colored under them with a grey Copic maker.
I felt the path still needed a little something especially since this was for a cover. I outlined the grey octagons with a darker grey and used a gel pen for some white pen accents as you can see below.
The mushrooms were enlarged from this stamp, colored with Copics, airbrushed and stamped with this and this background stamp.The yummy large dots are created with Enamel Accents.
The window and window frame were cut with a Spellbinder. The drapes were gathered with some thread. Just thread  through the lace then gather the lace for some soft gathers. I taped my drapes to the back of the mushroom.
This is a close up of the front cover before it's sent to Penny Black. I try to use as many stamps as possible without looking to busy.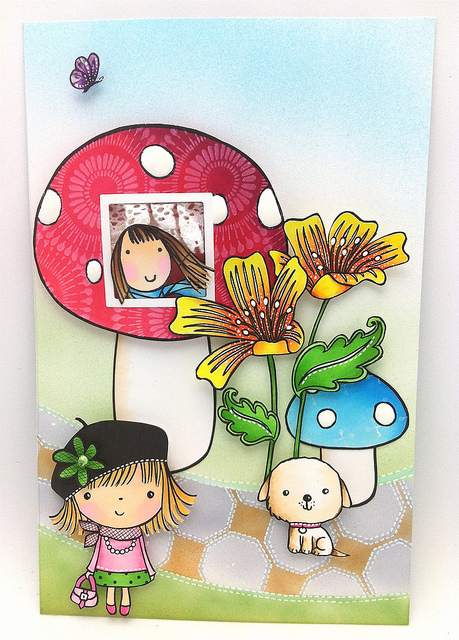 I love this flower stamp so I thought I would share a few tips how I did this too.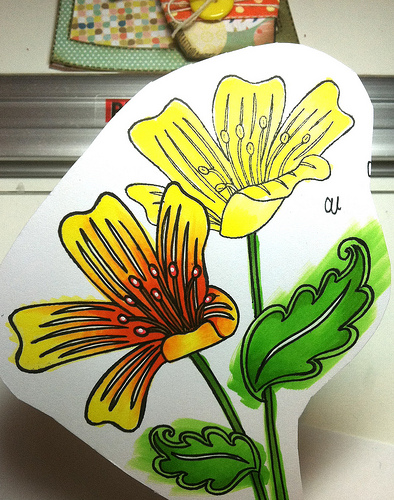 After a quick wash of color with a Copic marker I added some highlights with an orange marker on the flower. The flower on the left illustrates how tracing your image with a marker can really make it stand out. The white gel pen never fails to add that little extra too.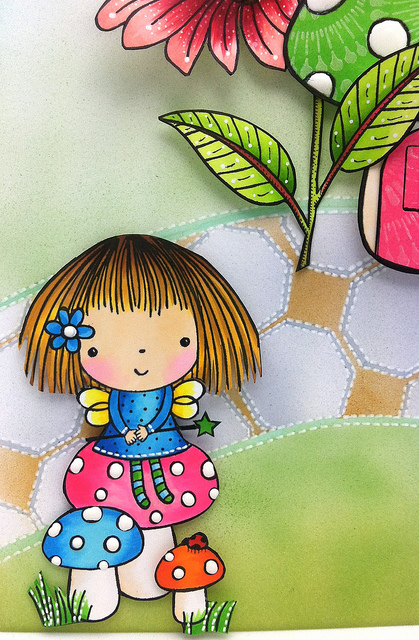 It's super easy to add a window to any mushroom and a gem for the door knob.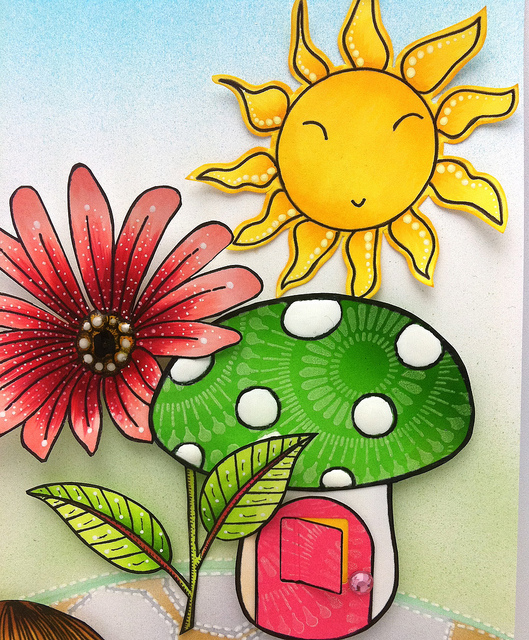 After I colored this red flower I added Enamel Accents then poured on some Glossy Accents on top. This really gave the flower center lots of depth and dimension.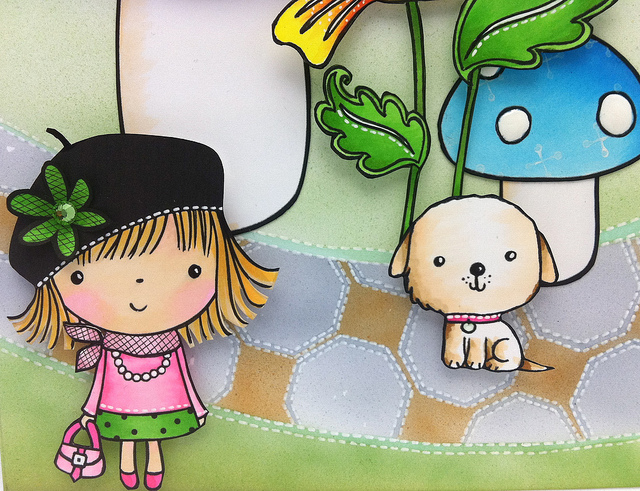 I love adding thin lines with a Copic Multiliner as I did on her scarf & flower on her beret after I colored it.
Have you see the challenge this week on the Penny Black Blog ?
Thank YOU for letting me share what I did for this cover. I am lucky to have the support with YOU knowing what it takes. Thanks again I am so grateful. Hugs, Kathy
SUPPLIES: