Hello Friends, Today is April 1 which means many things. It's "Lily Pad's" GRAND OPENING ( & last blog hop), MY STEP MOMS BIRTHDAY (happy B.D. Rachel… I love you! ) and it's APRIL FOOLS DAY!!
I have two cards today to welcome you to "Lily Pad" and invite you to discover many exciting things that Lily Pad will be bringing to your desk top. I hope you have had time to check them out and I must ask you this…. Did you check out the prize packages? Time is running out …click here for the details. If you are a Penny Black fan you will find lots of Penny Black stamps in Lily's Pad's prize packages. Also ……each day on the Penny Black blog you will find prizes all week here.
Do you remember the welcome wagon? I just loved this hedgehog with the cart. Here is an Easter card I made with this same hedgehog. The idea was to create a little flower shop of sorts to fill the cart with flowers.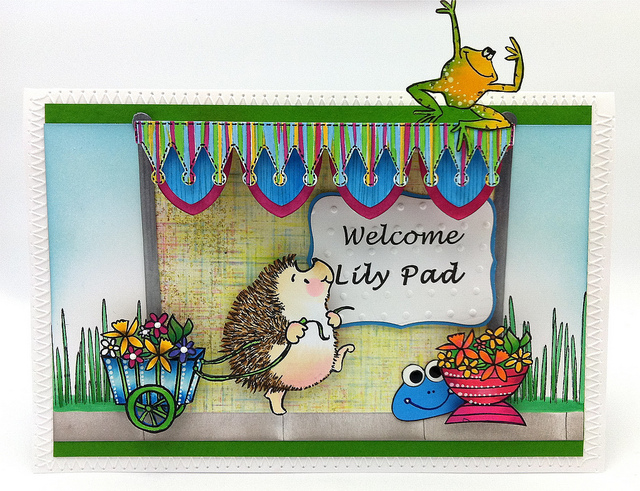 I cut off the egg from this stamp and add some flowers from this set.The flowers in the wagon are from the planter on the right of the card. I stamped the bowl twice and used the second one to elevate the base for more height.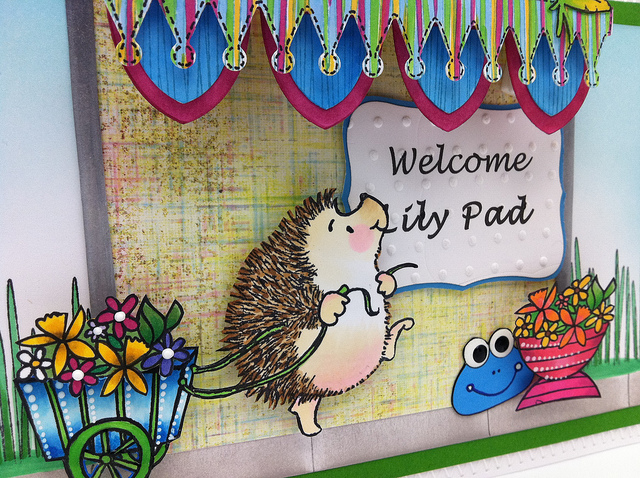 I LOVE this new grass stamp from Penny Black. See the pattern on the awning? I used this grass stamp for some geometric lines on my awning then colored it with markers. Almost any stamp can be use for a background. (Sounds like a good challenge eh?) The awning was created with the NEW Spellbinder "Banners Basic 1" A friend of mine, Nina, designed these banners and I am in love with the possibilities of them! It won't be long and Simon Says Stamp will have them in their store here.
Now for my second card. If you don't know…Inlinkz ..it is how I link all of my products at the bottom of each post. If you click on the thumbnails you will be taken directly to a store where you can purchase it or check out more details on the products that I have used in each post.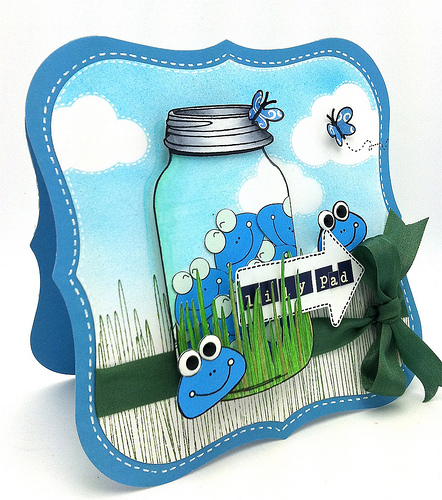 Notice the friendly happy frog that's Inlinkz's mascot of sorts. I gave him some open eye balls with my new favorite enamel from Ranger. First I used a blob of white and waited for it to dry and then added a black blob on top of the white. It look so cool in person. For the background I punched some clouds (see supply list below) and airbrused over the punched clouds. Then I removed the clouds ( cause they became blue and I wanted them to be white. I will have some blue clouds for another project in the future. (Distress ink will accomplish a similar look.) I also used the grass stamp from Penny Black again in this card.
I am so proud of Vicky and Deborah and what they have created with Lily Pad. I admire you both so much and I look forward to each post. Have a great weekend everyone. Any sneaky plans to fool someone?? I would love to hear what you might have up your sleve. Have a happy weekend!
Hugs, Kathy
Supplies: