Hello Friends, I hope you had a nice and relaxing weekend. We actually had some sunshine which is so refreshing and a good way to start out the week. I hope your week is off to a good start 🙂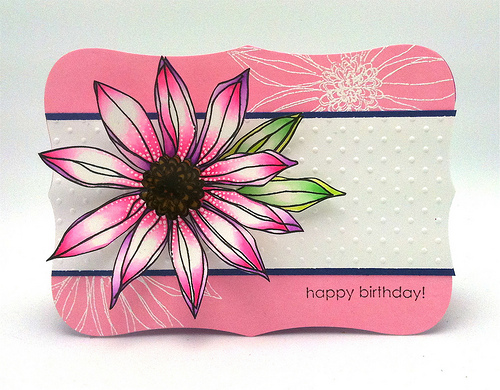 I am waiting for the new Penny Black flowers and thought it would be fun to see which ones are your favorite. I would love to know then, I can feature your favorites when it's my turn to create cards for the Penny Black Blog.  
I will choose a random winner to receive this "Star-Inspired" stamp when you "vote" on your favorite flower.
These are the flowers below I would love for you to vote on. I would love to hear your TOP TWO favorites.

If you can tell me in the comment section on my blog that would be awesome!

Thank you for taking the time to do this if you have time  🙂
THESE ARE THE new eight EXQUISITE FLOWERS & it's so hard for me to choose. Your votes will help me decide which ones to feature.

This card below is one that I made for the catalog here and you will find a new video that I just saw was posted by Elizabeth!!  Her videos are always have such great ideas and tips.
To color all of this particular flower I used Tombow watercolor markers. I think you will find this stamp easy to color and or paper piece. I cut some extra petals for leaves and embossed the background with the same flower. Pour some Glossy Accents in the middle to give it that extra little something.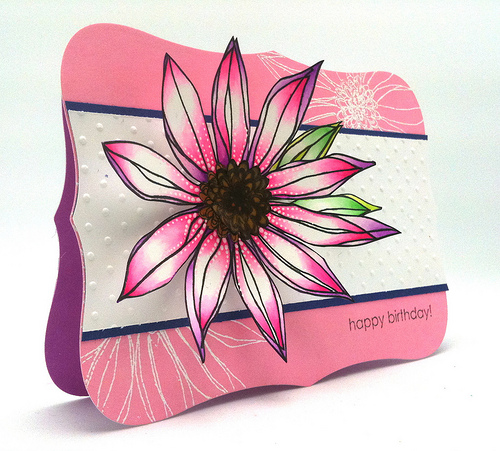 A friend of mine is asking if you will say a prayer for her 3 year old son who was just diagnosed with leukemia. I am sure you can imagine how tragic this news is to hear from your pediatrician. Latrice is collecting cards to try and bring a little comfort to the family. You can read more about it & get the details here. I am always amazing at the card making community and what big hearts you all have.
I'll leave you with another flower. The bottom layer is embossed on vellum. Let me know if you have any questions. I am grateful for you visiting my blog. If you would like to see a flower I created with the clear set called "To You" click here. Thanks again 🙂  Hugs, Kathy 
Supplies listed below and check out Penny Black Blog for their new weekly challenge. 

I added white enamel dots to the center and once dry poured some Glossy Accents in the middle.
Supplies for the card (just click on the thumbnails to get more info)