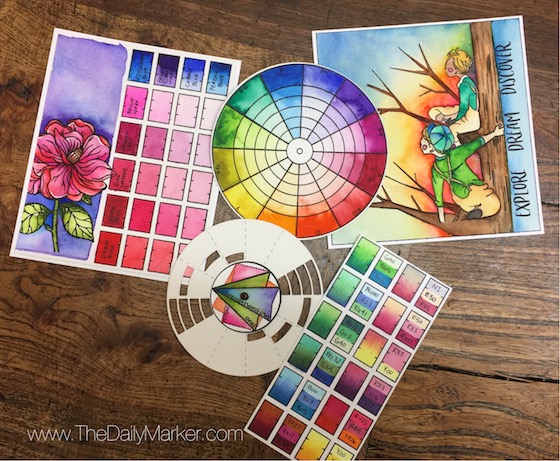 Hello Friends! How is your weekend going? I am popping in today for a blog hop with Waffle Flower that is pretty special and I am so delighted to be a part of it. Grab a beverage and take a-little time for yourself because I think this release will help you with your coloring if you are a beginner or a more experienced artist. I think that you will find Waffle Flower's newest release a great investment plus a great way to relax by swatching your colors without all the fuss of measuring etc.
You will find the hop line up at the bottom of my post. To start at the beginning go to the Waffle Flower blog here. 
*please note affiliate links are used at no cost to you.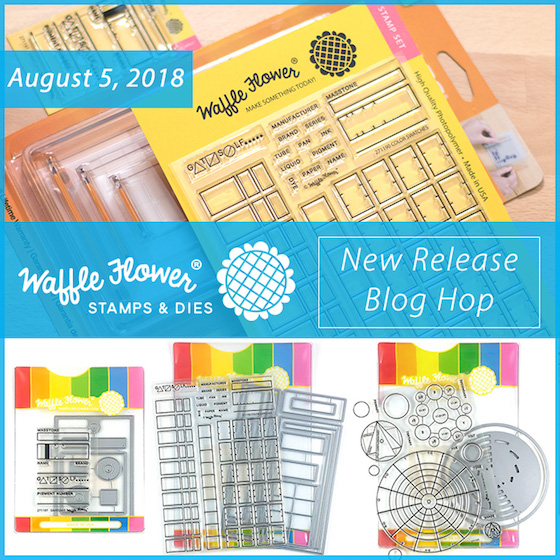 Waffle Flower's goal is to "help beginners gain confidence over a coloring medium and to help experienced colorers warming up and learning more about their media" says Nina and I totally can attest to this! 
Nina from Waffle Flower say's that The Color Swatches (stamp, die, combo) is a great all-around swatching set while the Color Wheels (stamp, die, combo) helps you create the most accurate color-mixing references with the supplies you have on hand. The 2"x3" Swatch Stamp Set is adapted from Color Swatches stamp set for quick-n-easy applications and storage. Swatch Tag Die contains a standard ATC size tag (2-1/2" x 3-1/2") with piercing details and hole re-enforcers."
Waffle Flower has printed a professional guide that will be included in the Color Swatches Combo. Please check out the Waffle Flower videos with detailed instructions here.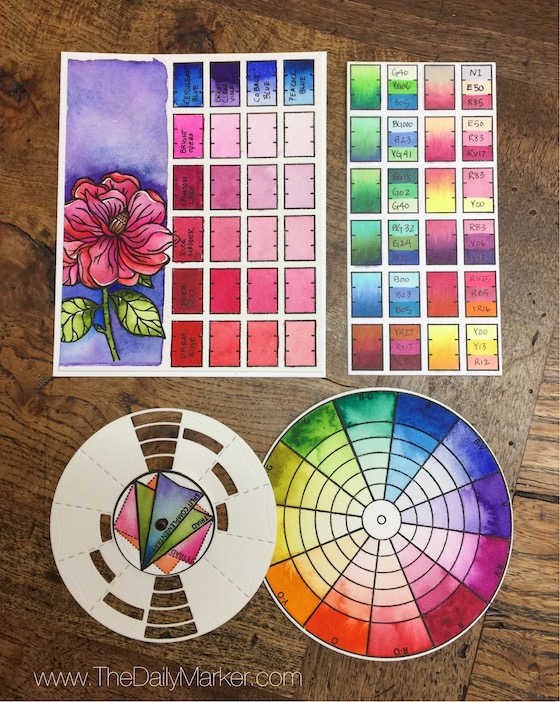 Whew that's a lot of important information and if you are like me you get overwhelmed easily lol. My style of coloring and painting is to wing it and not swatch. Before this release I was singing a different tune on swatching and have come to really enjoy it and I love watching the colors take shape on the swatches plus its beneficial as a coloring tool. I used to think that swatching took a huge chunk of time but, it doesn't and it's FUN!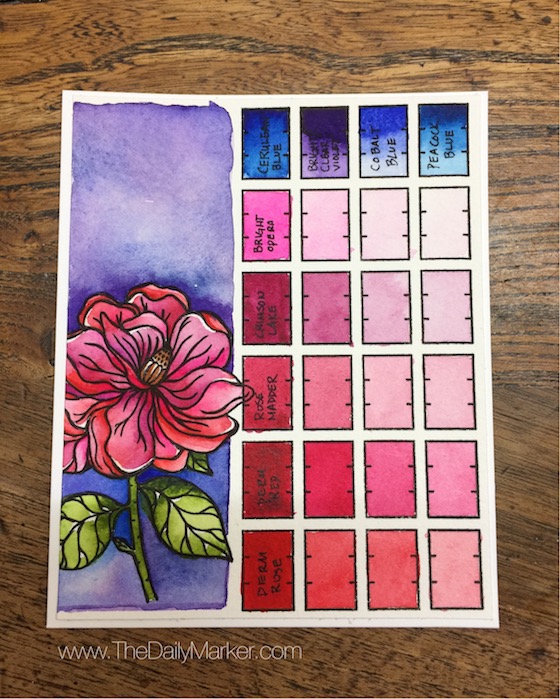 This pieced here is what I am calling a color study. Why not have something pretty like this flower on your swatch using the same colors. This color study will be a great reference on my inspiration board.
In my video I touch on using swatches to work for you. There are guidelines but, create your own. It's all about playing and re-discovering your supplies.
Next time you are stamping ink up a swatch and use it for reference when you are short on time.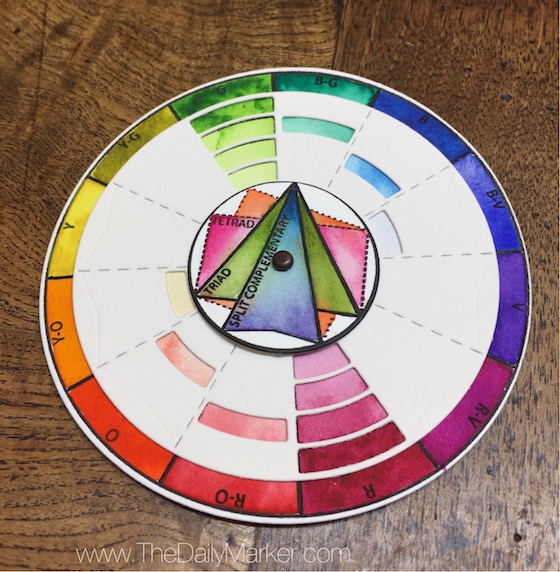 In Nina's video she explains how the color wheel works towards the end of the video and in my video I touch on painting a few of the sections in the color wheel.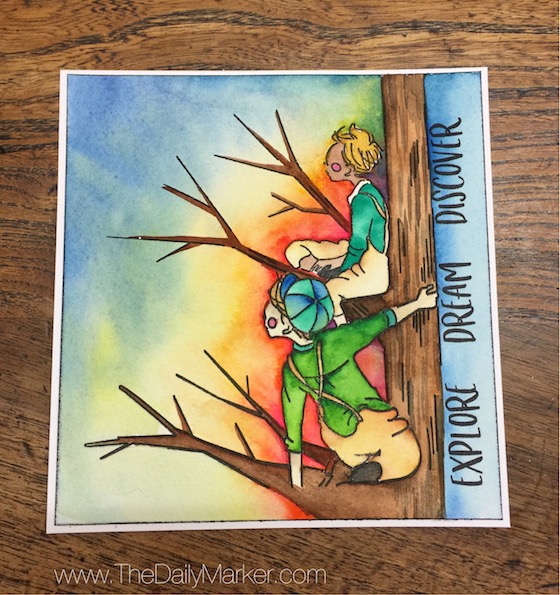 Also in this release is a 5"x7" stamp set called Adventures to let you practice landscape painting techniques right away.
After swatching your paints or makers I can promise you that you will feel more confident and adventurous. In my case that's what happened and I was ready to tackle the "Adventures" stamp. Normally I would have painted a blue background but, I went for something different for me because I was feeling empowered. Later  I will add some patterns to the shirts and add a glaze perhaps. (Glazing is when you go back to your watercoloring when it's dry and adding another layer of paint)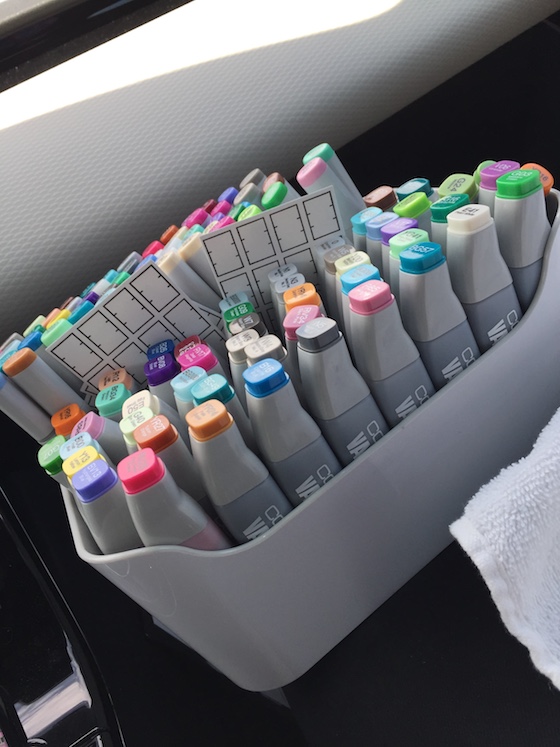 My hubby and I just drove to NY for a night and I packed up some swatches that I stamped and die cut. When I travel with markers I "color pluck"  … randomly pick colors that I don't normally use and I always come up with some new color combos. Hello swatches … I am so excited because this is perfect for me. On this day my color plucking was the markers that I had to refill. So on the four hour trip to NY I filled my markers and yes it was a little challenging but, it can take time and why not when you are just sitting there. I brought a wash rag to soak up and unwanted spills.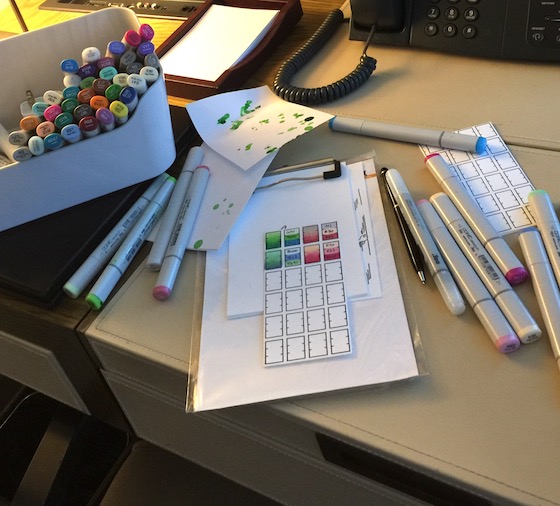 As were were entering NY I was finished just in time so I could navigate … perfects timing! My husband was ready for a nap and I was ready to swatch some new color combos. This was all the time I had in the hotel so on the trip back home I used scrap paper to come up with more combos.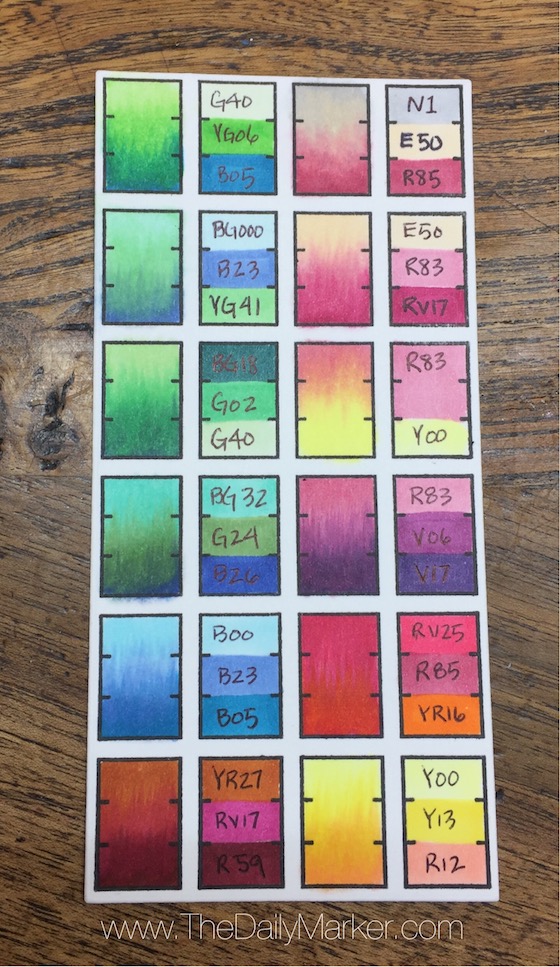 When I returned home I was ready just to fill in my swatches and note the color numbers of markers on the swatches .  I do this often, without the aid of these swatches so you can imagine how excited I am. I always start with the lightest color, then the medium and the dark. Usually you have to repeat the medium and the dark but, the point is to play and don't worry. Fooling around is how you learn what works for you.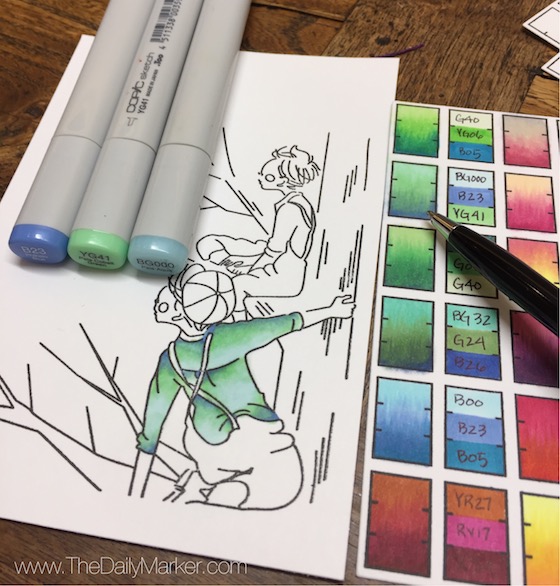 In the photo I am using the pen to point to the swatch that I am using as a guide to color the shirt. Rather than staying in one color family I think this is more interesting mixing up the colors.
Promotions:  

To celebrate the blog hop, Waffle Flower is giving away 
$25 gift certificates to THREE lucky winners. You can leave comment on my blog and along the hop by 11:59pm ET on 8/12/18 for your chances to win. Winners will be chosen at random from the comments left on any of the posts on this blog hop and will be announced on the Waffle Flower blog on 8/15/2018.
To celebrate the new release, all orders placed by 11:59pm ET on 8/15/18 will receive an Adhesive Eraser from our friends at Xyron!
 No code required; Limited 1 per customer; While Supplies last. Woo Hoo! 
Check out these coordinating items in Fun Finds section for purchase.
Watercolor Starter Kit
$16   
Watercolor Wheel with Palette (12 Colors), 
Ranger Brushes Set, Swatch Stamp Set (2"x3") ,90lb Bee Paper Sampler – 3 Sheets (6"x9")
Cardmaker Swatching Kit
$36   
Medium Stamp Mount, 
Color Swatches Stamp Set (5"x7″), Swatch Stamp Set (2"x3″), Micron Pen – Black and 140lb Bee Paper Sampler – 2 Sheets (6"x9")
Swatch Stamping Kit
$46  
Fiskars Stamping Blocks Set, 
Versafine – Onyx Black, Color Swatches Stamp Set (5"x7"), Swatch Stamp Set (2"x3")
Just reminder that Waffle Flower has guides will be professionally printed and included in all Color Swatches Combo plus a free printable!
Here is the hop order:
I hope todays hop has inspired you and giving you that nudge to do some coloring swatching if you don't already. Thank you for your visit today it's always always appreciated. Have a good week! Hugs, Kathy
Affiliate links are used and 100% is used to support my Coloring Challenge Road Trips: