Hello Friends! How are you?  Looking for some cool products to jump start your creativity? If that's a resounding yes … yipee!!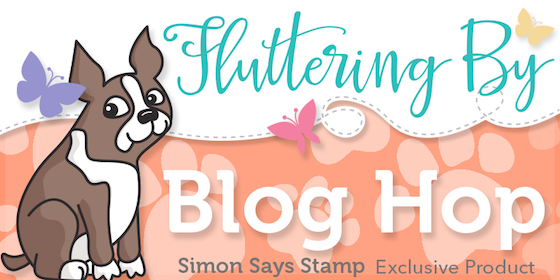 Excited? No it's more like SUPER excited for the Simon Says Stamp Fluttering By release blog hop! A buzz is in the air around this release and I can see why. Such fun and versatile products to incorporate with what you already have.
If you are coming from the talented and sweet Lin Brandyberry blog you are in the right place. To start at the beginning go to the Simon Says Stamp Blog.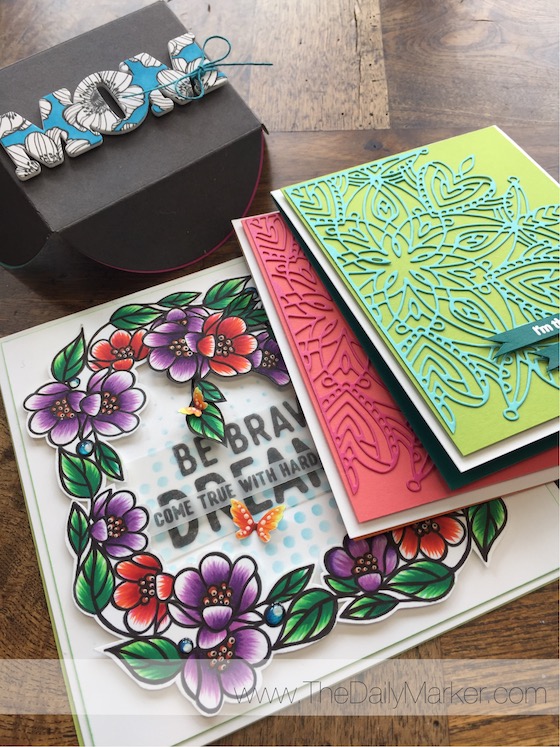 Stretching my creative muscles I LOVED working with colored cardstock, creating a Mother Day's card with a color pop envelope plus some copic coloring to showcase this exciting release.
If you want to watch the video in HD click here.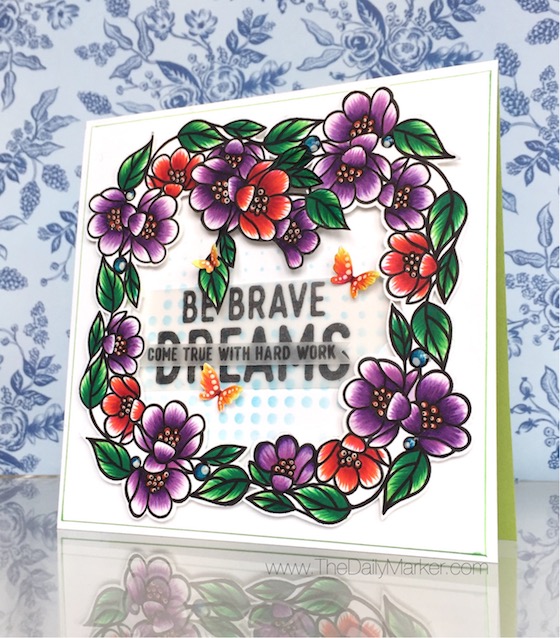 When I am traveling for "The Coloring Challenge Road Trips" & sharing my coloring tips. Enjoying the process is one of my top 10 coloring tips. So when I say that this card took the longest you just might just believe me when I say that I loved every minute of coloring this large background stamp.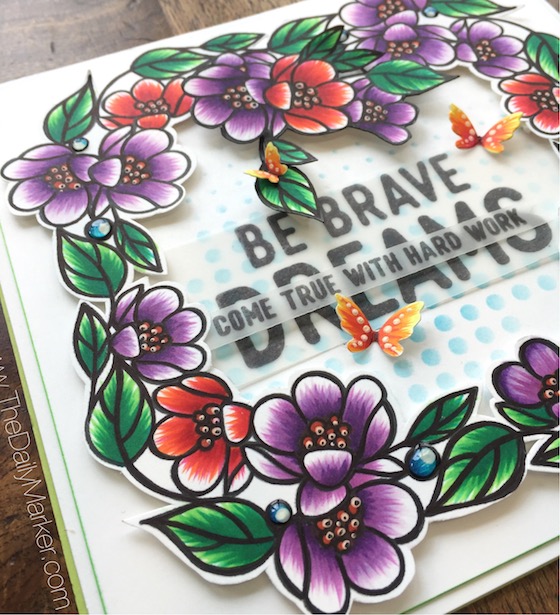 The stamp is called, "Center Cut Flowers " After coloring the stamp I decided to pick up some scissors and carefully cut around the blooms & leaves to I could pop it with some foam tape on my card panel. The sentiments in this stamp set are needed & I feel lucky to own them. I opted to stamp the sentiment on some heavy weight vellum tucking the vellum under the flowers to hold the vellum in place.
Adding some small accent "Flickering Butterflies" was that perfect final touch to add an extra pop of color.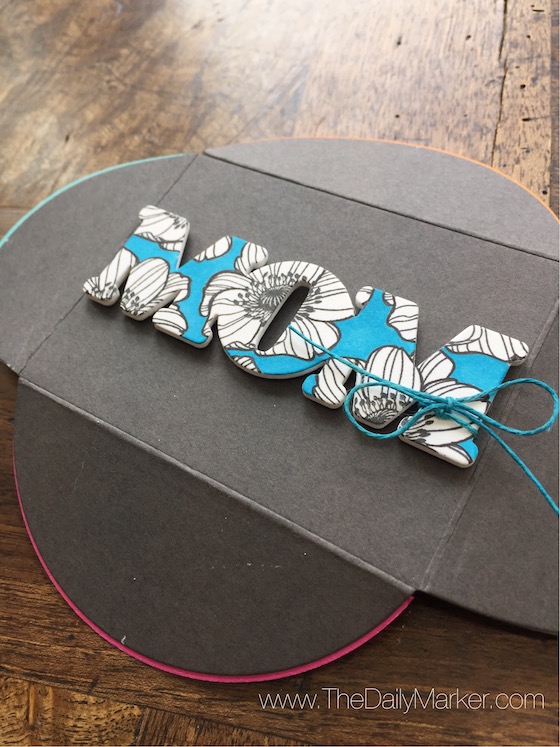 This envelope die cut is perfect for gift cards or for a small but, impactful card. I used the new "Mom Flowers" stamp set to stamp onto the "Bold Mom" die cut for a graphic look. I colored some twine and tied it around the letter M.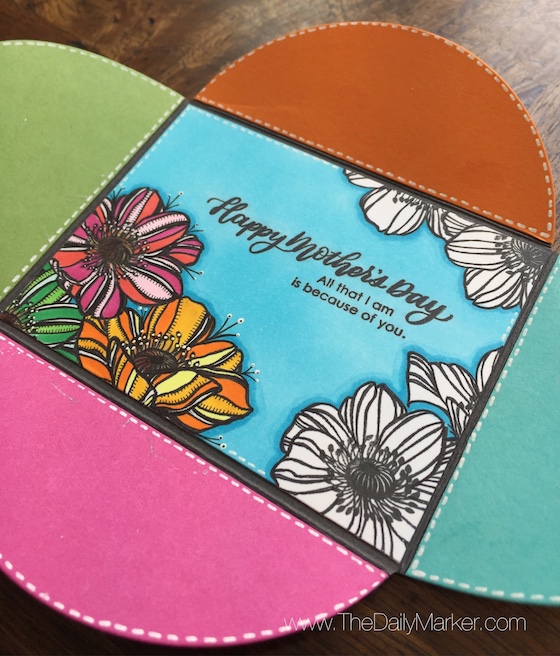 Some spot light coloring on the "Mom Flowers" makes the flowers pop on my card. I can't wait for my mom to open the envelope. Using colored cardstock on the flaps of the envelope is a great way to use those scraps you hang on to lol. Of course I had to add eyelash lines with this and some white dots with my trusty white gel pen.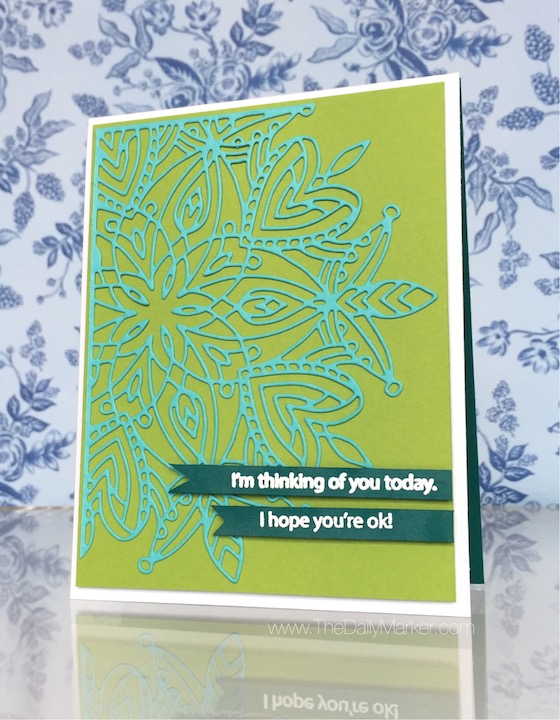 Sorry this doesn't photograph very well but, this wonderful detailed die called, "Heart Mandala" is awesome and when you feel this card & see the details in the die your eyes light up.
This is another stamp set that has some sentiments that I needed and did not have. Thank YOU Simon. The stamp set is called, "Everyday Sentiments".I used some fine white embossing power and trimmed the cardstock for sweet little banners & popped them on my card.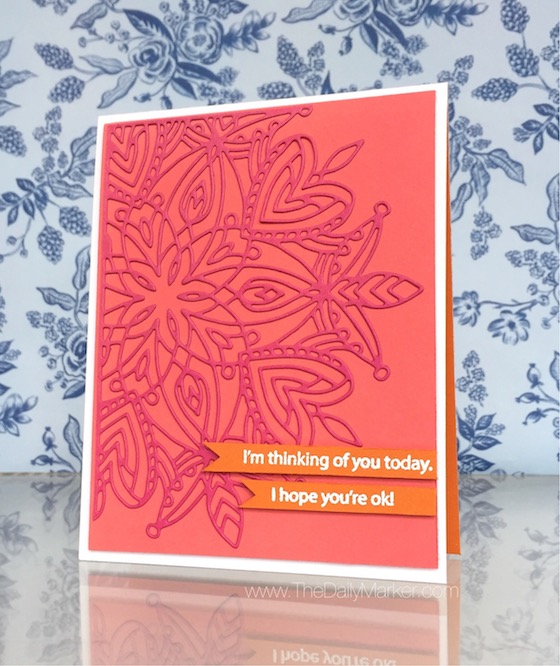 Giveaway! Yesss please!! Simon Says Stamp is giving away a $25 coupon to every stop on the hop. That's 12 chances to win! Winners will be randomly selected  from the blog comment section on each blog in the hop. Winners will be posted on the Simon Says Stamp store blog on Wednesday.
I am the last stop on the hop! YOU made it!!  Thank YOU for hopping all the way to me I am so delighted. Wishing you a warm and happy weekend! Hugs, Kathy
P.S. STAY TUNED SOON I WILL ANNOUNCE MY NEXT "The Daily Marker 30 Day Coloring Challenge"
P.S.S. SSS has a Fluttering By Gallery where you can share your work in ALL of their galleries. SO much inspiration!
Card Supplies and links. Affiliate links are used if possible &  goes toward my road trips. Thank you!