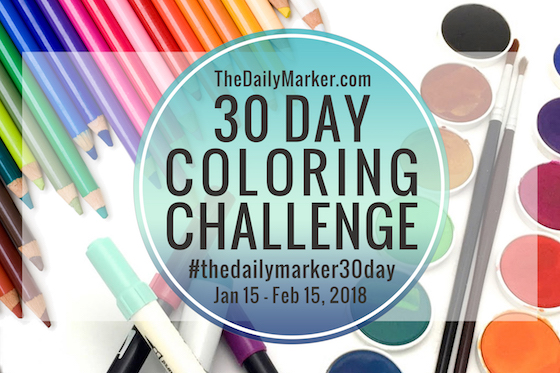 Hello Friends, How are you? Did you watch the Olympic Opening Ceremony! Love how all these countries come together in unity and on so many other levels. Gives me hope for world peace one day.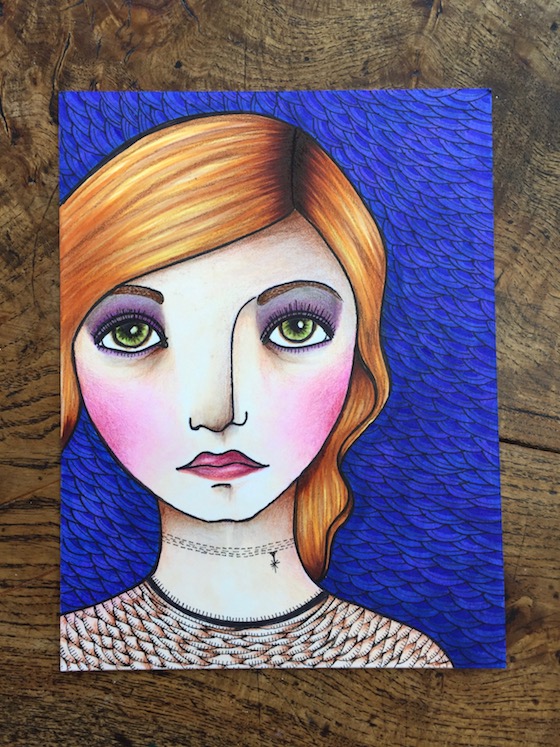 On another note … throughout this 30 day coloring challenge I have been featuring some of these girl stamps. They are so fun to watercolor or to use markers. This is the one today and it's from Penny Black.
In case you missed my previous posts with these fun faces you can check out Day 18, Day 5, & on Day 3 I watercolored some backgrounds.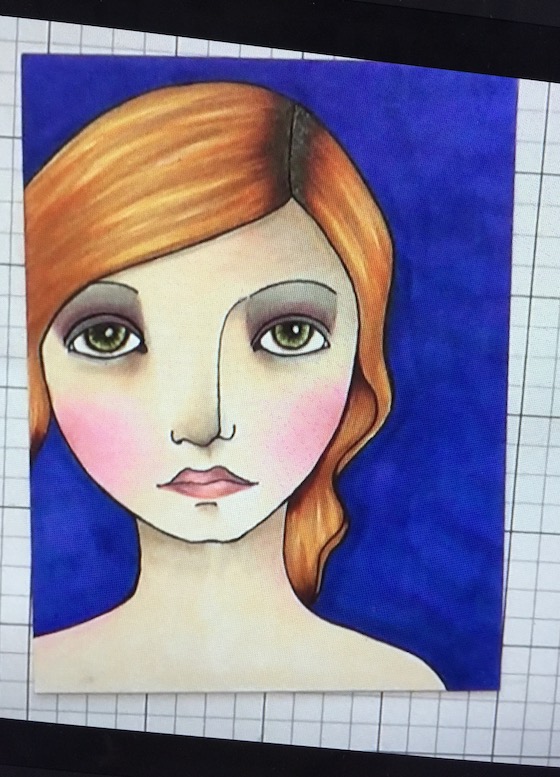 Full disclosure … I colored her in January & decided to save her so that I could show you how easy it is to add colored pencil on top of alcohol marker to enhance your coloring. In other words my coloring needed enhancing lol.  Not only that but, it's faster and easier. I always start with E50 and use RV10 on cheeks. I use E50 on flowers or leaves too.
Here is a slower quick video to watch the process.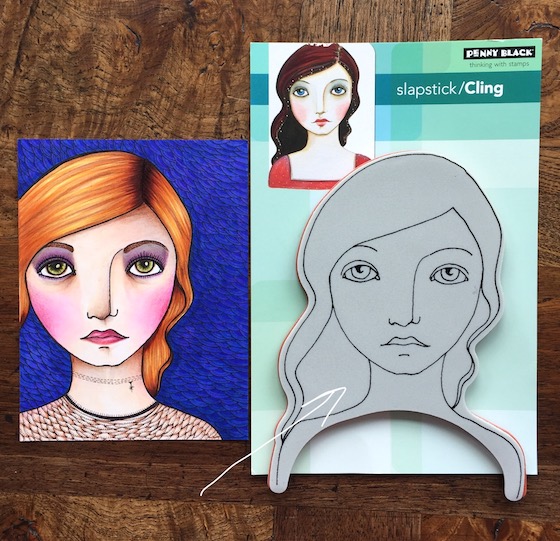 This is the stamp and I used the packing as my jumping board when I did my copic coloring in Jan. Many times I have admitted I don't like to color hair so take note …. Color in some areas so that you have less hair to color. See the white arrow … that section I made a background instead hair because it's easier and more fun!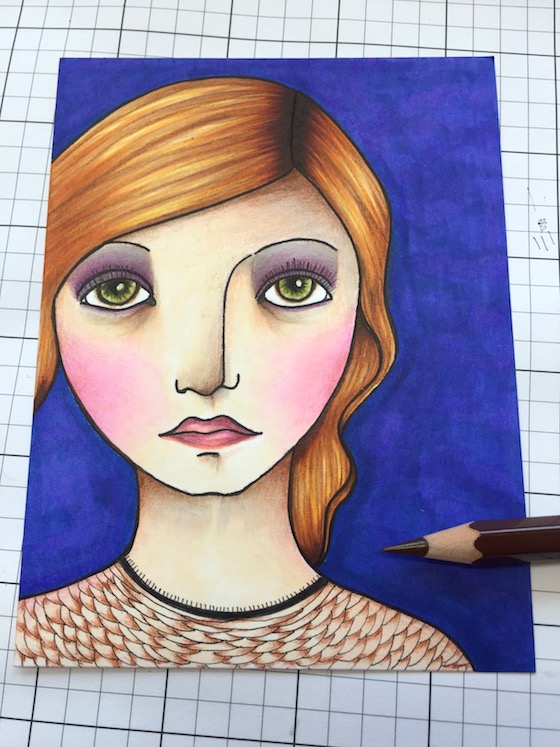 I chose to ignore or ask myself why I colored her nose so brown or why the eye shadow just stops … or that I kinda messed up on the eyelashes. (maybe I could have erased a little to soften those lines… but, I didn't care that much) Drawing the fishnet lace and filling in the nooks and crannies is what I chose to focus on.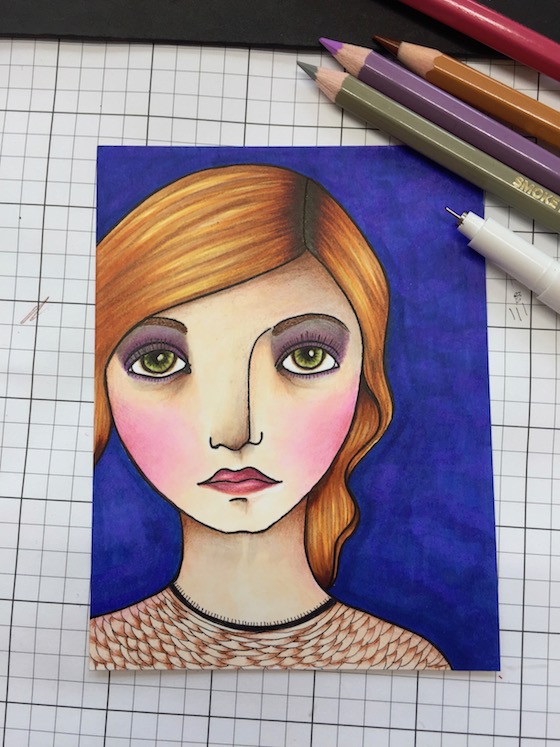 I was nervous to add eyebrows and they did give her more personality. Now what to do with the background.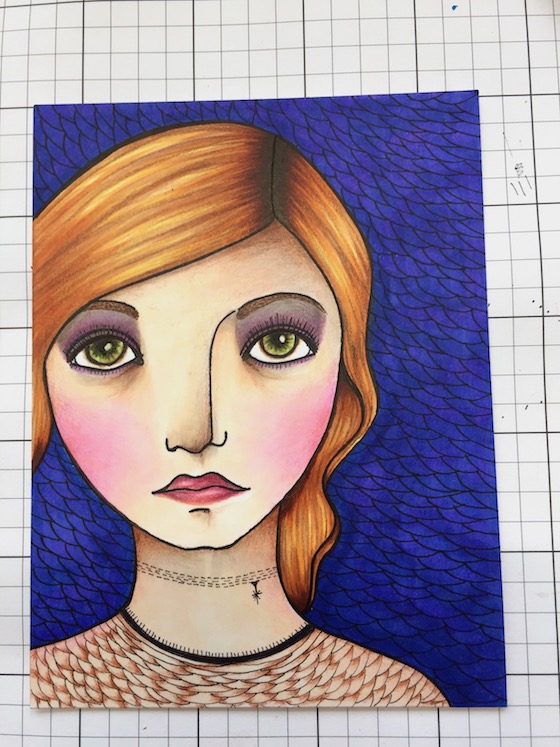 My pilates class was cancelled so I decided to draw some loops or scales with a sharpie to jazz up the background then I added a necklace with a little charm. Love getting that extra bonus hour!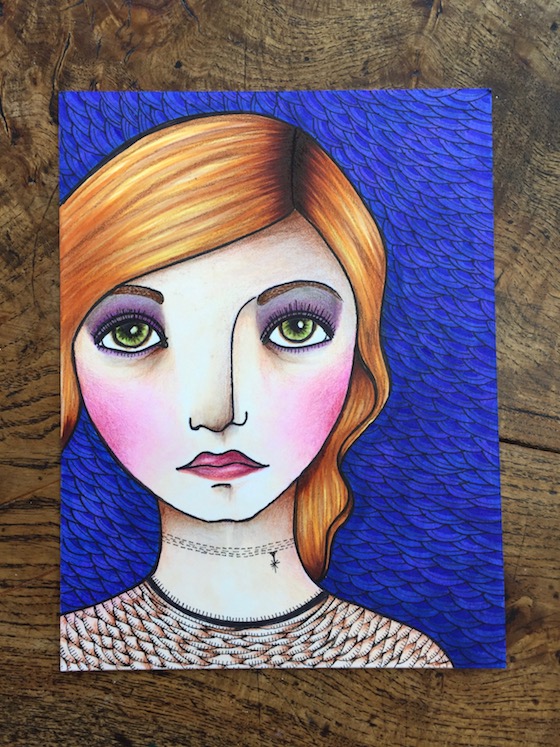 I added a thinner line with a super fine tip marker and filled in the nooks with a purple marker. A bit more of a darker pink on her cheeks and that does it for me…. time to walk away or I might mess her up.
Thanks for your visit today and always. See you tomorrow. Big Hugs, Kathy
COLORING CHALLENGE INFO BELOW… QUESTIONS? NEWBIES? SHARING?
If you have any questions about the coloring challenge you can refer to this post . If you want to get my posts in your mailbox you can sign up here or subscribe to my videos here.
There are now 3 ways to share what you are coloring. If you want to join a community of coloring enthusiasts I recommend  FaceBook or Instagram. Be sure to tag me and use the hashtag #thedailymarker30day. Kids & young adults use #thedailymarker30daykids.
The 3rd way is to link up to my blog to share your coloring here.