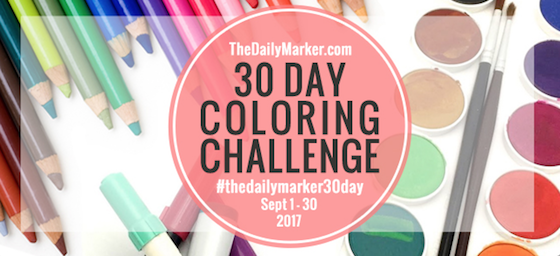 Hello Friends, How are you? Please tell me you all are ok? My heart goes out to Vegas and everyone that has been effected by this shooting even tho it touches us all. Heart wrenching!
On a craft note …. It's day 30 for real this time!  Omg!! Thank you for your patience. This post took more time and I needed that extra time with a 80th BD weekend celebration for my mom. (she can spin circles around me)
I had really enjoyed viewing all your creativity and reading how making time for yourself has been a positive experience for you like it is for me :). You all have been so kind and supportive of my 30 day coloring challenges and words can't begin to express my gratitude.  Thank YOU!
Also a big thanks to the Good Will Ambassadors for spreading love  Tina, Dot, Jan, Rowena, Alexandra, Cathy, Lisa, Connie, Yoonsun, Christiane  & many of you for being so active and supportive and encouraging in the FB group & at Instagram.  I hope we were able to reach you and encourage you. Our community is the best and the most supportive people I have had the pleasure of knowing. Thanks to each of YOU for motivating me to do these challenges. (in the next week I hope to get to you all who shared on my blog)  Also a big thanks to Patricia who helps me with FB & to Patti who helps me with giveaways!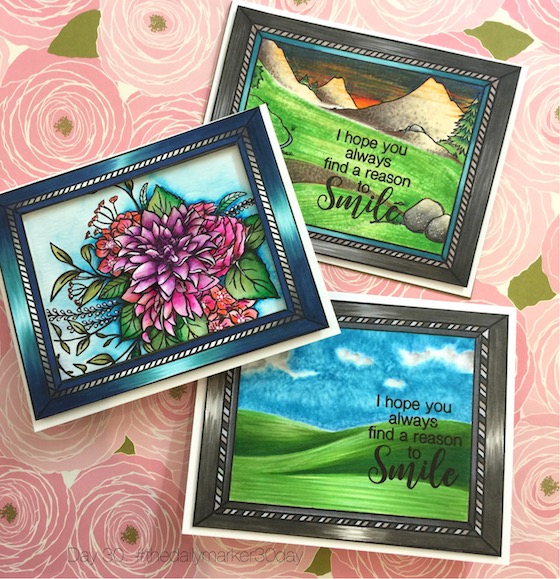 Today I have three cards, a giveaway and some winners to announce. Lot's to do … in a good way 🙂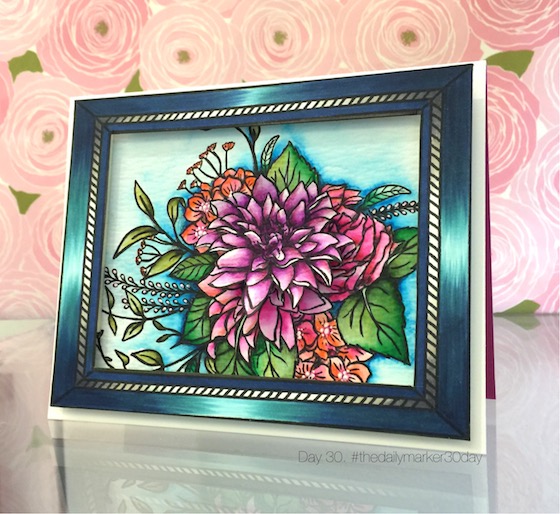 I am so in love with Altenew's stamp set called, "Framed" and it's one of those must haves for me. My first card is a blank one (I can add a sentiment if need be later) . My other two cards are using the "Framed" stamp set as well but they have entirely different looks.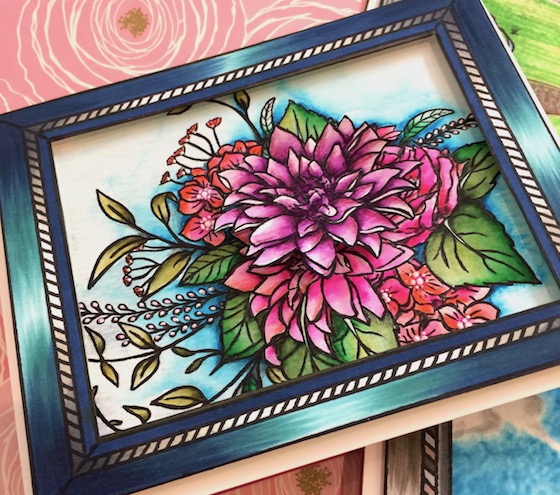 Using the frame on florals … really highlights the flowers and lets them shine. Using the stamp set called, "Blooming Bouquet"    I love how the you can stamp the larger floral and pop it on top of your card for added dimension. The floral was colored with Tombow markers and the frame colored with copic markers.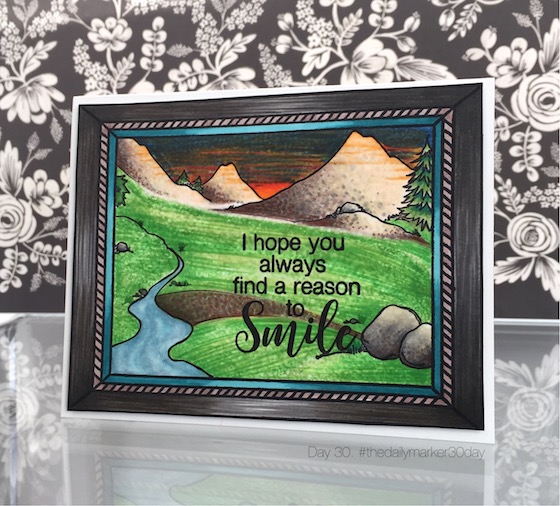 Colored backgrounds can really take your cards to the next level and these four stamps below from Stamping Bella can make your life really easy (a new background is coming out any day for winter) I love how you can color the background, stamp a sentiment on the background and you are finished. OR you can add any critter or person to give your card extra personality. This is the sentiment I used from Simon Says Stamp.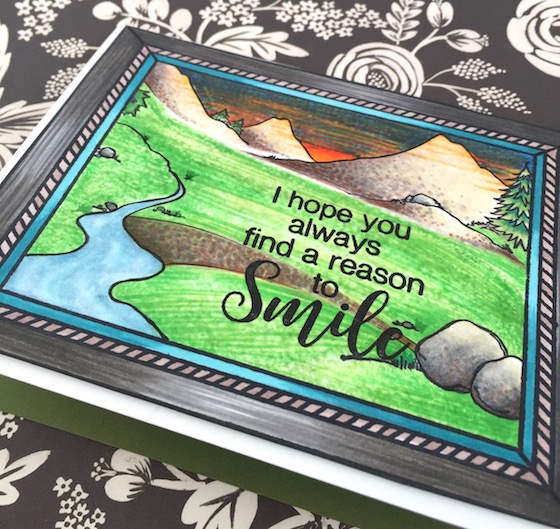 It's really true!!! I really do hope that you always find a reason to smile. The Stamping Bella packaging for this stamp was my jumping point to get me started with my coloring.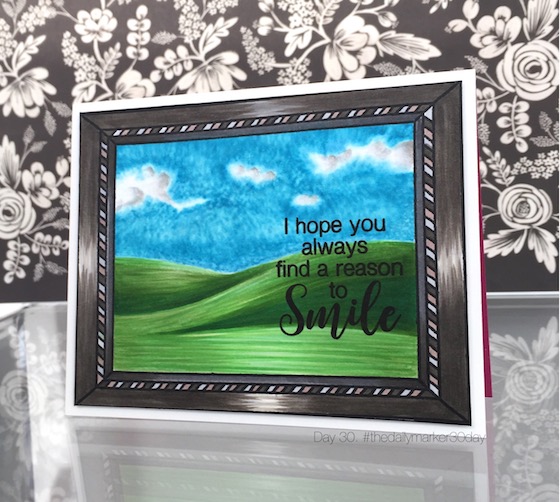 Sooo here is another option for you. Your can make your own background with some help from an ebook. I am so proud how mine turned out ……. following the instructions with a step by step guide I was able to feel successful.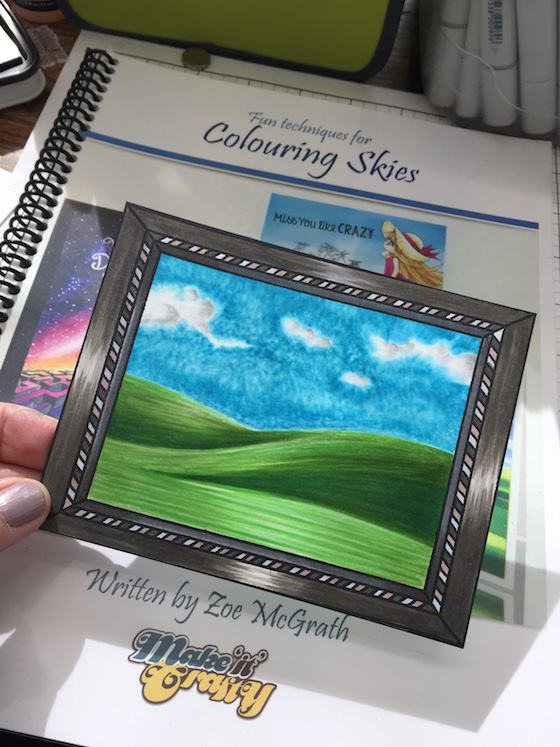 During the last 30 day coloring challenge Zoe from Make It Crafty sent me two classes of my choosing. It was a tough choice and I selected the Coloring Skies E Book . I figured the easiest way was for me was to print out the instructions. This way I could pick up the ebook and take it with me when traveling or on the go and not be tied to my computer. Finally I had time to sit down and give it a try and I was so happy with the easy step by step instructions.
I can pop a critter or an image on top but, I like the simplicity of this with just a sentiment. Zoe from Make It Crafty set up a discount code from now until October 15th – offering 15% discount on all the ebooks (enter the code: thedailymarker at checkout and it will automatically deduct any ebooks in cart by 15%.) Yay! thank you Zoe!
GIVEAWAY!!  A set of Altenew alcohol markers! LOVE them!! To qualify just say hi in the comment area and I will announce a winner sometime next week. (thank you Altenew!)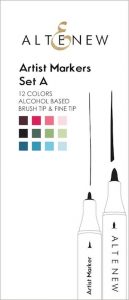 WINNERS!!! We have more winners! Yay! 
Day 29 Giveaway!!  A Concord & 9th yummy ice cream stamp and goodie bag. 
Congrats to Amy Seigler !
Day 29 Giveaway:  A stamp from Honey Bee plus a  goodie bag.
Congrats to Betty (createdbybjk) !
All winners please email plintltd@verizon.net  and put what you won in the subject line thank YOU & thank you all for entering. 
In closing … The last day is always so bittersweet for me …it's like when the holidays are over and you get that let down. I want to thank you each and everyone of you for making the challenge a super fun one. Your daily visits, the comments, the participation, the support etc. etc.  T.H.A.N.K.   Y.O.U. from the bottom of my heart  🙂
AND … just so you know…  you can continue to play along for the next few days so we can separate slowly.  Thanks again and again for everything! Big ole' hugs and lots of love to you all, Kathy xoo