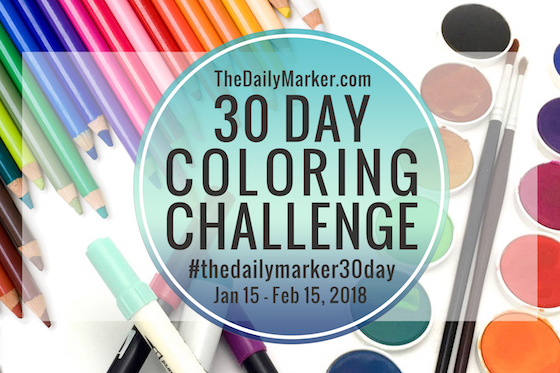 Hello Friends, How are you? It's day 30!!! Omg!! I can't believe how these coloring challenges seem to go by so quickly. I had a blast viewing all your creativity and reading how making time for yourself has been a positive experience for you like it is for me :). It's music to my ears when you mention the calming effect of coloring. You all have been so kind and supportive of my 30 day coloring challenges and words can't begin to express my gratitude.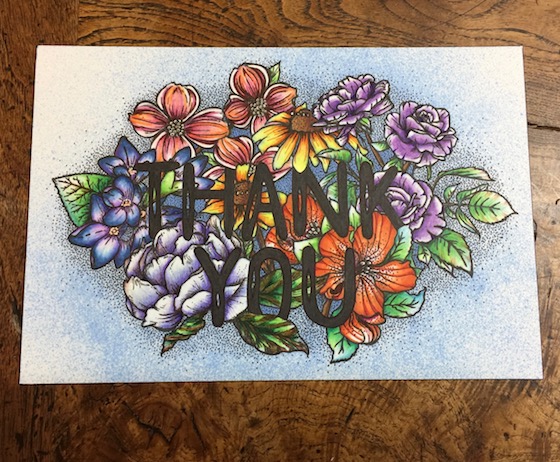 I do have to apologize that posting in the FaceBook group was just to much for me. FB is a place I never visit and I wanted to be able to be a supportive person in the group but, every day I thought I could and then it just never happened. So sorry. A super huge thanks to the Good Will Ambassadors for spreading love on Facebook & Instagram. The challenge is about coloring & it's about COMMUNITY, spreading kindness & support for each other ❤😀 A huge shout out to these ladies Tatiana, Olya, Miriam, Isabel, Pam, Tracie, Maureen, Faye, Tina, Donna, and Patricia.
I want to thank so many of you for being so active and supportive and encouraging in the FB group and or at Instagram.  I hope we were able to reach you and encourage you. Our community is the best and the most supportive people I have had the pleasure of knowing.
A thank you goes out to you for coloring … just coloring is a good thing and you don't have to do anything but, color. My project to day is for you all to convey my appreciation.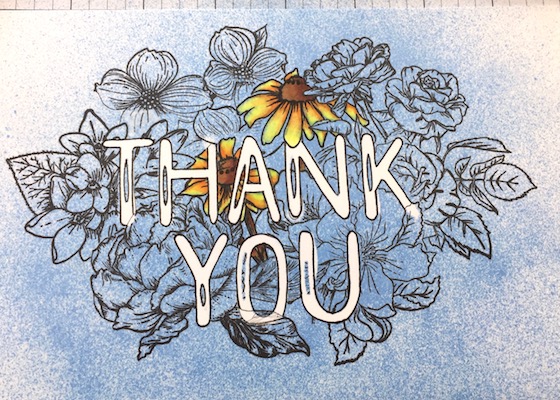 Today's project took some time but, it's easy if you spread it out over a few days. I filled a mini mister with some copic refill ink in blue. Always test your initial sprays in a box or something so you don't get the mist of ink all over. I have many alphabet die cuts but, not many stamps so I made these die cuts work like stamps for me from Altenew … I love the opening in the font.
Before I added my coloring I used a "0" copic marker to mute some of the spray in the flowers and leaves. (this was quick & easy)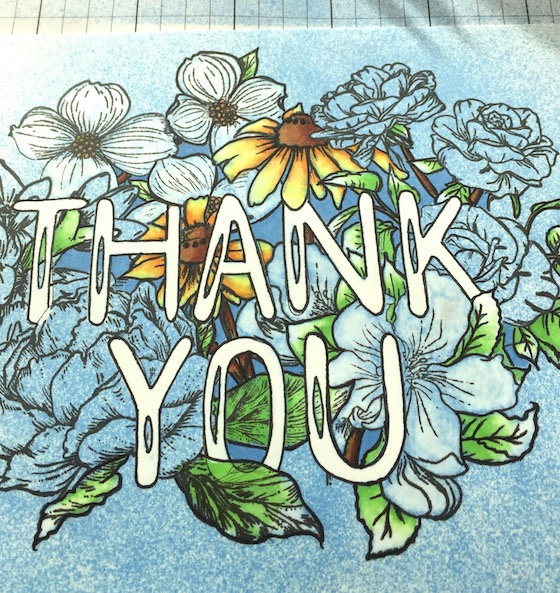 The next thing to do is to identify the leaves from the petals. A few times I referred to my stamps to figure out what was what. (at this point a quick color is the best thing because you can always add more color later)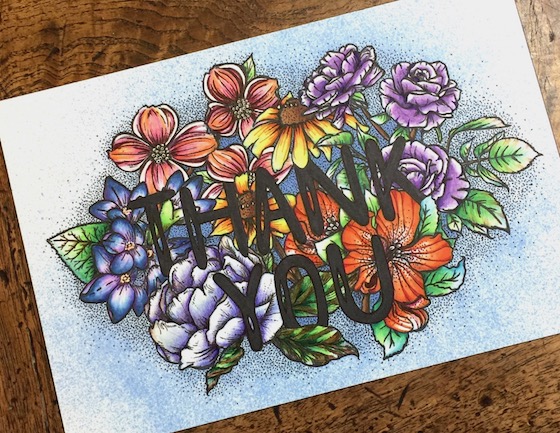 The large purple flower on the left is from Power Poppy and all the other flowers are from Gina K. Designs. After my copic coloring I added highlights with these pencils.
In closing … The last day is always so bittersweet for me …it's like when the holidays are over and you get that let down. I want to thank you each and everyone of you for making the challenge a super fun one. Your daily visits, the comments, the participation, the support etc. etc.  T.H.A.N.K.   Y.O.U. from the bottom of my heart  🙂 Many Hugs, Kathy
CARD SUPPLIES AND LINKS: Affiliate links are used depending on the products.