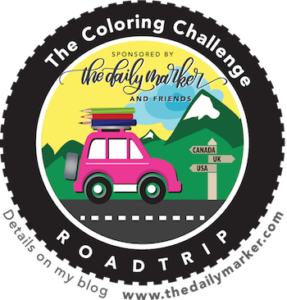 Hello Friends!! I am finally ready to announce my first location for 2018 and it's hard to contain myself lol  … how about a drum roll!!!!
I am beyond exited to tell you that I will be going to So California to visit LAWN FAWN ! 
Way back when I started stamping Kelly Marie of Lawn Fawn was stamping too and I was so familiar with her beautiful creations in the Hero Arts Flickr group. I "knew" Kelly Marie before Lawn Fawn and I feel like I  watched the birth of Lawn Fawn lol. It's so rewarding to see a company grow from the root and I so revel in the success of Lawn Fawn and how they have grown from a small company into a family of fawnies! I love Kelly Marie, Mike & all the fawnies so as you can guess I am jumping up and down!
"The Coloring Challenge Road Trip" will be held at:
30201 Aventura
Suite 100
Rancho Santa Margarita, CA 92688
Saturday, March 10, 2018
from 9:30AM – 5:30
The registration fee will go to support Pet Project Foundation.
TODAY YOU CAN REGISTER!!  CLICK HERE Woo Hoo!
If you are curious what "The Coloring Challenge Road Trip" is all about and other states that are in the works or why I am doing it … you can check it out here  or check out my registration page here.
I will be back tomorrow for a video about The next coloring challenge that starts on Monday!! EEk ahhaahha don't worry if you aren't ready because I am not! See you soon, Hugs, Kathy