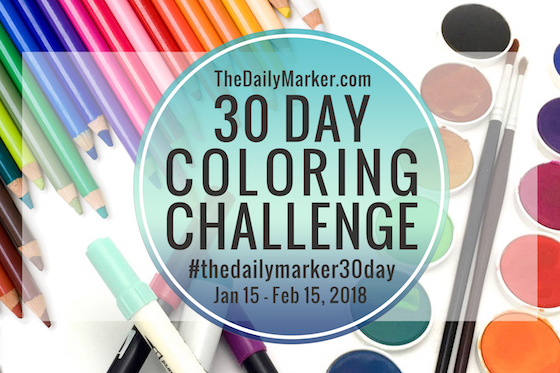 Hello Friends! Welcome to Day 2 and I am so proud all of you that have been successful carving out some "You" time. If you haven't been able to don't worry and color when you can. Please don't worry about catching up it's just best to jump in.
I Love this series of stamps from Waffle Flower illustrated by Helen Darkin. The whimsy gets me giddy! I wanted to color this one so I stamped her with a light ink from SSS and traced over the lines. I altered her by adding a body and the hit of an arm …. and extended the stems on the flowers.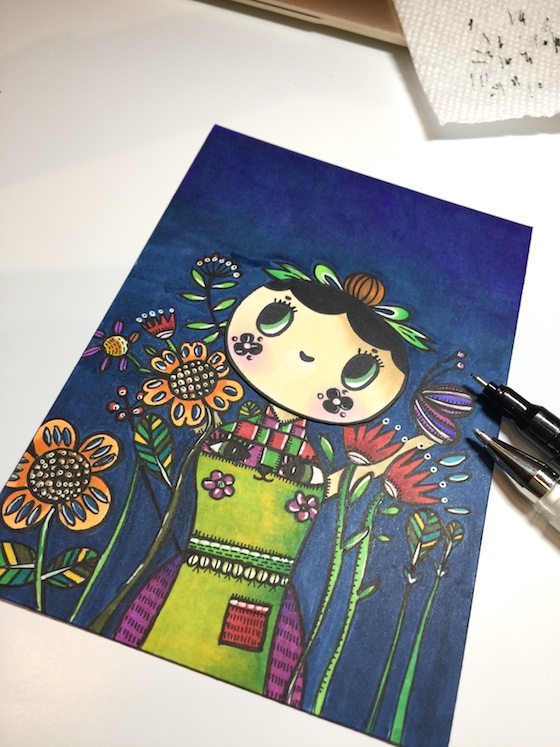 If you watch the video  you will see my awful, ugly eyelashes lol and how I corrected her. It's another late night for me so this will be a short post. Thank YOU for your visit and see you tomorrow!! Hugs, Kathy
COLORING CHALLENGE INFO BELOW… QUESTIONS? NEWBIES? SHARING?
If you have any questions about the coloring challenge you can refer to this post . If you want to get my posts in your mailbox you can sign up here or subscribe to my videos here.
There are now 3 ways to share what you are coloring. If you want to join a community of coloring enthusiasts I recommend  FaceBook or Instagram. Be sure to tag me and use the hashtag #thedailymarker30day. Kids & young adults use #thedailymarker30daykids.
The 3rd way is to link up to my blog to share your coloring here.
P.S. If you want to share the logo when writing your blog post or on Facebook etc. that would be lovely & so appreciated :).
P.S.S. Did you catch my first road tip in 2018 is to So California with Lawn Fawn!?
Card Supplies & Links: Affiliate links may be used depending on the product and 100% is used toward my Coloring Challenge Road Trips.