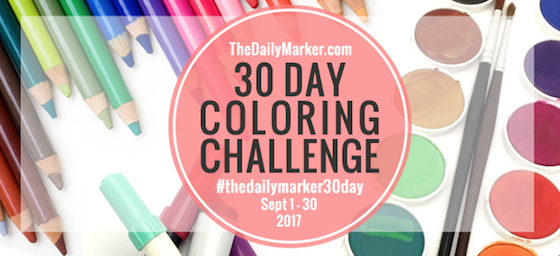 Helloooo Friends! Can you believe that it's Day 7 already?  Are you feeling the benefits that coloring can bring? My road trip kick off was in Edinburgh and it was such a lovely group of women …. magical really.  The trait that I noticed is most are afraid to be fearless with color. My wish for you is that if you desire more color to go for it. Be fearless.
My distress inks were calling my name so out they came. The palette that I love to use with my distress ink you can find here.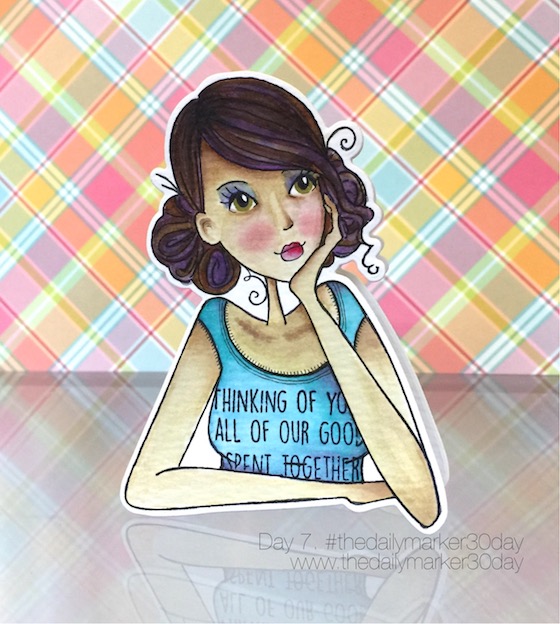 My first choice to color skin is copic markers and distress inks are my second choice. Trying to step out of my comfort zone a little with purple highlights in her hair. I stamped "Thinking of You Bella" with some black ink on my fav bright pre cut white watercolor paper … a great time saver for me! Here I colored her up with markers and here is video using copics.
Instead of messing with a background I just used the coordinating die cut to made a shaped card by scoring the back of the die cut & glueing it on to the front. What do you think of the purple hair highlights?
Please know that every single time you visit my blog I am grateful! Until tomorrow. Hugs, Kathy
P.S. If you are new to the challenge …. The premise of "The Daily Marker 30 Day Coloring Challenge" is to color something everyday even if it's for five minutes. (However feel free to  jump in or out as time permits). Any coloring medium is welcomed. Click here for DAY 1. TO UPLOAD YOUR COLORING  or here on Instagramor here on Facebook (FB is a closed group). Please remember to use the hashtag #thedailymarker30day  kids & young adults #thedailymarker30daykids
If you have any questions about "The Daily Marker 30 Day Coloring Challenge" you can refer to this post.  If you want more info on The Coloring Challenge Road Trip click here.
Card Supplies & Links: Depending on the product affiliate links may be used at no cost to you.