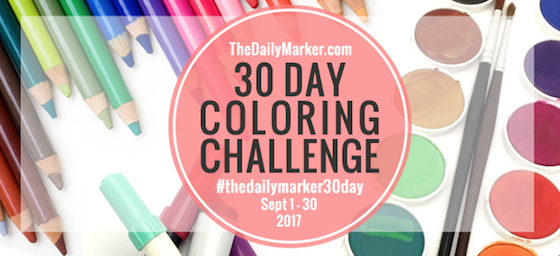 Hello Friends, How is your day going? T.G.I.F. to you! If you are a hurricane victim you are not forgotten. Lots of good things in the works with SSS and OCC to raise funds soon! My heart goes out to you and giving you a big squeeze.
I was running short on time cause I'm off to Canada for my road trip but, I had to take a deep breath, sit down and paint a little while the laundry was going.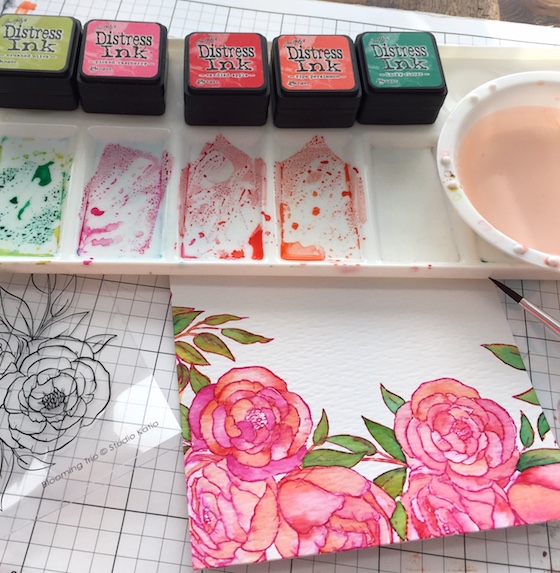 STAMPtember is a month full of beautiful collaborations at Simon Says Stamp. This particular one is with Studio Katia and it's so beautiful…. it's called, "Blooming Trio". I wanted to give my distress ink some loving so out they came.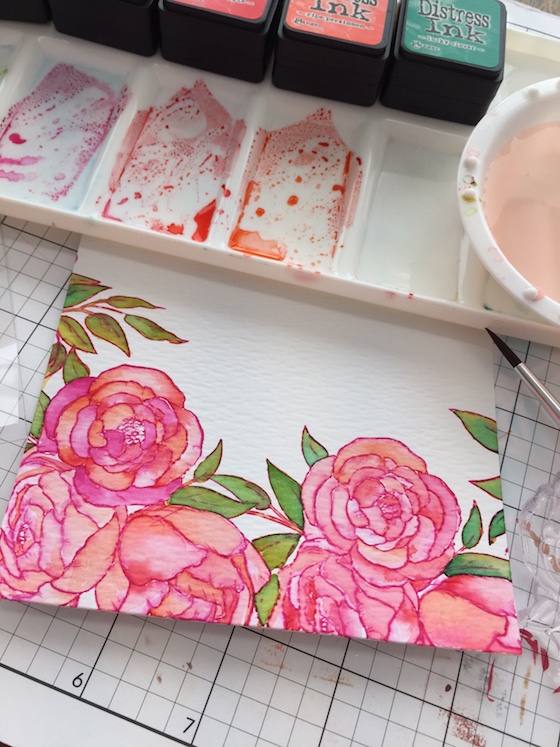 I masked off the flowers easily with a post it note and inked them up with festive berries.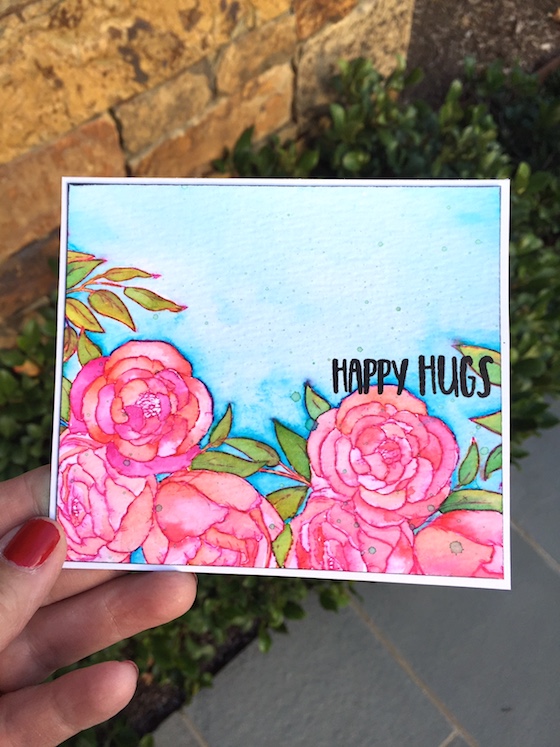 You might ask … what about the nooks and crannies? I am itching to add a little color to them or do a little more watercoloring on this? I do love working with the mini distress inks and water. (supply list at the bottom)  Let's move on to winners!
WINNERS!!
Day 10 Blog Giveaway: as seen in this post !! Four goodie bag plus Mama Elephant's exclusive yeti stamp.
Christy Q., Laura P., B. Porterfield & Pamela Sertich
DAY 10 Instagram Giveaway:  4 goodie bags including one of my favorite floral Mama Elephant stamp.
luciegcards, betsybirgeart, fortheloveof_crafts  & Sybil_stephens
Day 19   Blog Giveaway: two spots in the OnLine Card Classes upcoming class called "Merry Making"            
Deepa Lakshman & Henriëtte
DAY 21 Instagram Giveaway: Four goodie bags (thanks for the shout out to IG I think it worked) yay!
alixsworld, jen_shears, ohyoumademeink & periwinklestudio
Al winners please email plintltd@verizon.net  and put what you won in the subject line thank YOU & thank you all for entering. More giveaways coming soon. A big thanks to Pattie for keeping me organized with all these giveaways! 
Not a day that goes by that I am thinking how  thankful I am for you all and your support, inspiration, participation and visits etc. Happy Weekend to you. See you tomorrow! Hugs, Kathy
P.S. If you want to see what everyone sharing on Instagram click here  … If you want to see what everyone is sharing on my blog click here and scroll down.
P.S.S. If you are new to the challenge …. The premise of "The Daily Marker 30 Day Coloring Challenge" is to color something everyday even if it's for five minutes. (However feel free to  jump in or out as time permits). Any coloring medium is welcomed. Click here for DAY 1. TO UPLOAD YOUR COLORING  or here on Instagramor here on Facebook (FB is a closed group). Please remember to use the hashtag #thedailymarker30day  kids & young adults #thedailymarker30daykids
If you have any questions about "The Daily Marker 30 Day Coloring Challenge" you can refer to this post.  If you want more info on The Coloring Challenge Road Trip click here.