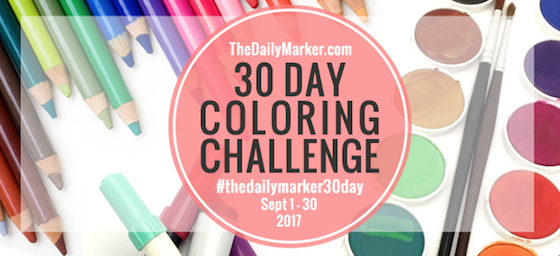 Hello Friends! How are you? Today is Day 16. of "The Daily Marker 30 Day Coloring Challenge" ! but, wait … there is more! It's …. Mama Elephant Stampede Hop!
I am super excited to be participating and celebrating Mama Elephant's 5th Birthday with a Mama Elephant Design Team blog hop! This is Day 2 of the 3-day Stampede! Make sure you check out
Day 1
if you missed it yesterday!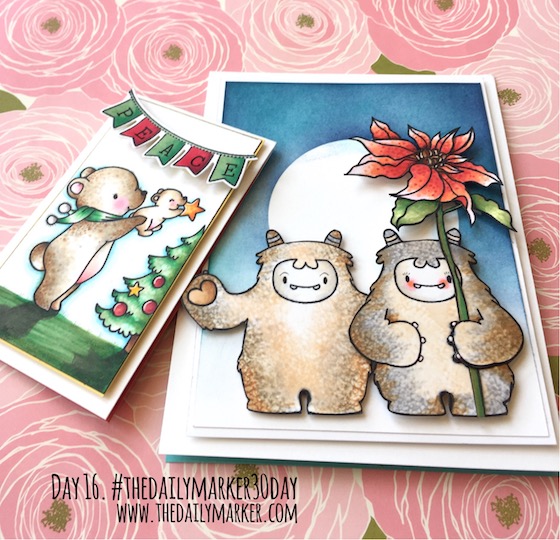 Two cards plus a twist to celebrate the Mama Elephant Stampede! First up is a video. Click here to watch in HD or click here to subscribe.
I am in love this Yeti stamp called, "Me & My Yeti" & I had so much fun coloring these two yeti's.
Sometimes you just run out of time when creating a card or you need to walk away & see if you need to add more when you return. Check out how this card changed at the bottom of my post.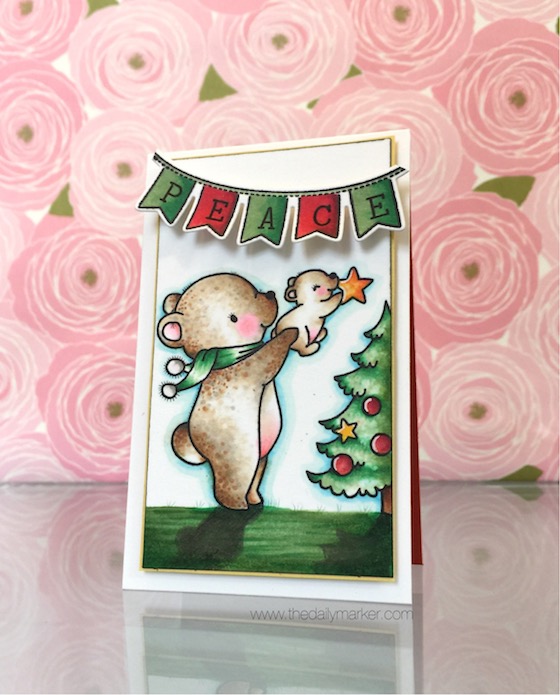 Mama Elephant has such a knack for creating images that strike a cord with me. They evoke emotion like this little bear family called, "Beary Christmas" . I demonstrated coloring the adult bear at the Mama Elephant Anniversary party in NY. The yeti and the bear were colored the same way except I added more dots on the bear with my markers.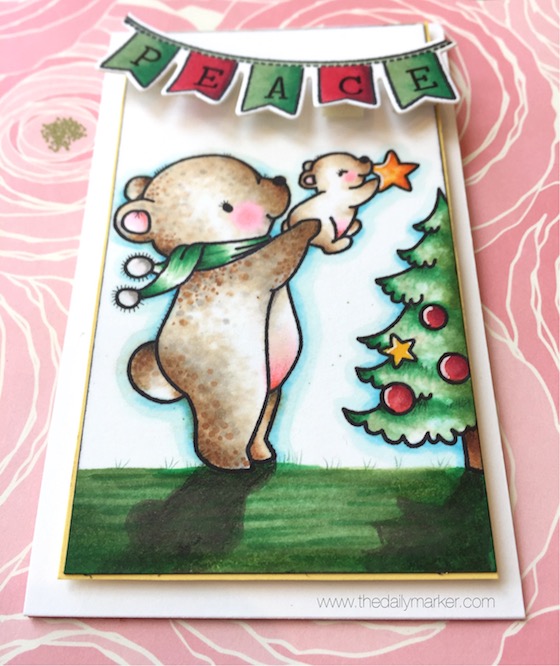 When I came home from NY  I finished coloring the rest of the sweet bears, die cut & stamped a banner and assembled my card.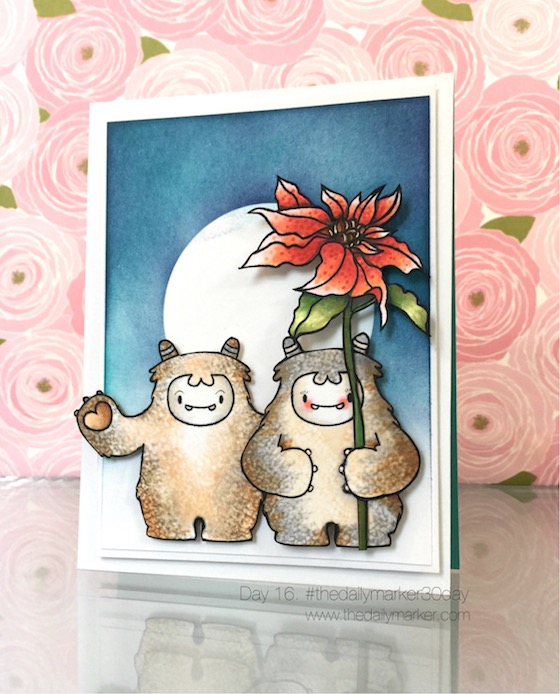 Who doesn't love these sweet yeti's & they are super simple to color. I thought it would be fun to add a poinsettia for fun and a pop of color. Time was a factor and I always need blank cards so I opted to go sentiment free.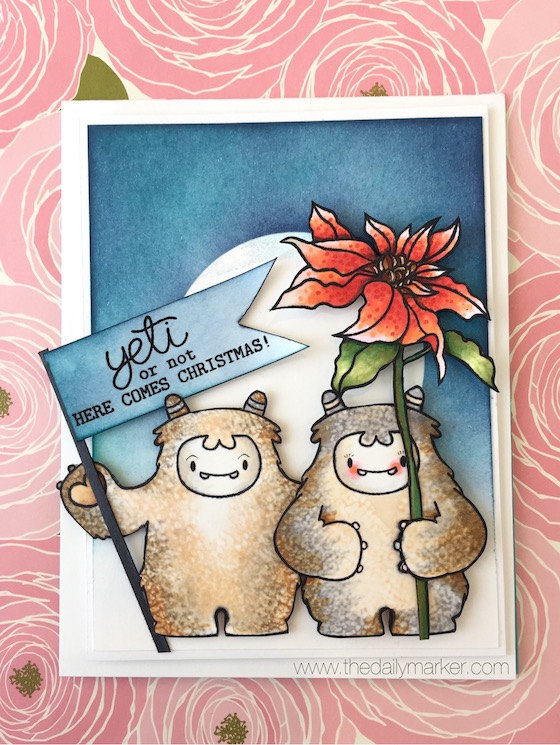 After taking Max to the doggie sitters I decided to add a sentiment cause I love this sentiment & I thought why not. I had a skinny piece of scrap cardstock that I colored and glued on to the sentiment banner to create a flag.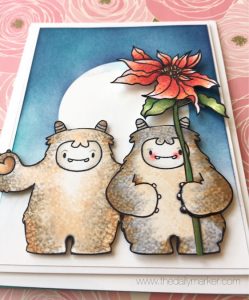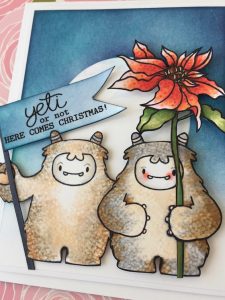 Which one do you like best? The card on the right or on the left. I would love to hear.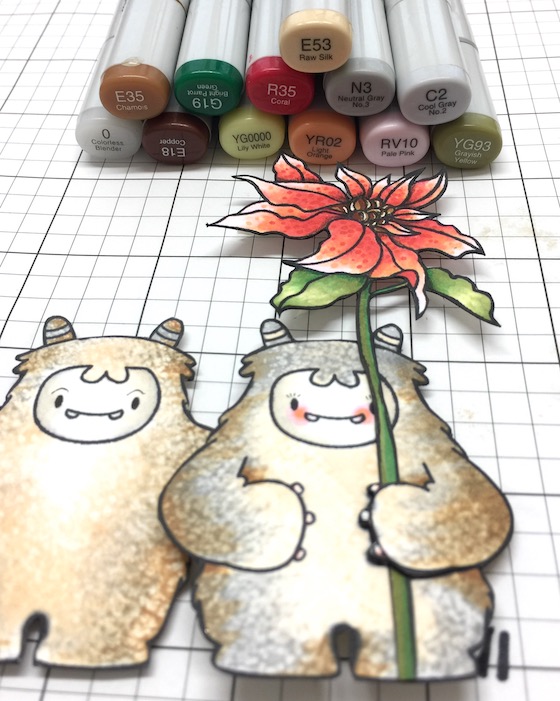 I thought you might appreciate the colors I used today for my yeti card and don't forget about some copic blending solution and a rag … it's a must to get all that texture!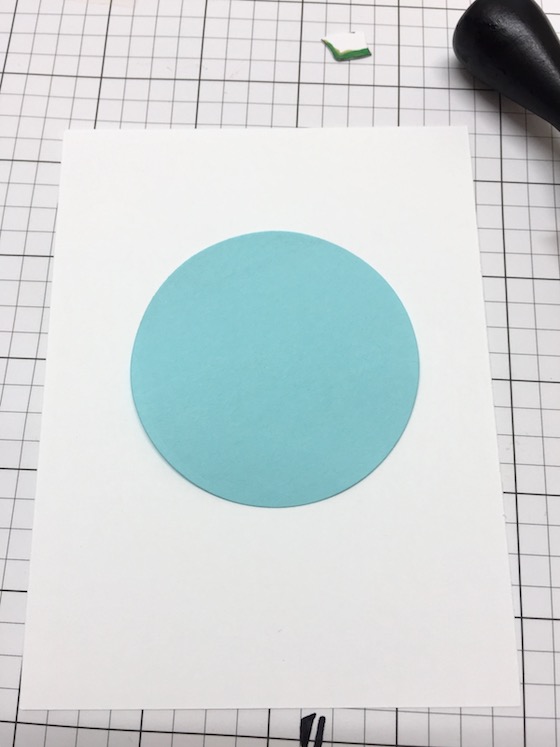 The background was quick and simple. I die cut a circle from a post it note and stuck it on my white cardstock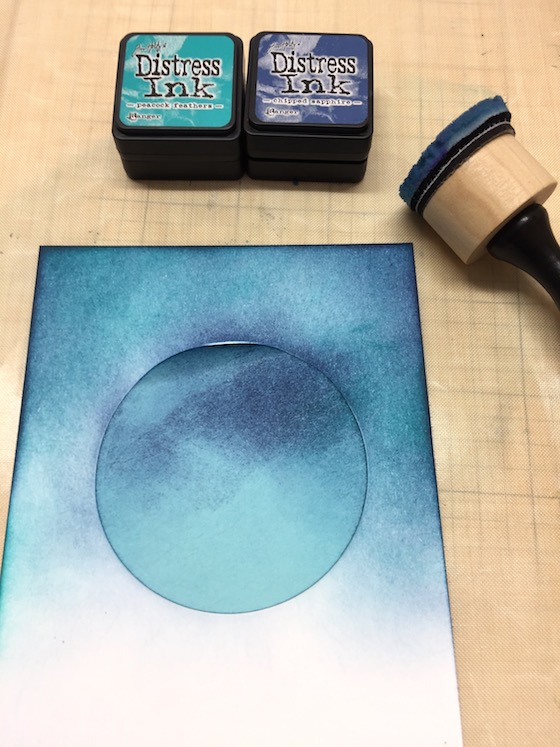 Two colors of distress ink were added (this and this) and the circle was removed. Sometimes I color the white moon a yellow.
Mama Elephant's newest release is now live and available for purchase in their store!  Check out this year's promo!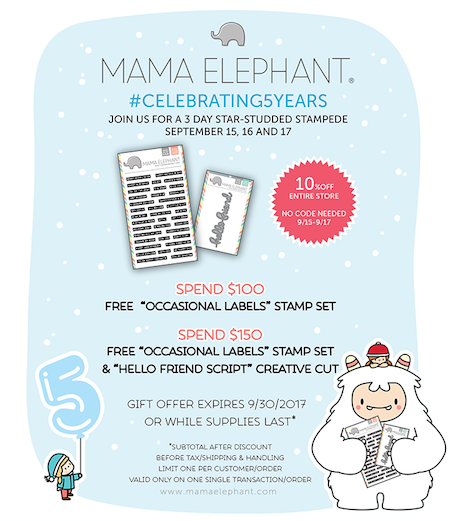 From 9/15-9/17 —Take 10% off the entire store. (In stock items only & no rain checks.) No coupon code needed. All prices as marked.
From 9/15-9/30  —  
Spend min $100* – get a free 'Occasional Labels' 4×6 stamp set. —- Spend min $150* – get a free 'Occasional Labels' 4×6 stamp set and 'Hello Friend Script' creative cut die. 
 (check out the specifics at the ME store)

To celebrate this mega anniversary release, up for grabs are three $25 gift certificate to the ME store! That's a total of 9 winners for the 3-day Stampede! Winners will be chosen at random from the collective blogs in the Stampede. Winners will be announced on the last day of Stamp Highlights. You have up to 4 chances to qualify to win!
» 1. Leave a comment on this blog post «
Here are today's designers, make sure you 'stampede' your way through all of them and check out what they created with the newest products!
Make sure to visit Mama Elephant tomorrow for more fun inspiration with yet more designers!
Thank you so much for your visit today and if you are just hearing about the coloring challenge why not try it and jump right in. We would love to have you. See you tomorrow! Hugs, Kathy
P.S. If you want to see what everyone sharing on Instagram click here  … If you want to see what everyone is sharing on my blog click here and scroll down.
P.S.S. If you are new to the challenge …. The premise of "The Daily Marker 30 Day Coloring Challenge" is to color something everyday even if it's for five minutes. (However feel free to  jump in or out as time permits). Any coloring medium is welcomed. Click here for DAY 1. TO UPLOAD YOUR COLORING  or here on Instagramor here on Facebook (FB is a closed group). Please remember to use the hashtag #thedailymarker30day  kids & young adults #thedailymarker30daykids
If you have any questions about "The Daily Marker 30 Day Coloring Challenge" you can refer to this post.  If you want more info on The Coloring Challenge Road Trip click here.
Card Supplies & Links: Depending on the product affiliate links may be used at no cost to you.