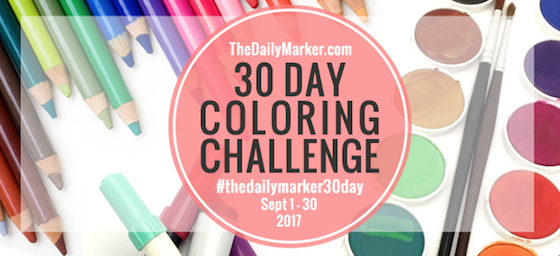 Hello Everyone, Thanks for your heartfelt comments yesterday and I hope to get back to each one of you. Today I bring you some winners! Woo Hoo! See the winners at the bottom of my post.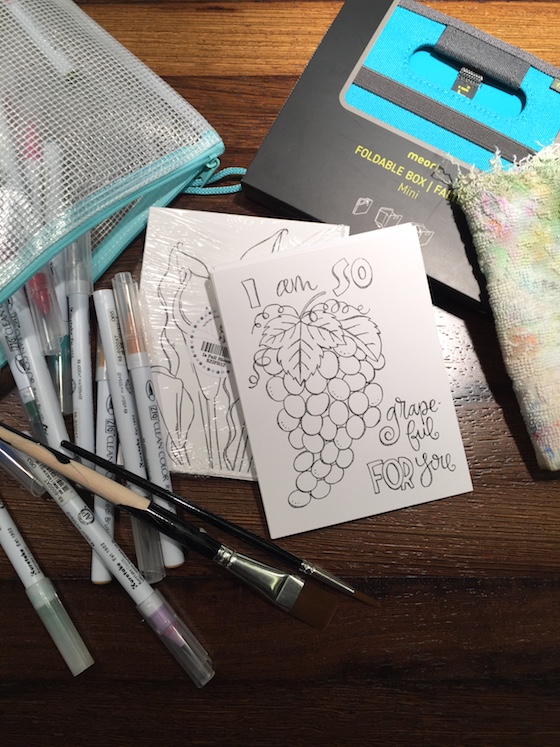 I thought I would share how it looks when I am coloring on an airplane. These are SSS coloring cards and my Zig watercolor markers.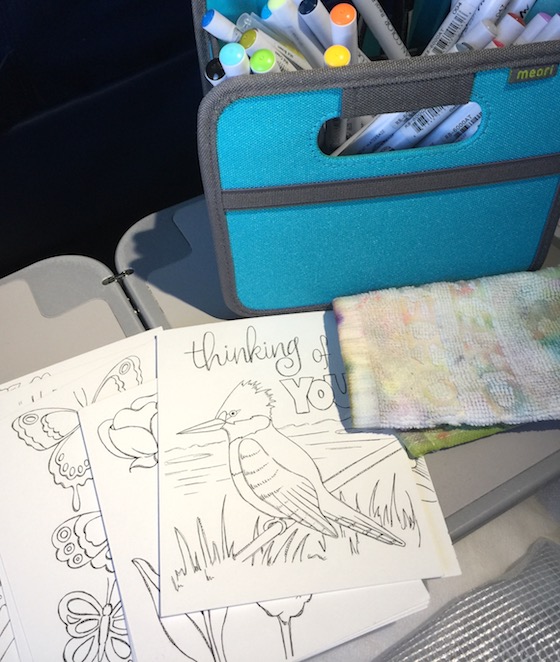 I found this fold up canvas tote thingy lol and it's great to prop up and put my supplies in on the plane. The towel I carry around to dap an stray water and wipe paint off my brush.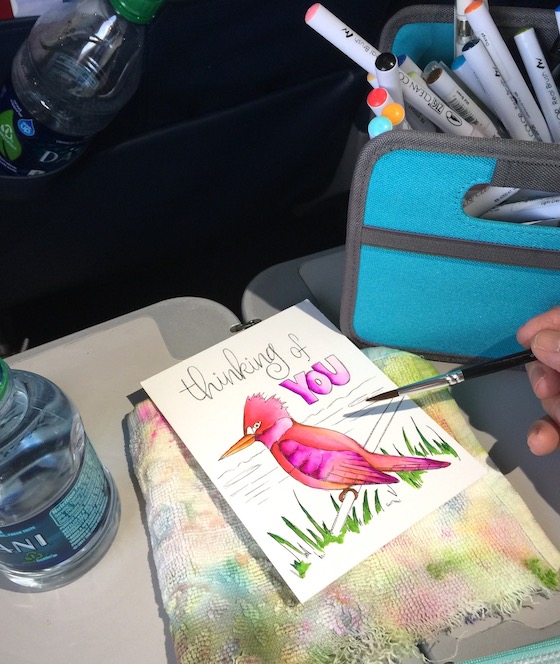 The best part about using Zigs you don't really need much water & I have said before that I always pack some of these cards.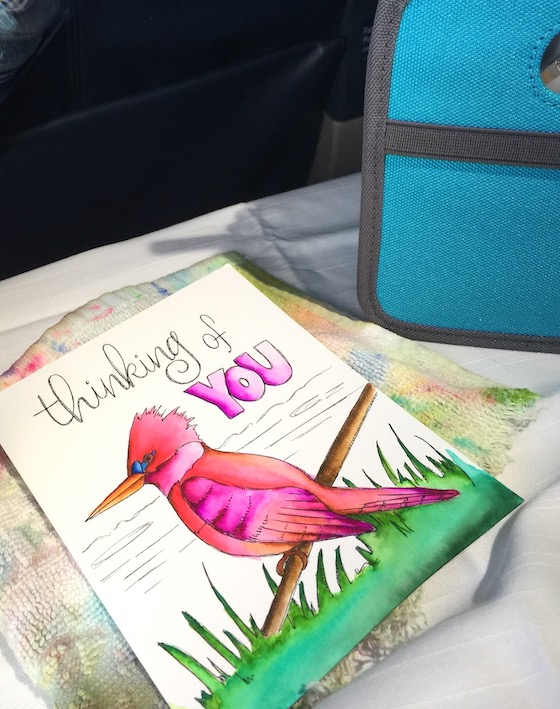 I am excited to finish this and I tell ya these birds are so fun to color.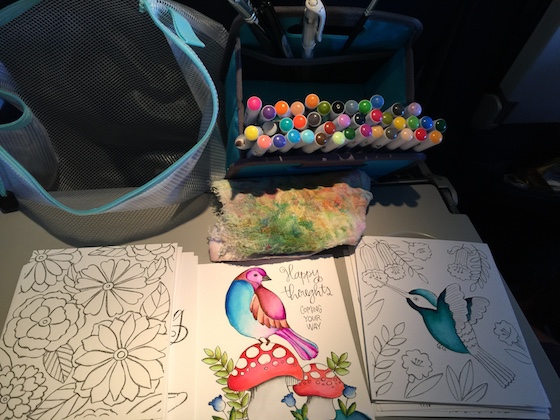 The large bag on the left is what I put everything in … it's compact and fits in my carry on plus it's light weight.
Now for some winners!!
My giveaway from Day 2. blog hop (the giveaway was FOUR $25.00 GIFT CERTIFICATES to a stamp store of your choosing.)
Congrats to:  Wendy Goundrey, Nancy Rigoglioso, Gwendolyn & Janet Ingraham
My giveaway from Day 8. (Two goodie bags including a Spellbinder stamp)
Congrats to: Marianne B in AZ & Regina Cooper
The other winners during the hop from each individual blog are below and I will continue to update the list below.
Mama Elephant Winner is Loly Borda
Waffle Flower  Winner is Carole M.(please email WF at social@waffleflower.com to claim your prize.
Jenn Shurkus  Winners are Pam (pr5555) & Carol (momgram69)
Power Poppy  Winner is Ann Custer
Lawn Fawn   Winner is Dee Earnshaw
Debby Hughes Winner is Laraine Randall
Stamping Bella Shelley #199, Kate B.#229, Gwendolyn #34, & Heidi #260
PLEASE EMAIL  emily@stampingbella.com with the SUBJECT LINE BLOG HOP WINNAH and she will email  you your $25 gift certificate to their shop!
Gina K Designs Kerry Myers
Concord & 9th  Barbara Chmura
WPlus9 Jenniferk
Thank you for your visit today. Those of you that live in Florida as you access the damage I hope it's ok and that the power comes back soon. So much devastation! Prayin prayin! Hugs, Kathy
P.S. If you want to see what everyone sharing on Instagram click here  … If you want to see what everyone is sharing on my blog click here and scroll down.
P.S.S. If you are new to the challenge …. The premise of "The Daily Marker 30 Day Coloring Challenge" is to color something everyday even if it's for five minutes. (However feel free to  jump in or out as time permits). Any coloring medium is welcomed. Click here for DAY 1. TO UPLOAD YOUR COLORING  or here on Instagramor here on Facebook (FB is a closed group). Please remember to use the hashtag #thedailymarker30day  kids & young adults #thedailymarker30daykids
If you have any questions about "The Daily Marker 30 Day Coloring Challenge" you can refer to this post.  If you want more info on The Coloring Challenge Road Trip click here.
Card Supplies & Links: Depending on the product affiliate links may be used at no cost to you.