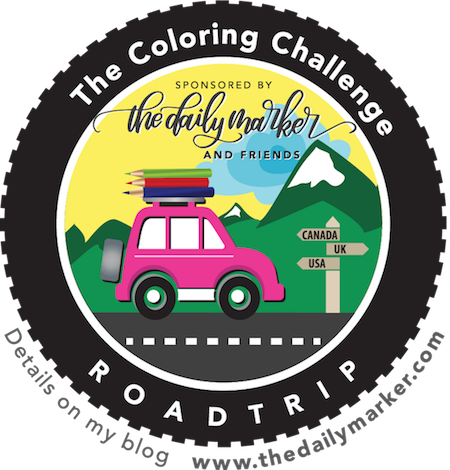 Hello Friends, How was your weekend!! I have been bursting from the seams with this news and I can't wait any longer. TUESDAY I will release more info but, I just wanted to pop in and give you a little bit now.
Click here if you want to go directly to the page with only dates and locations. 
What if I said that I was taking the coloring challenge on the road?! "The Coloring Challenge Road Trip" !!! I have hosted eight "30 Day Coloring Challenges" and I am taking a leap of faith and taking  "The Daily Marker 30 Day Coloring Challenge" on the road for "The Coloring Challenge Road Trip" I will have stops throughout the United States, The UK and Canada!!!
My goal is to create some happiness with a feel good all day event that is affordable and give back to the community at the same time . The Coloring Challenge Road Trip will have lots of stops that will be all day meet-ups for anyone who loves to color and wants to be with like minded people. The idea is meet with fellow colorists or crafters that enjoy coloring and to want to have relax, color and pick up a few tips. Whether you into making cards, coloring, stamping in your journal or planner, scrapbooking or even coloring in a coloring book this is for you. There will be demos & giveaways too!! Woo Hoo I hope you are as excited as I am. 
Each participant must register & the registration fee will be donated to local charities. REGISTRATION WILL OPEN UP TUESDAY AT 9am Eastern Standard time. 
Please note: Participants bring their own projects & supplies to color with. "The Coloring Challenge Road Trip" is NOT a coloring class or a card class … it's a crop style event where you bring your own projects to work on.
Here's whats coming up … like soon!! OMG I hope I get to meet you guys!!
AUGUST 27th – United Kingdom, Edinburgh
SEPTEMBER 9th –  New York, New York
SEPTEMBER 23rd & 24th – Canada, Ontario
OCTOBER 7th – Wisconsin, Greendale
NOVEMBER 18th – Maryland, Savage Mill
NOVEMBER 11th & 12th – Massachusetts, Cape Cod
More dates & states are in the works will be announced in a few weeks. My blog readers will be the first to know…. if you don't want to miss out you can register for email updates from my blog side bar.
Stay tuned and I will be back Tuesday! Wait until you see who's going to be joining me!! Don't forget that REGISTRATION WILL OPEN UP TUESDAY. Thanks for your visit … today and always. Hugs, Kathy