Hello Friends, How are you!!! Omg it's been soooo long … I got all caught up in my daughters fashion show … then we were back home for a few days then we went to the Bahamas for a few days. When we returned we had a few days to regroup and then it was graduation time…. family … moving her out and then comes the laundry lol.  All good stuff and major life events that were pretty sweet. Enough about me what about you. What have you been up to? Everything going ok?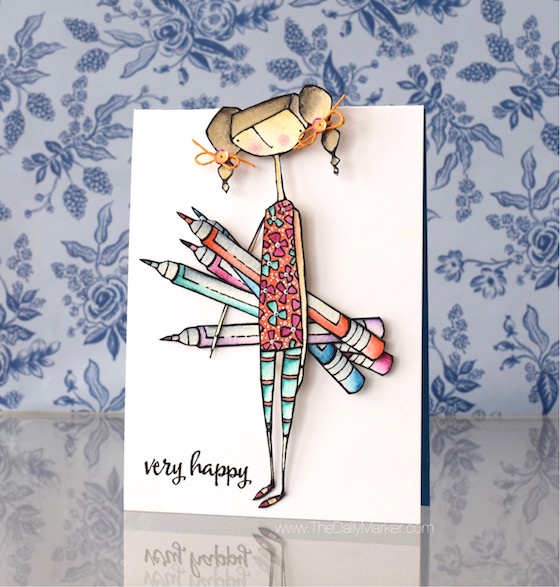 Today I am on the Stamping Bella blog for another monthly installment and like the card says I am "Very Happy" to be posting and COLORING! Since it's been so busy I set out to create a simple watercolored card using pencils. Check out the  video to see how easy it was to use pencils with very little water (great for traveling).
I am so in love with this entire collection of stamps called the DANIELLE DONALDSON COLLECTION  . The hard part was choosing which stamps to use .. I settled on "Very Hazel" and the "Marking Tools" to create my card.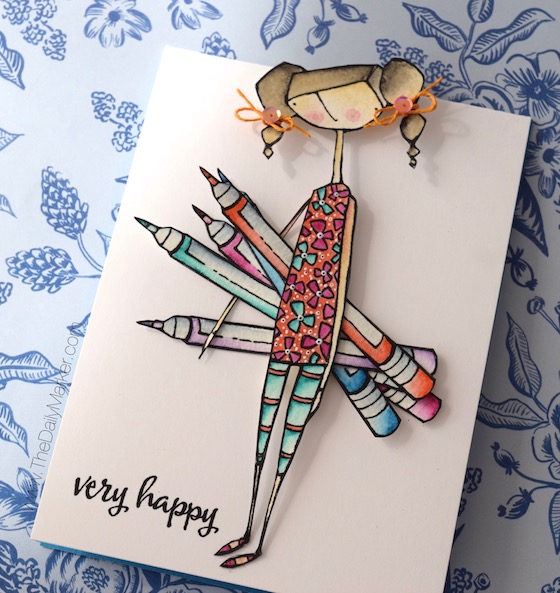 My card could have been created using some masking paper but, I felt like it would be faster to fussy cut the images. Stamping her head, legs & neck and wiping off the left arm is an option too… then stamping the body again and popping it on the stamping image is another way. 
Adding some twine to her pigtales is super fun. I popped a sequin on top of the knot because the knot was larger thank I liked. 
If you are taking a vacation prestamp a few images, pack some watercolor pencils and you are set to color anywhere. Thanks for your visit today and I really would love to hear what you have been up to. Have a great weekend. Hugs,Kathy
P.S. If you want to watch clips of the fashion show … the textiles my daughter created and part of the process …. beware tho … the last garment is created from newspapers and one of the models breast is exposed so IF THIS WILL OFFEND YOU please don't watch. With that said here is the video and thanks for your interest.