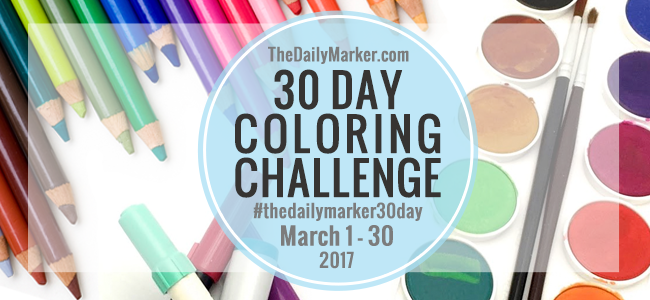 Hello Friends, Hows it going? For Day 25. I have a quick post 🙂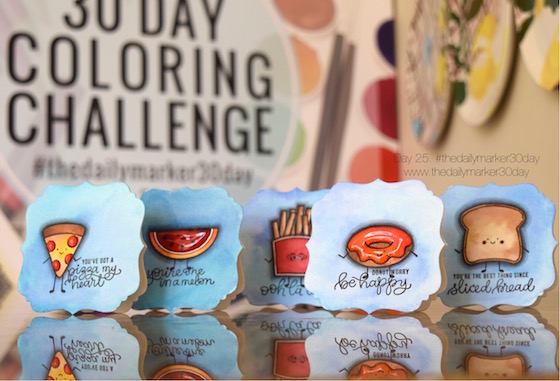 This card set was easy to finish up but, required some time. On Day 11. I watercolored these cards  with the stamp set called, "Funny Food"…. the sayings & images are soooo F.U.N.  I was determined to finish them.
I added a few grey halos around each image with some copic markers …then four layers of glossy accents.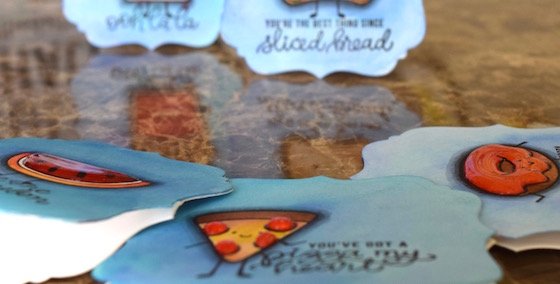 After the second layer of glossy accents you need to give the glossy accents a full night to dry after each layer … so it takes several nights lol … patience right. The texture is delicious and oh so lovely but so worth the extra time you need to give them to dry.
I love Tim Holtz bright white watercolor paper. To get the cards to stand up I cut the tip (from the die cut) off the back of the card so it's straight and flat and will not rock on the table.
I shared this vidoe on Instagram and thought some of you might want to see it? It's super short like 30 seconds.
Sunday I will be back for a loaded blog hop with $500.00 worth of giveaways! See you then … Hugs, Kathy
P.S. Any chance you were aware that Simon Says Stamp is having a 25% off copic sale until March 30th. USE THE CODE MARKERSALE.  I love a good sale and if you haven't taken the plunge to buy the blending solution I use all the time … why not try when it's on sale.
P.S.S.  Click here for DAY 1. TO UPLOAD YOUR COLORING on my blog or here on Instagram or here on Facebook (it's a closed group). Please remember to use the hashtag #thedailymarker30day and for kids & young adults #thedailymarker30daykids