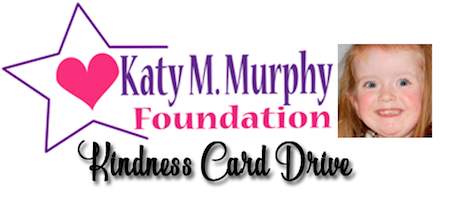 Hello and Welcome to the Kindness Campaign Card Drive and blog hop.  The Katy M. Murphy Foundation is a nonprofit organization founded by Katy's mom Amiee.  Katy had a congenital heart defect and lost her life at the tender age of 6. Amiee started the Foundation to honor her daughter's memory.
Today we are kicking off the card drive with a blog hop. We are hoping that all of you will help us by sending in cards to help complete Katy's Kindness Kits.  The kits are for children and their families who are living with a congenital heart defect (CHD) and are inpatients on the cardiac care unit at Boston Children's Hospital. The foundation will be delivering kits to the hospital to help make the children and their families stay at the hospital easier, or kinder if you will.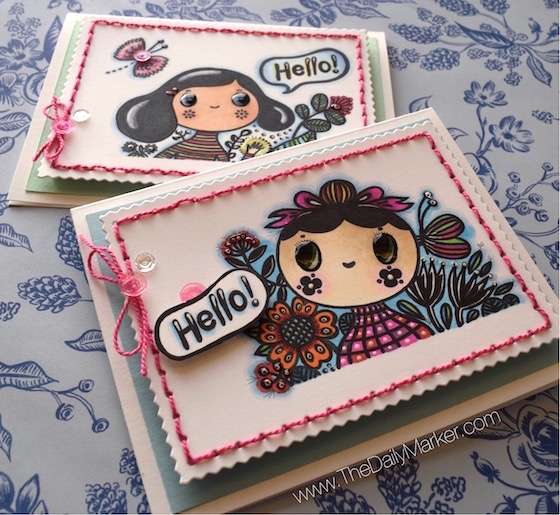 To start at the beginning of the hop go to the oh so lovely Heather's blog here .
For the card campaign I wanted to create some generic type cards that were warm and welcoming. Waffle Flowers "Enveloper Collection" is brilliant & perfect. (I just did a post here with some of the other stamp in this collection)
This sweet girl is stamp set has so many fun and sweet images. It's also a great stamp just to ink up without adding any color.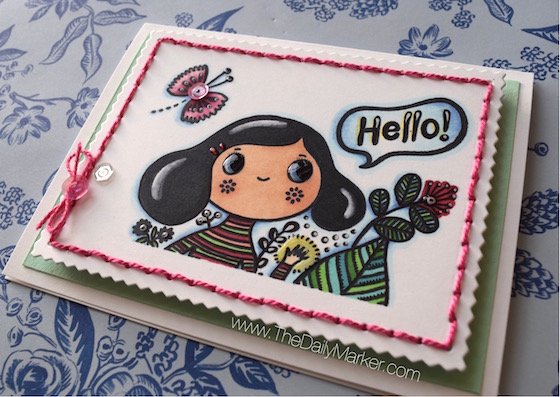 In my day I was into needlepointing and I love to incorporate that into my card making. These dies are perfect for that. Basic coloring on my cards today and I used the time to add some dots and lines. Each image was outlined with blue (I have to say I have been doing this for years ) and a generous amount of glossy accents on the eye balls.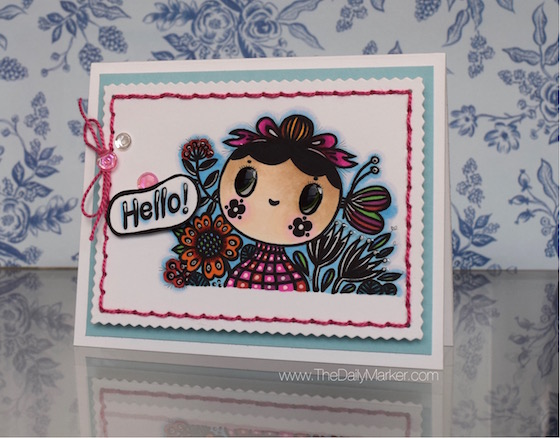 This stamp set is different but, equally lovely. I stamped the "hello" on some scrap cardstock and popped it on my card with some foam tape. (the hello is from the other stamp set)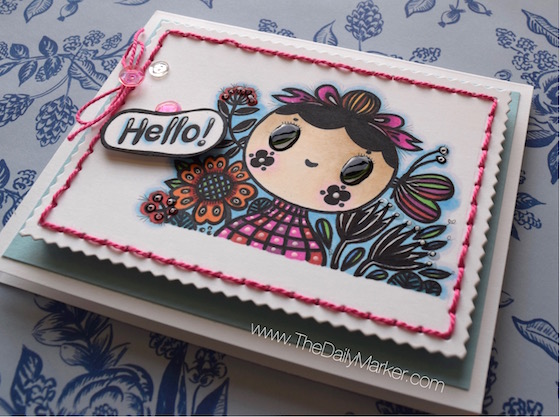 All the details for the card drive can be found HERE, as well as a list of AMAZING sponsors who have offered up some phenomenal prizes to be raffled off to those who submit cards. Please read the rules carefully. The card drive will run from February 14th thru April 15th. More info on the card drive you can find on the  Katy's Kindess Card Drive blog. 
Next on the hop is the the big hearted  Michelle Liimatainen and she organized the hop!!!  Three cheers for Michelle! 
Thank You for your visit today and reading about this wonderful & heartwarming card drive. Have a great day. Hugs, Kathy
Card Supplies & links: Affiliate links are used depending on the product.