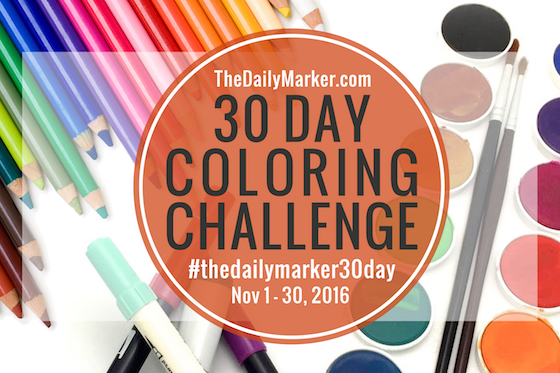 Hello Friends, How are you this weekend? Please tell me you are safe and haven't been suffering from this awful hurricane. If you have I want to hear and I am sure everyone else does …. can you let us know in the comment area? Prayers have been sent and I continue to do so.
Also on another note I need your feedback. Most of you know how things work during the coloring challenge…. where to share what you are coloring (either on my blog on or Instagram) and how it's an easy breezy challenge without any pressure.
I think this is the 6th Daily Marker Coloring Challenge? eek? Anyway I am always looking for ways to improve. Many of you share on Instagram and it's a beautiful sharing community. If Facebook is your thing and Instagram isn't can you let me know? I am considering adding something to my plate lol. Would you want me to have a Facebook group for "The Daily Marker 30 Day Coloring Challenge"? If so I really need you to leave a comment on this blog post and let me know. Thanks so much.
WAIT … before you think I want YOU to have extra work sharing… no no not at all. I am thinking for those of you who do not have a home at Instagram and are looking for a home so to speak. If Facebook is your home now and you haven't been sharing for one reason or another. I hope I am making sense … eek!
Soon I will be sharing the usual details like I did for the last challenge. I plan on making a new video for this current challenge even though the information is the same but, if you missed the last one you can watch here. I have streamlined my supplies a tad and will be sharing that in the next two weeks. Lots happening so stay tuned and thanks for being my faithful followers.
Many Hugs & Prayers, Kathy
P.S. Did you know that I have a "coloring challenge" header on my blog. You an scroll though to see every post during each coloring challenge!! Cool right or you can click here to see it.
P.S.S.  If you are on Facebook it would be awesome if you would share this logo. (Just right click to copy and if you can link it back to my blog that's even better. )