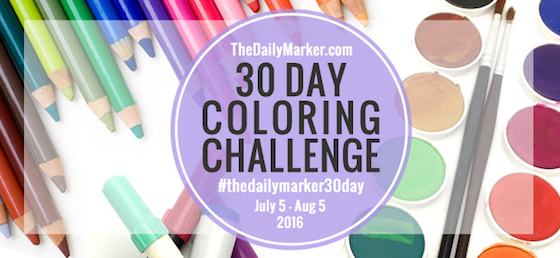 Hello Friends! Welcome to DAY 2 of The 30 Day Coloring Challenge. (If you are new to the challenge or want to know more about it click here.)
Today am so excited to bring you a Blog Hop featuring some very talented artists and friends. My plan is to give you all a huge hit of inspiration for Day 2 with my favorite and inspiring watercolor artists. (but, not sure if they will be doing that for today lol …I didn't want to give them any guidelines …only to color.)
To start at the beginning of the hop go to my most amazing friend Jennifer's McGuire's blog here.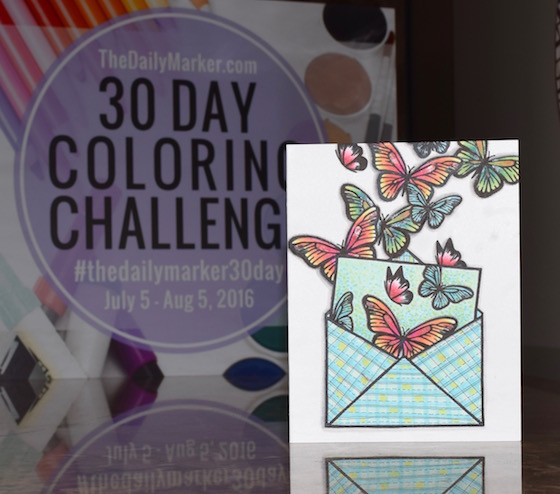 It's super late here and I was trying one last ditch effort to get a good photo.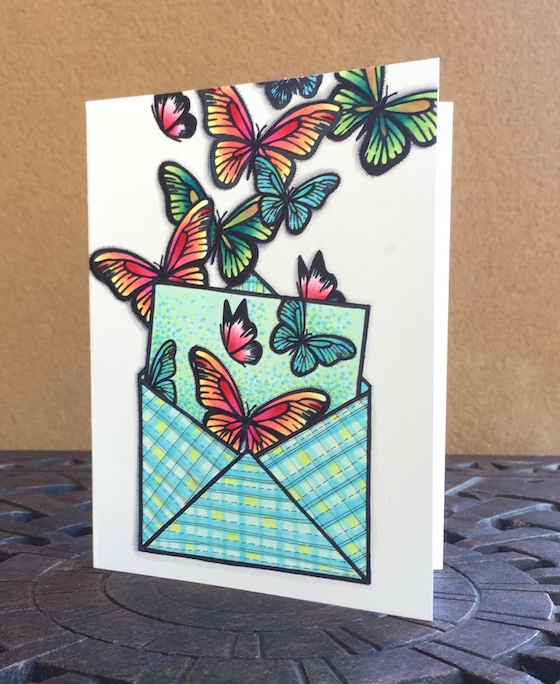 I have been traveling this past week so I packed up some of my copic markers and a few other things. During my 5 hour plane ride I had some time to mask off the envelope stamp set and the butterflies stamps from two different companies. The mini misti is so light weight it went in my carry on too.(see that video at the bottom of my post)
I had lots of fun adding a little detail to the envelope. I have a raw video for you to share part of my process. Traveling put a cramp in my video but, I am living proof that you and color and travel 🙂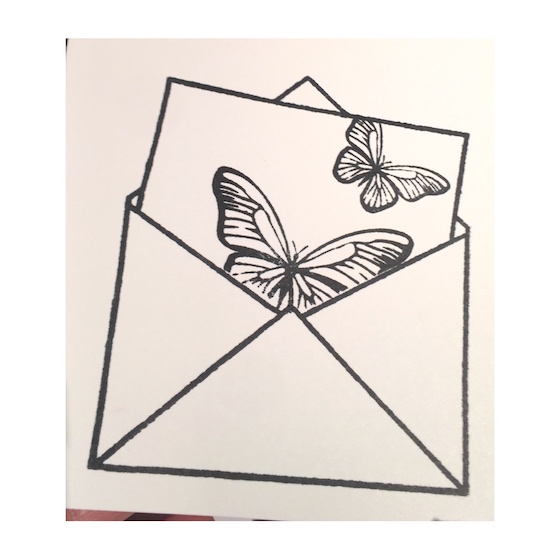 I thought you might want to see part of the stamping process but, the video shows more. If I was at home I probably won't have taken the time to do all this stamping and masking. Being captive on the airplane gave me lots of time and little space but, I managed. (I have a photo of my plane photo in the end of the video)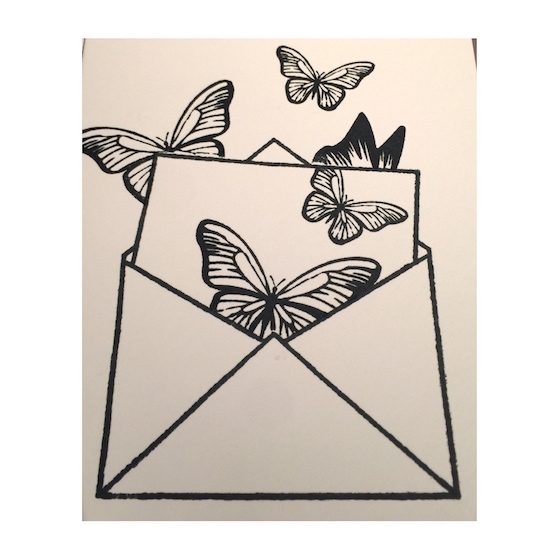 All of my images were stamped on some 120# weight card stock pre-folded cards . This heavy weight cardstock .. feels like it has a coating on it… so there isn't any bleed through the back of your coloring. It's great for a one layer card. However it's not my first choice cause it's slightly …. very slightly not the perfect bright white for me. With that said Kristina love this paper and used it a lot for one layer cards.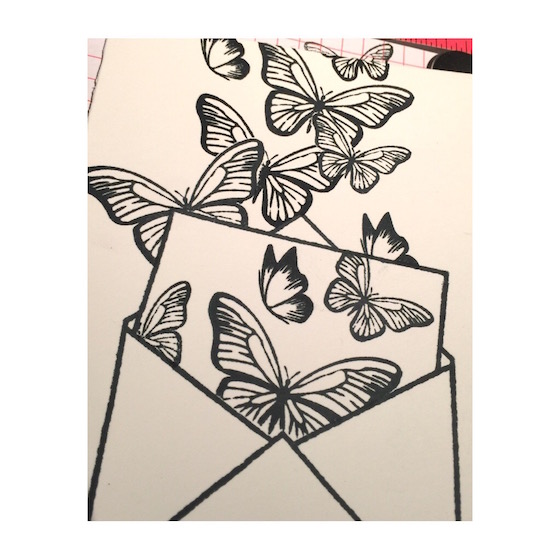 I thought some of you might like these folded cards because you don't see the bleed through on the inside.
I haven't added my fine lines on the envelope or the "eyelash" lines on the butterflies. Also in case you are curious what colors I am using .. this is for you 🙂 Below you can see the results after adding the fine lines with this Copic marker.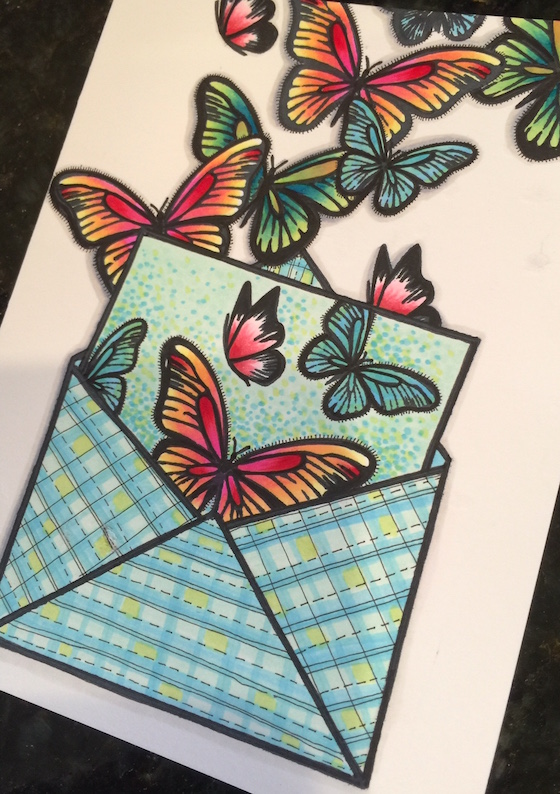 On my return flight I colored this one. (When I was doing the masking I inked up three cards).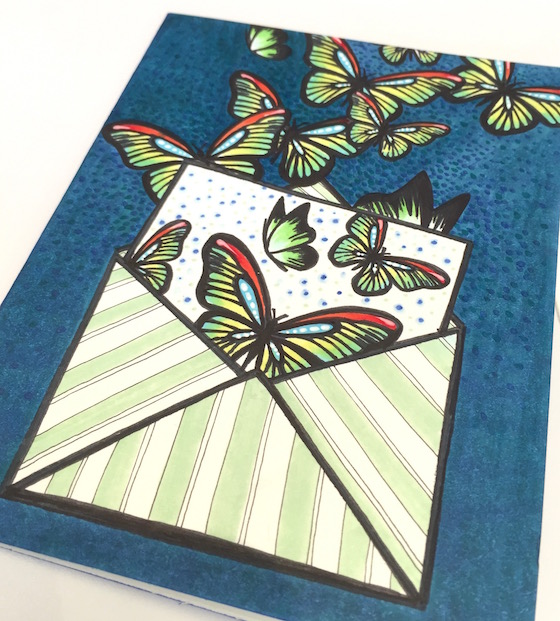 If you want to share what your creating go to DAY 1 and scroll to the bottom of the post. You will find a blue Inlinkz tab to link up your coloring.
Below is the hop line up in case you come across a broken link.
Jennifer McGuire's blog JENNIFER MCGUIRE INK
Kristina Werner's blog KWERNERDESIGN
Amy Tangerine's blog AMY TANGERINE 
Debby Hughes's blog LIME DOODLE DESIGN
Dawn at WPLUS9 BLOG
Kathy Racoosin's blog THE DAILY MARKER  You are HERE (Last stop)
GIVEAWAY : SIX spots to… ANY class from OnLine Card Classes!! 
Winners can choose which CLASS to take from Online Card Classes vast variety of over 30 classes. You have SIX CHANCES TO WIN. 🙂 The more you comment on each hoppers blog the more chances you have of winning.
A random winner will be chosen FROM EACH BLOG on the hop from the comments. The full list of winners will be announced Wed. July 13th 9 am. at www.thedailymarker.com (contest closes 7.12 at 12am. EST)
A big Thanks to OnLine Card Classes for the giveaway. A BIG Thanks to these talented ladies for inspiring us AND I would like to thank you all for your visit today … I am blessed. See you tomorrow for Day 3 . Hugs, Kathy
P.S. If you want to see how I packed my crafty good for my trip click on my striped bag below. Supply list is below that 🙂
https://www.instagram.com/p/BHZ1mlBh-L1/?taken-by=kathyrac
Supplies and links: Affiliate linking might be used depending on the product.