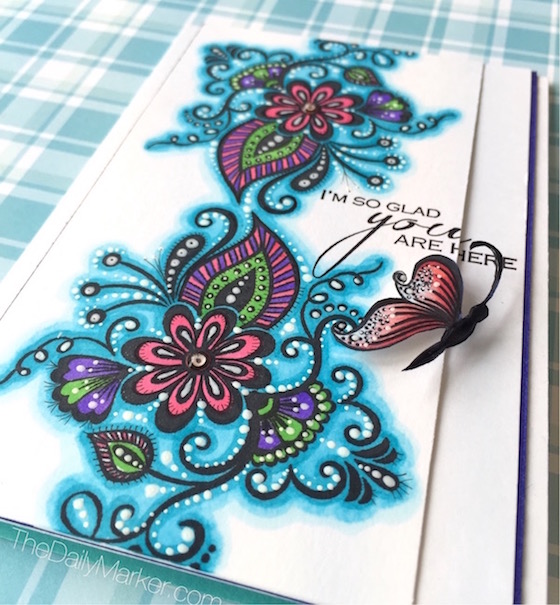 Hello Friends!! How are you? !!? I am popping in to show you one of the three cards that I have been working on for the past week. It's been fun and exciting to create with the latest Stamp of Approval Kit called, "Beautiful World Collection". If you're unfamiliar with Stamp of Approval, it's an exclusive collection of stamps and dies that are sold in one box. The products are specifically designed for the the boxed collection and they were so fun to create with.  (Most of the products won't be available until much later in 2016 if at all). Click HERE to find out more about it S.O.A.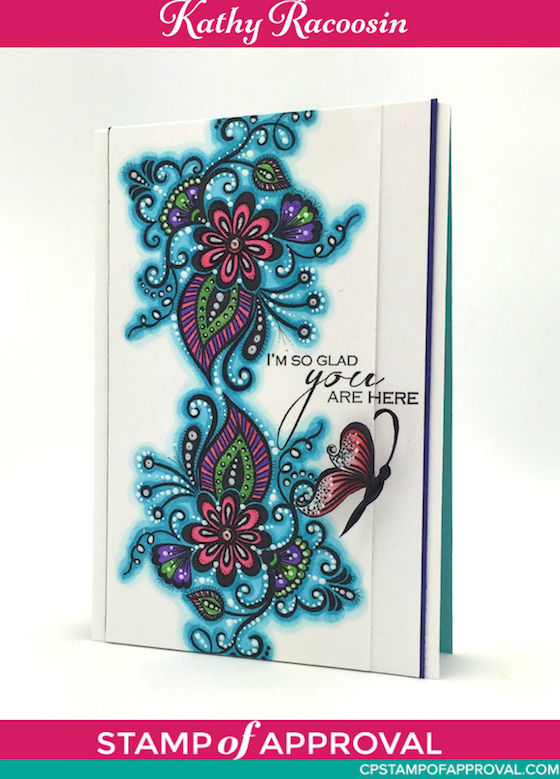 When I see a stamp like this it talks to me…. it's says please dot me :). I outlined the images with three markers to fade out into the lightest color blue. I used a dark, medium & a light blue.( B05, Bo2 and Booo). Each line overlaps to soften the lines especially when you start with your darker color first.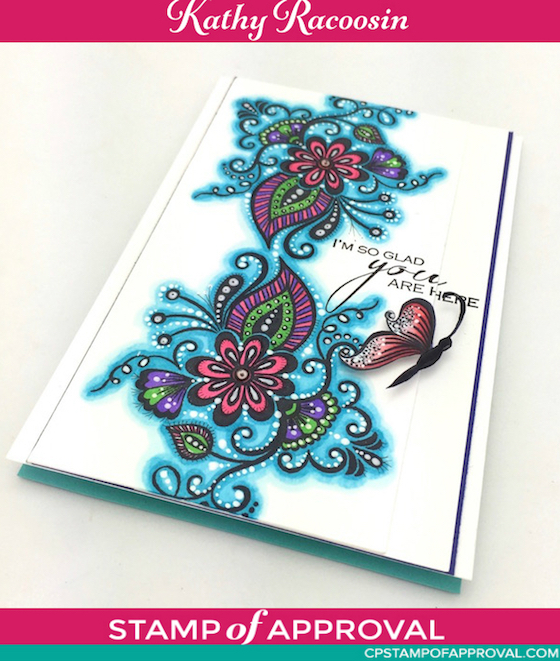 You can see the three blues if you look closer. When adding white dots no need to add any shading to your coloring.
I cut out the butterfly to pop on my card and added glossy accents to the flowers centers. More detailed instructions are included in the box.
You can find more inspiration using the collection on Catherine's blog HERE. There will also be a fun blog hop on Tuesday so make sure to check that out. A little birdie told me that TWO people will win a box for free. Wahoo!
The first box was sold out in a jiffy, so make sure to subscribe HERE to be put on the wait list to get first notice of the sales link. Also, there will be a Stampnation Challenge on release day, April 20th.
Thanks so much for stopping by and spending some time with me. I hope you have a great weekend and know that I am missing you guys. Hugs, Kathy
Supplies and links: Affiliate linking might be used depending on the product.