Hello Friends, How are you?  I hope you had a wonderful weekend and if you celebrate Easter I hope it was a special.
Sewing…yes please. Before I fell head over heels with stamping I did some needle point on canvas. Over the course of the last few weeks I have been doing a little traveling so instead of packing my markers *gasp* I took some sewing. With Simon Says Stamp's new "Spring Plush" all I needed to do was cut the felt and pack some thread.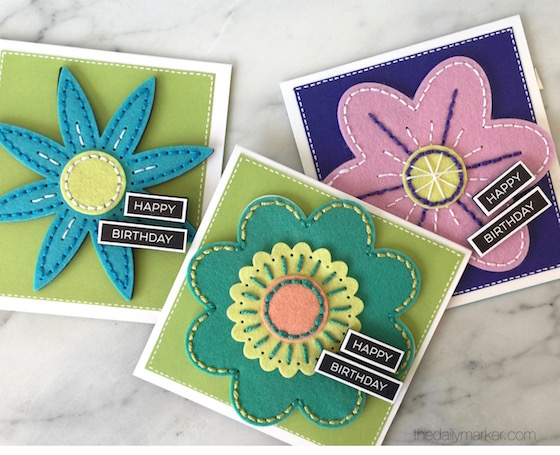 The dies are large and a wonderful size … easy to work with too. Love how the holes for the sewing are cut so stitching these babies are pretty quick. For my Daisy, Bloom and Flower I backed each felt flower with some card stock and or fun foam. I wanted the flowers to be stiff and glue easily to my card base.
The labels sentiment was perfect for my felt flowers because they were the perfect shape and solid. Each label has black foam behind it and I used glossy accents to glue everything down.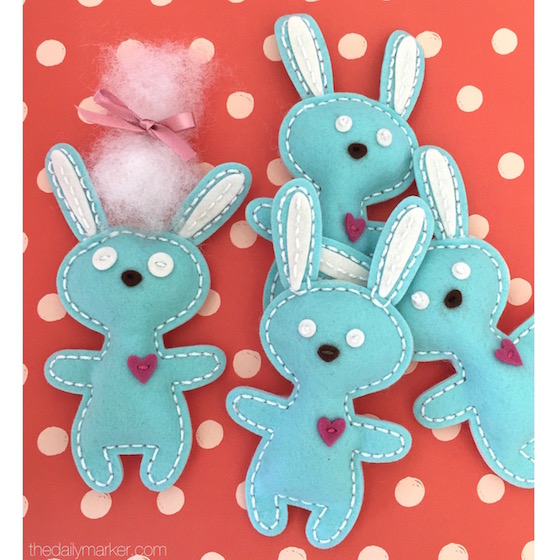 Every few months or so I have a few friends come over to my house to sew. They are going to love these sweet bunnies  and I think bunnies are good for all seasons. I couldn't resist add some troll like hair to one of them.
For some reason I love these carrots … I wrapped them in some re-purposed stamp packaging with some jelly beans for little goodie bags. (see further down in the post)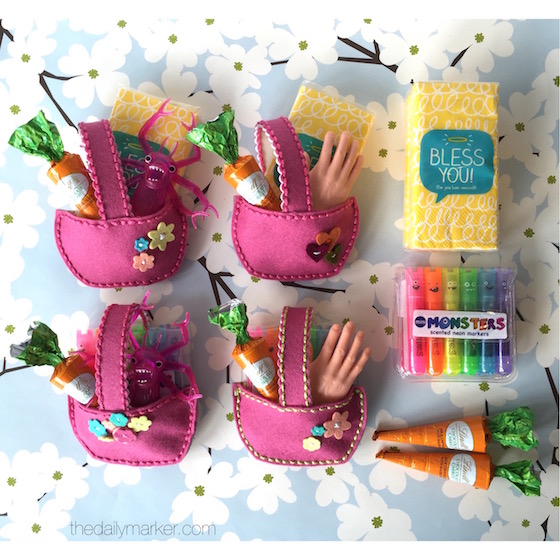 As you can tell I really do love to sew. These little "Spring Time Baskets" were so fun to sew. I stuffed them with a chocolate carrot, kleenex, mini markers and a pencil topper. Just enough to say I love you to family members.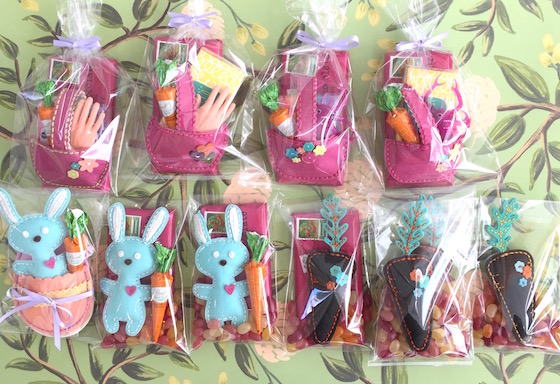 I am so happy I saved a ton of the packaging that comes in my 4×6 stamp sets. It was the prefect way to hold all the contents in my baskets and present the bunnies and carrots.
Thanks for your visit today and I hope your Monday is off to a good start. Hugs, Kathy
Supplies and links: Affiliate linking might be used depending on the product.