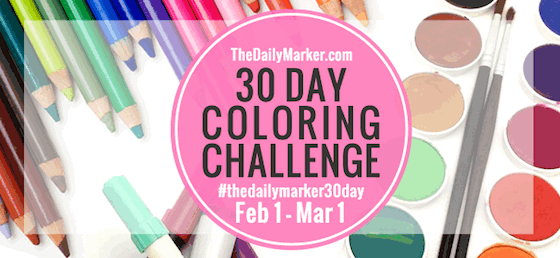 Hello Friends, It's me again! How are you on this hump day? (middle of the week day) I think my huge Giveaway from Mama Elephant will cheer you up if you need cheering up. More on that at the bottom of my post.
If you are new to my blog and new to "The Daily Marker 30 Day Coloring Challenge" click HERE to read more about it. If you want to share what your creating go to DAY 1 and scroll to the bottom of the post. You will find a blue Inlinkz tab to link up your coloring.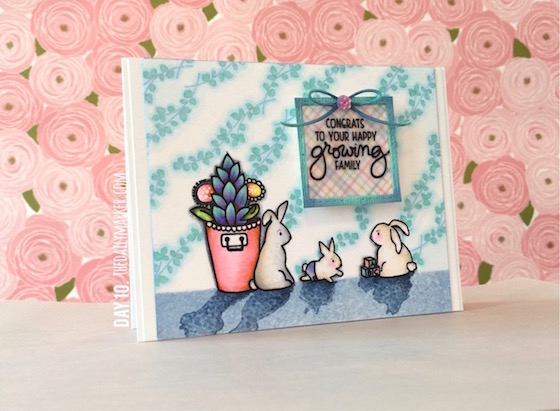 Mama Elephants has some of the cutest stamps EVAH  and they are great to create CASE cards or sweet little scenes. Mama Elephant just released these new stamps and seriously HOW FLIPPIN CUTE!  The stamp set called, "New Family" has a baby fox and a baby bunny in diapers!! They can't be any cuter!! Sorry to gush but, I love these stamps.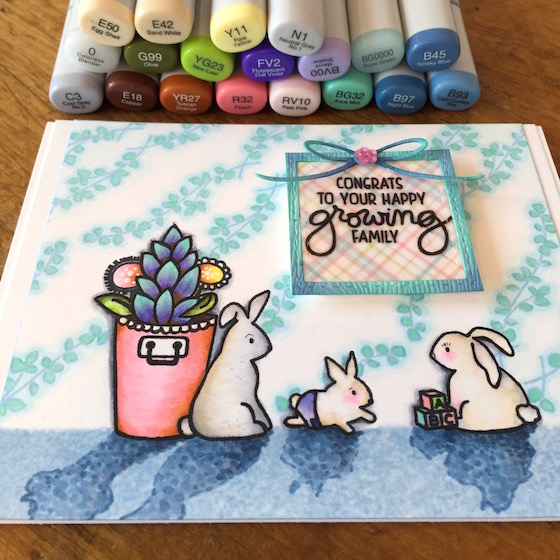 I had sooo much fun today just just sit and create with this stamp set. I pared it with "Potted Pretties" another favorite. I stamped a background to create some wall paper and colored a rug. For the texture on the rug I did my rag thing with blender solution.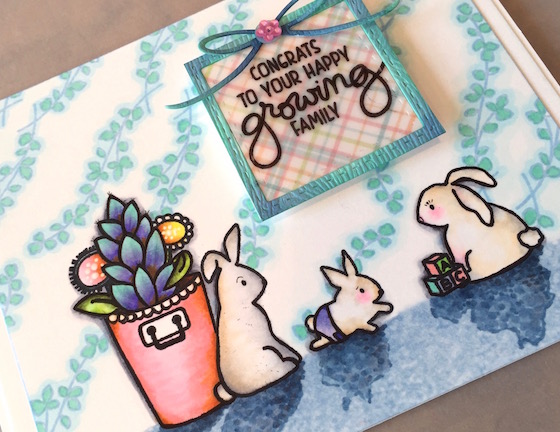 I really wanted to use the window again but, since I did a window card yesterday it was to soon. Sooo… instead I made a art piece for the wall with this and this. My scrap plaid paper from yesterday and vellum again. I used my super fine marker to add some eyelashes on her and eyebrows on the dad and baby bunny.
GIVEAWAY: How does FOUR SETS of these beautiful stamps sound! That means FOUR WINNERS will randomly win!! Woo Hoo a super big thanks to Mama Elephant! 🙂 T0 qualify all you need to do is add your name to the Inlinkz list at the very bottom of my post. You do NOT need a blog (no need to fill in the url area) The winners will be announced Feb. 21st. Good Luck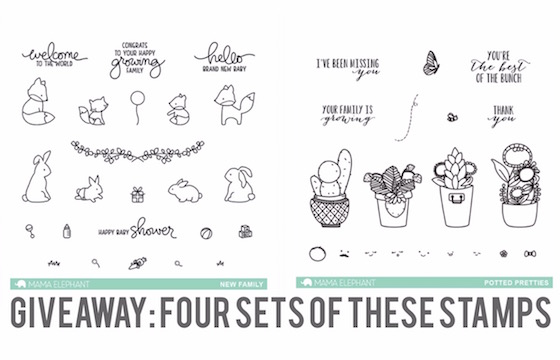 Supplies and links: Affiliate linking might be used depending on the product.