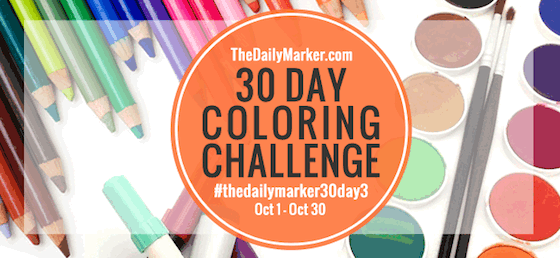 Hello Friends, How are you today?  If you are new to my blog a warm welcome to you.  Today is a special day for me because the sweet, wonderful, kind and talented DT at Power Poppy is having a hop to celebrate the Coloring Challenge!! How exciting and heart warming. If you are wondering what The Daily Marker 30 Day Coloring Challenge is you can click here to read all about it. The most important thing to know is anyone can join at any time!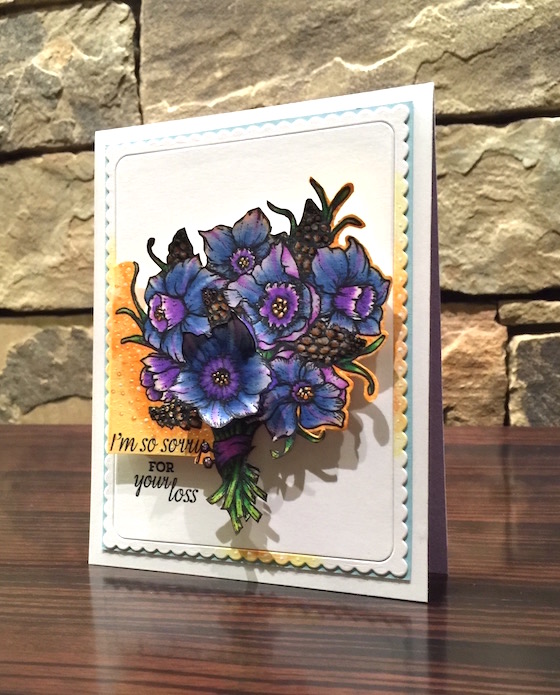 I inked up the this beautiful stamp set called "Daffodils" with some Memento Ink. It was a conscience decision to not color the daffodils an authentic color even though I love the whites and yellows. Check out all different cards and color combos with this stamp set in the Power Poppy store here.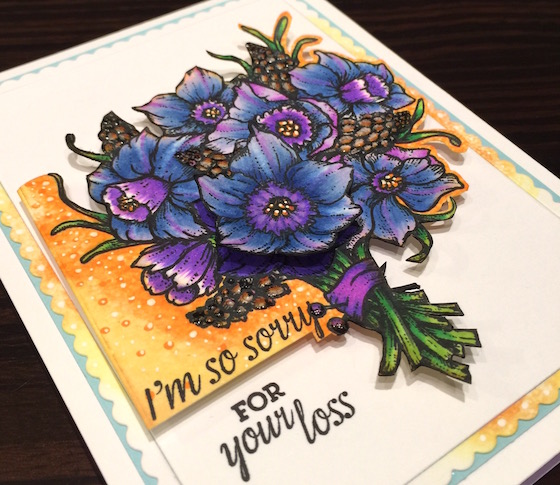 Can you believe that I had another snafu on the background but, it turned out eventually.  I had cut the edge on the left so it's a little crooked but, I'm ok with that.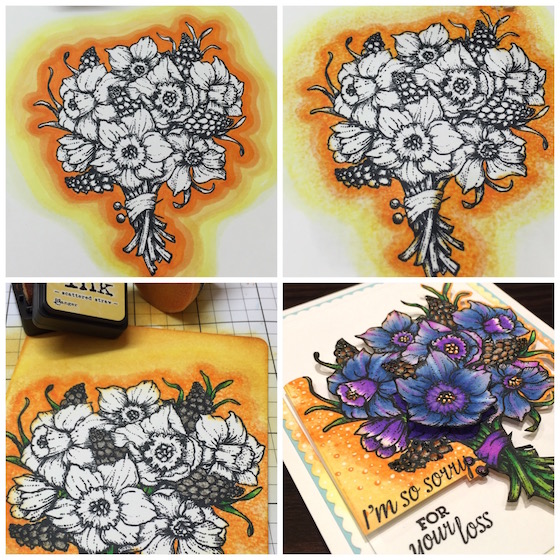 I never do an orange "halo" around the image  but, I was willing to try and go out of my comfort zone. After using a few colors I added some Blending Solution with a rag then some distress ink. Did not like it but, was determined to make it happen so I ended up cutting the background out again. (I figured you would enjoy seeing another one of my mistakes in a good way lol.)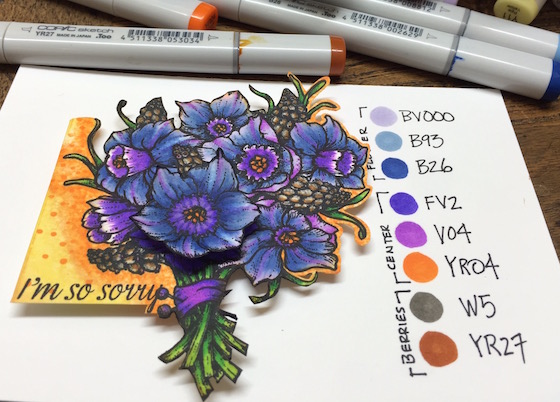 You might want to notice how I fussy cut it out leaving an orange boarder on the right and part of the background on the left. I added some glossy accents to the berries and white dots with a gel pen.

Hop on over to the Poppy Poppy Blog and be sure to have some fainting salts. These gals are TALENTED! Power Poppy has some fun challenges that you can combine the coloring challenge with and more chances to win some of these amazing stamps. A big Thanks to  Allison Cope ,Christine Okken , Cindy Lawrence , Julie Koerber , Katie Sims , Leslie Miller , Stacy Morgan & Tosha Leyendekker for taking time from their busy schedules to play along.
GIVEAWAY!! All you need to do to quality is leave a comment and I will pick a random winner at the end of the challenge. Good luck and thanks so much for your visit I can't tell you how much it means to me and thanks for inspiring me with all of your coloring. See you tomorrow! Hugs, Kathy
P.S. TO LINK UP & share your coloring click here and go to the bottom of the post.
P.S.S.If you wan to see what everyone is submitting for The Daily Marker 30 Day. Click here to see what is being shared on my blog but,  you need to scroll to the bottom of the post. You can click here too to see everything under the hashtag #thedailymarker3day3 that's on Instagram.